Browsing All Posts By
admin
#
Notice: Undefined variable: wp_query in /home/sumpccin/public_html/wp-content/themes/rehub/functions.php on line 2036
41
Wayne Water Systems VIP50 Sump Pump Reviews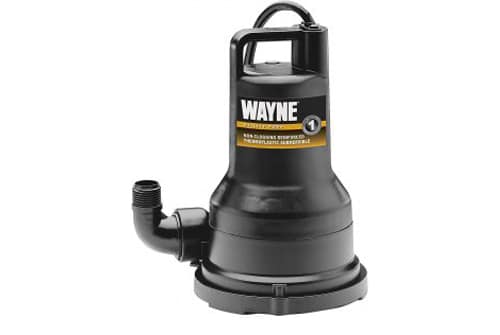 #
This sump pump can pump up to 2,500 gallons per hour as well as being able to pass solids of up to 1/2 inch thick solids such as leaves, pebbles, and other debris without getting clogged up. As this sump pump is supplied with bottom suction, rather than side entry, It will also pump the water level down to within an eighth of an inch. This means it will pretty much empty a sump, pit or receptacle of nearly all of the water.
 Check Reviews & Price On Amazon
Construction of this sump pump
This sump pump is constructed of a glass reinforced thermoplastic for the housing. It is also fitted with rust resistant impeller. The discharge is 1 1/4, but with the 3/4 inch adapter it can very easily connect to regular garden hoses.
This Wayne water system VIP50 is currently selling on Amazon for just under $80. It is also highly reviewed with an average of 4.0 out of 5 stars and a total of 508+ customer reviews.
More about the VIP50
Should you wish to transport this sump pump, say to fill a pool, then the Wayne VIP 50 is also fitted with a handy easy access handle. This will provide you with complete portability.
The VIP 50 sump pump is also fitted with some internal protection to preserve this pump should something happen to it. The Wayne VIP 50 is fitted with thermal protection. This will cut the sump pump out should the pump overheat by overuse or something else. The pump will need to cool down before it will run again. It is always best to check the pump over for blockages etc, should it overheat.
PROS:
This sump pump has been noted to drain a 20,000 gallon in ground pool it has also been used to drain other customers spas and hot tubs.
This pump is also supplied with a limited one year warranty.
As one customer pointed out their customer service they pointed out I contacted the company and they responded right away, asked a couple of questions, and then immediately shipped out a brand new pump to me. I have not seen this type of customer service in a long time.
The VIP 50 has been noted to being a fantastic life saver in high water situations like flooding. Customers have used this pump to assist and it performed brilliantly for them.
CONS:
This pump is not fitted with a float switch, therefore you can not fit this to control water levels within a sump. If this pump is powered up it will be trying to pump at all times!
8 Foot power chord can be quite short.
Some have noted this if their power outlet is more than 8 foot away from the sump pump installation point.
If you do need to add in an additional extension chord you will need to consider a grounded extender.
Although it is noted that this sump pump is able to pass solids, we would like to mention that it is only for the occasional solid as all pumps can eventually become blocked up.
Its built to prevent leaves and other debris from clogging it, but that still can happen.
Customer Review of Wayne VIP50 Sump Pump
Upon reading the customer comments and opinions as well as our extensive experience with sump pumps we would like to point out that this is actually a very good pump. That is provided you use this with the correct installation suited to this type of sump pump. This pump is not fitted with an automatic float switch and is not ideal in some situations for example: controlling your basement water levels.
The VIP50 is however ideal for draining your pools, spas, hot tubs and many other pumping applications. It will pump well for you, and remove the water quite quickly, provided the given head is not towards its maximum limits. (If you need a larger head, then upgrade to more powerful pump).
The pump is also a fantastic emergency pump to own as if you were hit with flooding or high water levels you can rig this pump up to a garden hose, drop it into the water and switch this on and watch it pump!
READ MORE +
#
Notice: Undefined variable: wp_query in /home/sumpccin/public_html/wp-content/themes/rehub/functions.php on line 2036
42
Beacon PROACT 200 Sump Pump Test and Monitoring System Reviews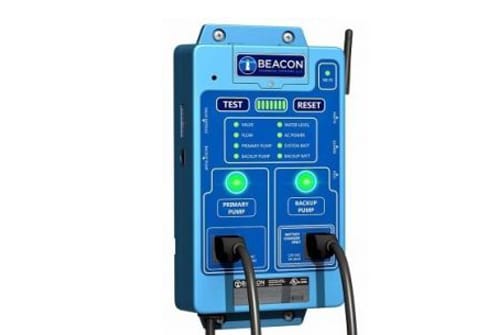 Beacon PROACT 200
If your house is suffering from the ground water flooding, then you must have to install a sump pump device that used to help to protect your house from the water flooding. It basically pumps the water from underground of your house that may be flooded due to the torrential rains. One of the most compelling features of the sump pump is the monitoring system. This monitoring system assists us to keep an eye on the device that it works correctly or not?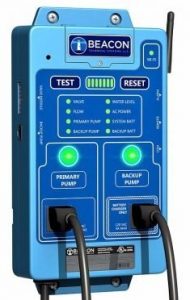 Check Reviews & Price On Amazon
Let's get detailed information about the Beacon PROACT sump pump monitoring system:
This amazing sump pump monitoring device is utilized to analyze the functionality of the sump pump by delivering the fresh and clean water into the sump pit. Moreover, its alarming feature installed to notify the failure of the electrical or mechanical sump pump power, high water levels, and other water interruptions.
Here are the significant functions of this product:
This sump pump monitoring system holds wireless and wired environment sensors that help to monitors your home all the time.
It contributes to prevent water flood from the house and other buildings.
It keeps your house including kitchen, basement, bathroom and laundry safe from massive water leakage.
It monitors the dampness and another flooding from your building
It saves your plenty of money that you may need to invest in the repair of your house due to the water flooding.
This monitoring system works 24/7 for your home security, so you will get a peace of mind that your home is secure for flooding and other hassles.
These above-mentioned functions of this sump pump monitoring system make it able to provide dry and fresh basement of your house. Sump pump monitoring system comes with the enormous benefits that every homeowner should have to experience it.
Now, let's check out the features that include in this Beacon-PROACT-Sump-Monitoring system:
Beacon-PROACT-Sump pump monitoring system helps to supervise the battery sump pump for 24/7
This amazing device starts working to test installed sump pump after every week that never allows the sump pump to stop working.
It also comes along with the Wi-Fi connectivity that used to provide text and email to keep updated with the sump pump device.
This system responsible for delivering high water level, AC failure, and other low ambient temperature
Several people prefer to install this device without any assistance of the expert, but we strongly recommend you not even to try to install it if you are not familiar with its installation process. You should call an expert for its installation because safety is more important than money. Isn't?
Before considering this device, let's come to know the pros and cons of this device:
PROS:
Keep you updated with the sump pump conditions
Easy to use and install, but get expert supervision for its installation
Appealing design with great features
Affordable price
CONS:
It requires maintenance for long life performance.
It may come with the limited warranty
Conclusion
If you want a trustworthy device that can meet your all sump pump requirements, then this device is a perfect option for you. This device made with the excellent features that never allow it to get damage soon. Also, it is very safe for your house and never releases harmful fumes that are the plus point of this sump pump monitoring system. It provides you a peace of mind that your house is safe from the water floods and that may be a big thing for you.
READ MORE +
#
Notice: Undefined variable: wp_query in /home/sumpccin/public_html/wp-content/themes/rehub/functions.php on line 2036
43
Zoeller Aquanot® 508-0007 12 Volt backup sump pump WITH M98 pump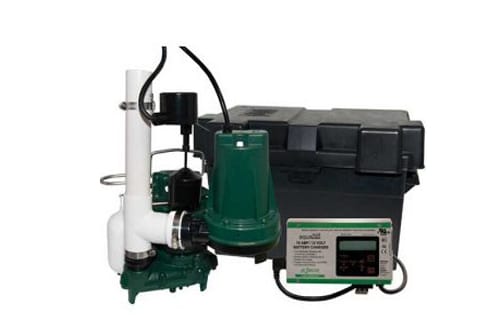 Zoeller Aquanot® 508-0007
Zoeller aquanot 508-0007 gains immense popularity in the household or commercial field only because of its rich quality and extraordinary features. It is the best sump pump model by Zoeller who will give you a complete protection even when your primary pump fails to operate in the unpleasant situations. Ordinary sump pumps not capable of working in the rough condition, but this Zoeller aquanot featured with the ½ horsepower with a 12-volt backup that can provide long hour power supply in every circumstance. In short, it will keep your house clean and dry in the extreme weather conditions.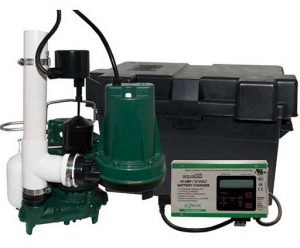 Check Reviews & Price On Amazon
Review
This non-corrosive pump featured with the float switch and durable thermoplastic construction allows it to work for an extended period of time.This highly efficient sump pump provides the required assistance and reliability; it means it pumped water more than any other model. Overall dimensions lie between the 12 x 12 x 12 inches and 54.6 pounds weight makes it lightweight or handy device. In addition, it has no complicated installation process, so you can easily install it, but if you don't have experience of sump pump installation, then you should consult with experts. As per the latest sump pump review report, there is not even a single customer present who had a problem with this sump pump device. Isn't impressive?
Product Features and Specifications
The best backup system delivers clear and emergency water
Constructed with 10A battery charger with LED display features
Provide protection from the overcharging
Comes with the time-tested apparatus for consistency
Provide with the 6′ (1.8 m) leads to trouble-free performance
It includes an emergency alarm for safety purpose.
LED lights allow you to know the charging status of the sump pump
Comprises with 98 primary pump and 12V battery backup
It can pump 4320 gallons water which is an additional benefit of this type of sump pump device.
This pre-oiled sump pump tightly sealed that never let the pump heat
PROS:
Long battery backup
Included LED display
Reliable alarm system
Easy installation
Comes with the safety features
CONS:
Not included battery
Its alarm is little louder
Little expensive
Conclusion
There are several types of sump pumps and brands are available in the market, hence keep sure to familiar with all the specifications of the sump pump models. This brand is worth your trust, and we assure you will never disappoint of your decision of choosing it. If you want to stay safe, then go with this sump pump because it holds an ability to live in all the conditions. It is an ideal model for a commercial building as well. I know you may little anxious about the budget, but if you want quality, and then you have to compromise on your budget. If you want comfort, protection, and peace of mind, then this Zoeller aquanot 508-0007 sump pump made for you.
Related reviews:
Zoeller 507-011 sump pump Reviews
READ MORE +
#
Notice: Undefined variable: wp_query in /home/sumpccin/public_html/wp-content/themes/rehub/functions.php on line 2036
44
Zoeller 507-0011 Pro Pak 98 Backup Pump System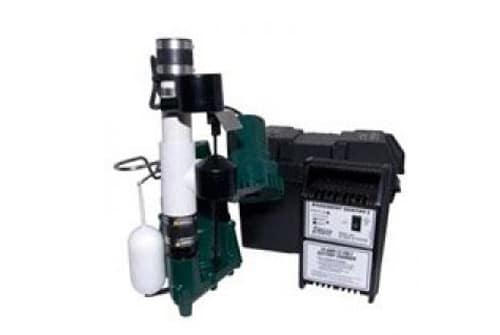 Zoeller 507-0011
Zoeller is one of the most renowned and trustworthy brands that offer a vast collection of quality pumps to protect your house from unexpected pump failure. It offers several sump pump models with highly efficient features and quality to provide ultimate solutions in an emergency as a backup of the primary sump. One of the most trustable sump pump models is Zoeller 507-011 sump pump which is a perfect replacement of your existing damaged submersible.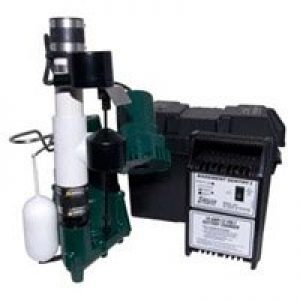 Check Reviews & Price On Amazon
Product Description
This 51.9-pound sump pump featured with Pro Pak 98 Backup Pump System that considered as a backup of your sump pump particularly when your existing or primary sump pump stop working. It is designed with the corrosion resistant coating that offers a lifetime working experience. Its ½ HP AC electric motor including 23-foot discharge lift capability makes it the most recommended sump pump brand by the homeowners. Moreover, it can move 4320 water gallons per hour and also comes along with the automatic features including light indicators, alarms and as well as warning systems.
The Zoeller sump pump featured with the battery rechargers that can recharge maximum 10amps, and also it does not require electricity to operate so that it can work even in the absence of the electricity. If you live in an area where you have to face several unexpected risks of a power outage or flooding due to the rainfall, then this sump pump is an ideal option for you. You will little disappoint after hearing its warranty duration. Yes, it holds 1 years of warranty as other models may come with the more than 1-year service assurance. Sump pump review report shows that very few consumers claim that Zoeller offers very poor customer service.
FEATURE & SPECIFICATION:
It is basement sentry 507 model come along with the 12 volts DC backup featured with the DC pump, dependable float switch and valve for better sump pump experience.
Automatic and quiet working operation
Its safety features provide protection when the primary submersibles break down due to the power outage.
Also, it can work even in the 150-degree temperature
It is ready to install sump pump that can save plenty of money that you may have to pay to the plumber.
It offers 7-8 hours constant pumping to the water with fully charged battery backup.
Furthermore, it designed with the solid glass filled thermoplastic vortex impeller that provides extreme durability to the sump pump.
This automated sump pump surpasses ½ spherical solids
It comes with the lockable battery box for safe storing.
It is factory assemble model and can use with your existing sump pump
PROS:
Ready to install
Extremely durable
Easy to use
Affordable price
Reliable brand
Suitable for household and commercial building
Conclusion
If you want a durable submersible that worth your money and requirements, then you should go with this Zoeller 507-011 sump pump. It will never let you down even in the adverse or emergency condition. If we were talking about the price, then the cost of this brand is very affordable as compared to its overall quality. There are very few brands who deliver such quality at a reasonable price.  It can be a profitable model for a long lasting experience.
Related reviews:
Zoeller M57 Basement Sump Pump Review
Zoeller M53 Mighty-Mate Sump Pump Review
Zoeller 98-0001 Sump Pump Reviews
READ MORE +
#
Notice: Undefined variable: wp_query in /home/sumpccin/public_html/wp-content/themes/rehub/functions.php on line 2036
45
HOW TO REMOVE AND FIT A NEW SUMP PUMP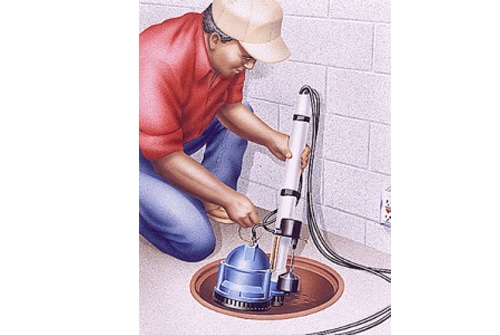 TOOLS NEEDED TO FIT YOUR SUMP PUMP
Pipe wrenches
Tape rule
Hammer
Gloves
Screwdrivers
Spirit level
Pipe saw
Drill
File
Other Materials that might be needed
Piping
Check Valves
Connectors
REMOVAL OF THE OLD SUMP PUMP
If you need to firstly remove the old sump pump, then there are several steps you will need to take to safely remove the old sump pump prior to your installation of the new pump. The FIRST thing you need to do is to safely isolate the electricity supply. Always physically unplug the sump pump if possible. Ensure all supplies are locked off and stay off during the removal and installation. Click here power tool guides to know the some other power tools which requires to removal of old sump pumps.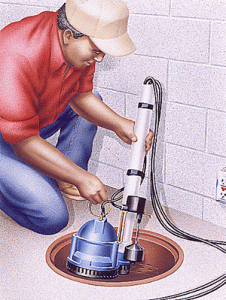 Sump Pump removal
To remove the sump pump you will need to disconnect the piping and flexible connectors that are attached to your old sump pump. This piping and check valve may be reused if suitable for the new sump pump. *TIP* Leave the check valve connected to the pipe above the valve as this will still be retaining the water that is within the pumping line. Now you have the pumping line removed you can now remove and coverings over the sump and thread the cable through any holes to free the pump. Reach into the sump and lift the pump by the body of the pump, or lifting handle. Remove the pump from the pit. Next you will need to remove the bottom portion of the pipe. This will still be attached to the sump pump. Unscrew this in a counter clockwise direction to it is disconnected.
Your old sump pump should now be removed. And the sump should be clear for the installation of your new sump pump.
INSTALLATION OF YOUR NEW SUMP PUMP.
Now we have the sump clear and ready for your new sump pump, you will need to decide of you are able to re-use the old piping or if need to fit new piping to your pump.
In this example we are going to fit new piping to our sump pump. With your tape rule you will need to measure from the very bottom of your sump up to the bottom of the check valve. Allow 2-3 inches more onto your measurement for good measure. Take your measurement and cut your new length of pipe to this length. Glue or thread your new threaded fittings onto your pipe prior to attaching this to the sump pump and allow to set/cure.
Weep hole
You will also need to drill a weep hole into the pipe. This is to prevent the pump from becoming air bound when using a check valve in your system. Look to drill the hole just above the threaded connector at the sump pump end.
OK – Pipe is ready
Now your pipe is prepared and drilled you need to attach it to your sump pump. Take your time and ensure you correctly align the threaded portion into the pump and screw this in a clockwise direction. We DO NOT want to cross thread this connection.
Secure the pump by standing on it or have somebody holding the pump as you ensure you fully tighten the pipe into the thread using a set or wrenches to grip the pipe. Once you are satisfied you have correctly tightened the pipe you need to insert the new sump pump into the pit by the carrying handle on the pump. *IMPORTANT* Do not use the cord to lower the pump.
The pipe is Too Long
Now we have inserted the sump pump into the pit we have to connect the pump to the rest of the pumping line and check valve. Align the pipe to the underside of the check valve and mark it for cutting just below the bottom of the check valve. Now properly mark the pipe and take to vice/ workbench and cut the top off the pipe. Clear all burrs from the cut end of the pipe using a file. Take your sump pump and piping and insert into the sump pump. Replace and sump covering and thread any cord through any required holes. Refit the covering to final position.
Float Check
Ensure the float switch is free and able to operate fully within your pit. This is essential to the operation of the sump pump and therefore the pump needs to be positioned in such a way that the float switch has full operating range.
Final Connection
Now we are ready to re connect the new sump pump to the check valve, we will slide the rubber coupling over the pipe in preparation of making the final connections. Ensure the coupling is fully mated to both the check valve and the piping, and then tighten using your screwdriver.
Reapply the mains power
Once you are ready you will need to plug your sump pump back into the electricity supply. Switch the mains onto your sump pump.
Testing
Once you are ready you should fully test the pumping line for leaks and pay close attention to the joints at the check valve. Tighten if required. If you are satisfied that you have no leaks then look to ensure your float switch will operate properly. To do this it may need a hose to fill the sump if empty. Fill the sump and let the new sump pump drain the pit of water several times as this will ensure the sump pump will operate when the sump fills and switch off when it has pumped down to a low level.
VIDEO HELP WITH THE FITTING OF YOUR SUBMERSIBLE PUMP
Below is a video outlining the removal and installation of a sump pump. This video is broken down into very simple steps and will guide you through the removal and installation of your sump pump. We found it to be a great guide and therefore have added it here for your assistance if you need further help with your sump pump installation.
We also have tips on the maintenance procedures for your submersible pumps. This will prolong the life of your sump pump, so it will be there for you in years to come.
READ MORE +
#
Notice: Undefined variable: wp_query in /home/sumpccin/public_html/wp-content/themes/rehub/functions.php on line 2036
46
Top necessary basement waterproofing products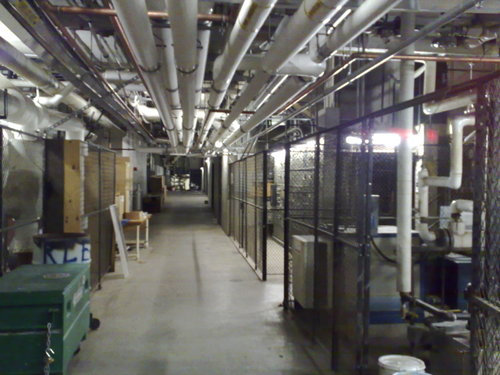 #
It is often believed that by purchasing houses with reinforced concrete, one can enjoy relative immunity from the common problem of seepage, leakage and basement flooding. Soon however, they find that they have to obtain the services of the best sump pumps to remove water from below and inside the basement. However, no matter how good the sump pump is, it cannot prevent the relentless attack of the water and its dissolved chemicals on the exterior surface of the product, leading to the eventual weakening of the structural foundations of the house. Hence, to allow the sump pump to be more effective and to ensure that the foundations of the house are kept in good shape, one needs to have a good knowledge of the top necessary basement waterproofing products that can be applied to one's particular situation.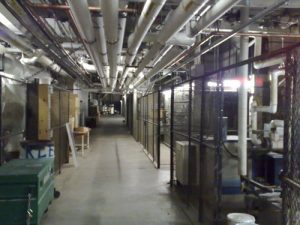 Cementitious Waterproofing Coatings
Waterproofing coatings come in several forms, but given that concrete bonds best with cement (and we're assuming that one has a brick and concrete basement), cementitious waterproofing coatings are considered most durable. Using a base of Portland cement and a range of soluble polymers and asphalt variants, these coatings are applied directly onto the negative or interior side and/or the positive or exterior side of the basement. Generally, if one follows our tips and blog for sump pumps, one can save money by applying the coat to only the exterior side as the pump will handle possible internal water problems well.
Typically, one would need a cement/concrete repair primer like Arcyl 60 to prepare the surface for application. Once this is done, a single coat is applied and allowed to dry before the second coat of cementitious coating is added. Once dry, these coatings tend to be able to ensure that water does not enter the concrete and even if it does, the amount of water is minimal. Further, many modern coatings tend to come with NSF 61 potable water certification, thus allowing the material to be applied on or near water pipes.
Sealants and Caulkings
One of the most economical choices among top necessary basement waterproofing products, the sealants and caulkings are polyurethane, polyether or adhesive products that are typically applied only to the joints and cracks in the concrete. Cracks and joints, and for that matter any voids, tend to accept water much faster, and in times of heavy rain can become conduits for rapid movement of water into the basement.
The sealants and caulkings generally come in the form of a tube. The crack/joint along which the material is applied is first dried and then a primer is applied. The sealant/caulking is then applied in a straight line for short distances before letting the sealant dry out. Water and any other liquids should be kept away from the sealant for at least 24-48 hours to allow the material to dry.
Note that the type of sealant to be chosen would depend upon:
Whether it would be applied to the interior or exterior surface of the basement.
Would it seal expansion joints in concrete or ordinary cracks ?
Are any special conditions applicable eg.proximity to a pool or lake, or extensive use of the sealed surface ?
While sealing/caulking can easily be done without professional help, the above considerations should be analysed by a professional who will also recognize the potential fault lines and expansion joints.
Flashing Tape
Flashing tape is used for waterproofing surfaces that have a lot of metal pipes, gutters, wooden frames, sills, etc. Applied at the junction of the metal/wood and the concrete or between metal/wood and metal/wood junctions, this tape typically comes with an aluminium facer and a butyl-compound adhesive that bonds well with the metal and wood. Unlike other materials mentioned here, this tape can be applied to moderately wet surfaces as well, though it is always ideal to have a dry area.
EIFS
EIFS stands for Exterior Insulated Finnish System and involves use of a cement-like substance to coat the outer, or more rarely, the inner surface of the basement. Once applied, it creates a stucco-like layer that is impervious to the impact of water and even better, withstands hydrostatic pressure when the water pools around the basement. In addition to these benefits, EIFS also allows the user to add certain materials to the mix before application so as to obtain EIFS of a certain tint. While some of the common tints can be readily purchased from the market, others can be prepared at home.
Emergency Negative-Side Waterproofing Methods
Despite all precautions, water can sometimes push through at high pressure if walls are weak or porous and quickly create conditions far worse than what we use for sump pump reviews. These can overwhelm sump pumps and cause major flooding in a short time. There are a few solutions to combat such scenarios:
Waterproofing Resins – One of the top necessary basement waterproofing products for critical situations when water is gushing out of a small hole or abscess in the wall, these resins are applied after a polyurethane foam is used to plug the influx of water. The foam soaks in the resin and together, the resin and foam bonds with the concrete and masonry to create a permanent blockage at that point. Note that applying only the foam is not enough as the water would eventually push the foam out.
Polyurethane Injection – Different from foam, this injection is similar to the sealings/caulkings mentioned above but tends to act faster. The injection is applied along cracks that develop under high water pressure (or due to other reasons).
Concave Fillets – Applied at the junction of the floor and the wall, these fillets spread the tension between the floor and wall across a large area instead of focusing it on the 90 degrees junction alone. At the same time, it plugs any existing cracks or gaps. Together, it is ensured that the junction is protected in the long run as well.
Conclusion
While there are plenty of choices as far as the top necessary waterproofing products are concerned, we'd like to add a caveat that we also mentioned when concluding our buying guides for sump pumps – choose according to your needs. Unlike sump pumps, not all of one's waterproofing needs can be figured out by the user himself/herself since some require expert knowledge and equipment. However, most types of waterproofing can be carried out by amateurs and hence, once the survey is complete, one can get down to the purchase and application of the waterproofing materials without depending on anyone else.
READ MORE +
#
Notice: Undefined variable: wp_query in /home/sumpccin/public_html/wp-content/themes/rehub/functions.php on line 2036
47
Sump Pump Noise Problems and Solutions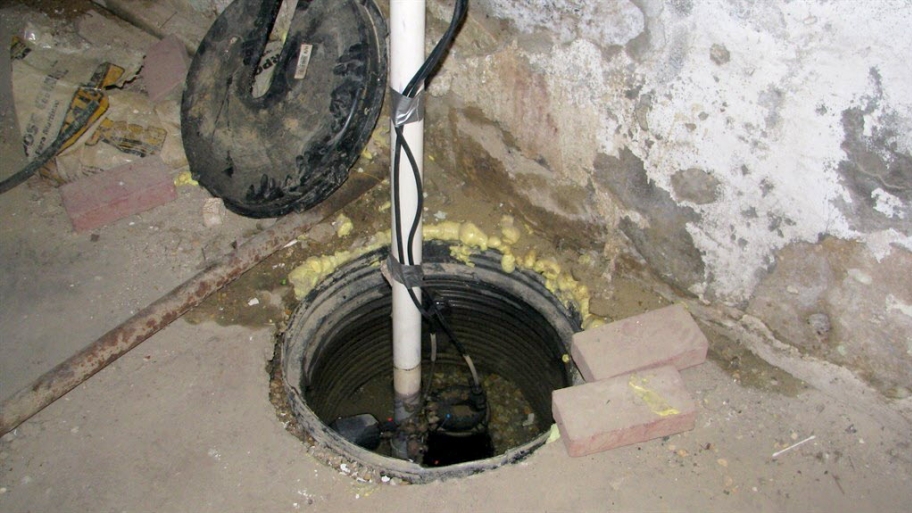 #
When you refer to our ultimate sump pump comparison chart, you will notice that the products we've listed include many of the quietest pumps available in the market. The reason for this is that sump pumps, being essentially motor pumps running on electricity/water, are often, quite justifiably in case of older pumps, considered a menace to the tranquillity of the house. While choosing the pumps we've mentioned therein will surely reduce the noise issues, there are also a number of sump pump noise problems and solutions which require only a little time and patience on your part.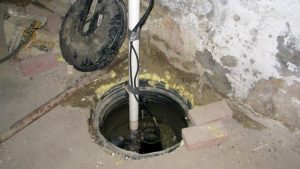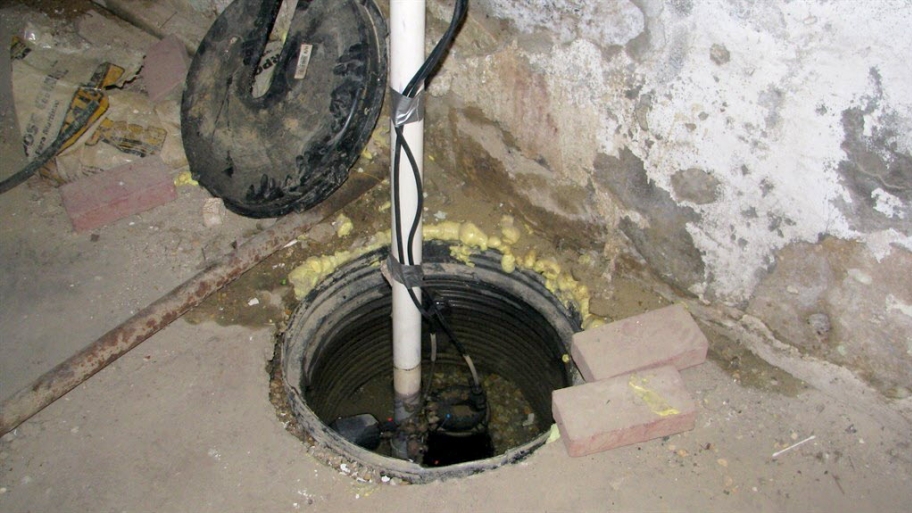 Problem 1: Loud "thud" noise when pump shuts off
The "thud" sound produced at the end of a sump pump running cycle comes not from the pump, but from the check valve associated with the PVC pipes. These valves are in place to ensure that once the pressure of water flowing from the sump falls, there is no back flow of water into the sump. As the water pressure falls and water tries to return to the sump under the influence of gravity, the valve shuts close, producing the "thud" sound.
Solution 1: Install a silent check valve
A silent check valve ensures that the thudding sound is not produced. While a costly option as far as sump pump noise problems and solutions are concerned, this is the only permanent answer. Once you've purchased a silent check valve, you can:
Shut off the check valve and any other valves that may exist above it.
Remove the existing check valve. Drain any water that may have collected in the vicinity of the valve.
Cut the pipe or add attachments to make the PVC pipe fit the new silent check valve dimensions.
Attach the check valve and reconnect the other valves. Turn them all on and test using a bucket of water drained into the sump.
Note: A "quiet check valve" is not a silent check valve. Silent check valves are a separate, somewhat costly category of valves.
Solution 2: Attach valve at 45 degrees
This solution is somewhat cheaper but trickier to implement. To do it:
Remove the check valve using the above steps.
Cut the pipes above and below the check valve such that the edges nearest to the valve are diagonal in shape. Hold the valve loosely in between the two diagonal edges to gain a better idea of whether further cutting is needed.
Tilt the valve at 45 degrees and attach the valve securely. If there are any discrepancies, you should use proper connectors.
Note: The diagonal cuts are permanent and cannot be changed unless the entire pipe setup is modified.
Problem 2: Motor makes a lot of noise when running
A regular candidate among sump pump problems and solutions, especially among older pumps, this problem can be solved most effectively by choosing one of the many quiet sump pumps we mentioned in our sump pump buying guide. If buying a new pump is not possible though, a number of stop-gap solutions are available:
Solution 1: Make sump cover airtight
Remove your existing sump cover and note the thickness of the plastic. If it is very thick but still noise comes out, there may be perforations in the cover, or it may have become weak over time. If it is thin, it cannot be expected to prevent noise pollution anyhow.
If the cover is thick and has holes/perforations, cover these with small pieces of foam or cork. Foam is advisable because it is more resistant to water damage.
If the cover has become intrinsically weak or is too thin, you can reinforce it with a layer of insulating foam, applied on the surface which will face the sump pump.
Alternatively, you can buy an insulation-inclusive sump pump cover as well.
Solution 2: Rubber grommets
If the cover is loose or rattles during heavy pumping, measure out its circumference.
Choose rubber grommets of appropriate size and shape and apply them to the sides of the sump cover.
Once fitted in this manner, apply the sump cover to the sump and seal it if necessary.
Problem 3: Clanging Sounds when water flows out
Clanging is another common category of sump pump noise problems and solutions, and occur when the pipes are not properly secured against their holders, leading to the pipes banging against the holders and creating noise that reverberates across the walls. To solve this:
Solution 1 – Rubber grommets
Measure out the gaps between the pipe and the holders.
Take rubber grommets of appropriate dimensions and fit them into the spaces, such that pipe fits snugly.
Note: These steps can also be carried out at the time of learning how to install a sump pump, though in most cases, some follow up grommet installation needs to be carried out as well.
Solution 2 – Align all pipes at 45 or 90 degrees
Using a levelling tool figure out the plane of the basement floor.
Now measure out the angles of the various pipes stemming from the sump pump. They should be at 45 or 90 degrees (or parallel) to the plane.
Tighten holders and straighten the pipe to ensure that sections which do not conform to these angles are fixed.
Conclusion
While discussing the type of sump pumps – which is best choice, we argued that some types of sump pumps eg. submersible sump pumps, make less noise compared to pedestal sump pumps. While it is extremely convenient and beneficial to purchase a new sump pump, we also recognize that it is not always possible to do so, especially if the product was purchased a few months ago with sub-standard fittings and these have started to weaken and rust. In such circumstances, the above paragraphs should help you find your way through sump pump noise problems and solutions without having to call in professional assistance.
READ MORE +
#
Notice: Undefined variable: wp_query in /home/sumpccin/public_html/wp-content/themes/rehub/functions.php on line 2036
48
Prevent Basement Flooding Tips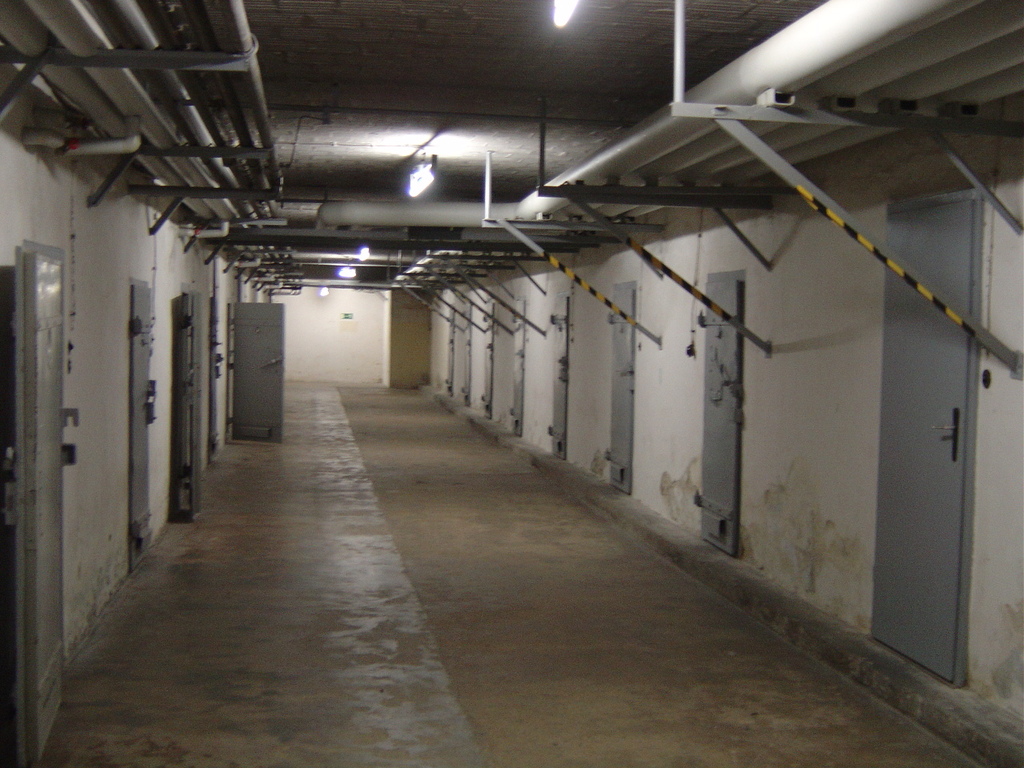 #
It is a commonly held belief that if one installs a sump pump using an ultimate sump pump comparison chart, he/she will never again have to worry about basement flooding. Much as we'd like to claim that this is true, it is a proven fact that sump pumps, or for that matter any basement draining equipment, works best with a number of precautions.
The reason, put simply, is that sump pumps, and any other equipment that you may use, can only remove water if it is collected in a tube or tub – the sump in this case. However, if you don't follow prevent basement flooding tips, the walls and flooring become porous and can allow water to seep and then gush in. To avoid such scenarios, we've come up with a list of most useful tips: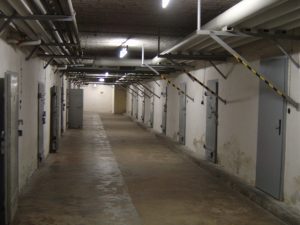 Position Your Pipes Properly
If you have learned how to use a sump pump, you would probably know the basics of pipe positioning and its importance for draining water. If you are a novice or do not use sump pumps even, you should have drainage pipes that remove at least the water building up above the surface, from the basement.
If you are using a sump pump, you should position the pipes vertically and then horizontally at 90 degrees to each other. This ensures adequate flow of water. Further, the end of the PVC pipe taking the water out should end not within 3 feet of the primary house wall. If either of these conditions is violated, chances are that water will not pass out properly, and whatever water does pass out will be soaked up by the outer wall of the house, leading to recurrent spells of dampness.
Clean The Sump and Sewer Lines
It is well-known that prevent basement flooding tips include clearing the reservoirs and outlets of water – the sump and the sewer, regularly such that the water can pass out quickly. While the simple steps to clean a sump pump would include clearing out a sump, the cleaning of sewer pits and lines is a more complex process, given that a question of hygiene is involved.
Ideally, sewer cleaning should be left to professionals, and even then, should be carried out in the spring season, when chances of rain are minimal. This is because if rain occurs while the sewage lines are open, rising water levels may lead to the sewage mixing with the water, thus contaminating it and causing environmental and hygiene problems for your neighbours and your family.
Cover all Inlets to the Basement
Many basements have ventilation ducts or windows that can allow water to seep in rapidly if the glass on them is not secure enough, or gets broken by the action of debris. To avoid this, one should use window well covers to keep windows that protrude from the ground, but are essentially below the ground level, covered. Coming with acrylic coverings, such covers ensure entry of light while preventing the entry of leaves, dust and water.
If the basement window or windows protrude a large way above the ground, it is ideal to treat them as French doors, covering them with special defences that can be attached and removed at will. When leaving the house for extended periods of time, it is advisable that the covers be fully applied so as to guard against the possibility of rain flooding the basement.
Check For Cracks in the Walls or Foundation
As any good sump pump tips and guides page will tell you, the weakening of the foundations of the house can lead to serious challenges to the stability of the house and the security of your loved ones. In the short run, however, such weaknesses would contribute to the flooding of the basement by allowing water to seep in. As the water seeps in greater quantity, the internal iron structure becomes further weakened, thus linking water seepage and house instability inextricably.
Initially, you should run the check every few months, noting whether there are any fine damp lines running across the length of your walls. If there are, check to see whether the damp has occurred due to local causes or due to structural faults. For small faults, use of building putty or white cement in the cracks should suffice, but to ensure long-term stability, professional help is perhaps the only solution in the long-run (or if the breakage is severe). Once the modifications are complete, apply a coat of water resisting epoxy paint to finish the job.
Install a Generator
Whether you have a sump pump and/or sewer pump installed, or just use electricity to run your basic basement lighting, a generator is a must. In case of pumps, they will provide much needed power to the basement in situations of power failure. In the very worst of situations, where the pumps are for any reason not working or the flooding is too rapid, you can always get hold of a spare pump or large wet vacuum (with long water hose attached) and use it to drain the water quickly.
Contrary to conventional prevent basement flooding tips, the generator can only be located outside, preferably a little away from the wall so it does not suffer in case of dampness of the wall. Modern generators come with heavy metal housings that cannot be penetrated by ordinary rain water. The generator must never be installed inside the basement as this will create a situation where even minor collection of water in the basement would ruin the generator. Alternatively, if the noise is bearable, the generator can also be put in the upper, inhabited sections of the house.
Conclusion
Water damage consistently ranks among the worst types of damage caused to any home or commercial establishment's basement, with the damage being worst in areas where heavy thundershowers, with wind and rain occurring at high velocities, damage the external protective structures of the home/commercial establishment. While it is impossible for a sump pump, a window well protection, a PVC drain pipe or an outdoor generator to protect the basement against a hurricane or cyclone, it is always possible to ensure, by following the prevent basement flooding tips, that in normal cases of heavy rain, these installments and other precautions can keep the basement dry and inhabitable.
READ MORE +
#
Notice: Undefined variable: wp_query in /home/sumpccin/public_html/wp-content/themes/rehub/functions.php on line 2036
49
The DIY Guide to Replacing the Sump Pump without calling in the Plumber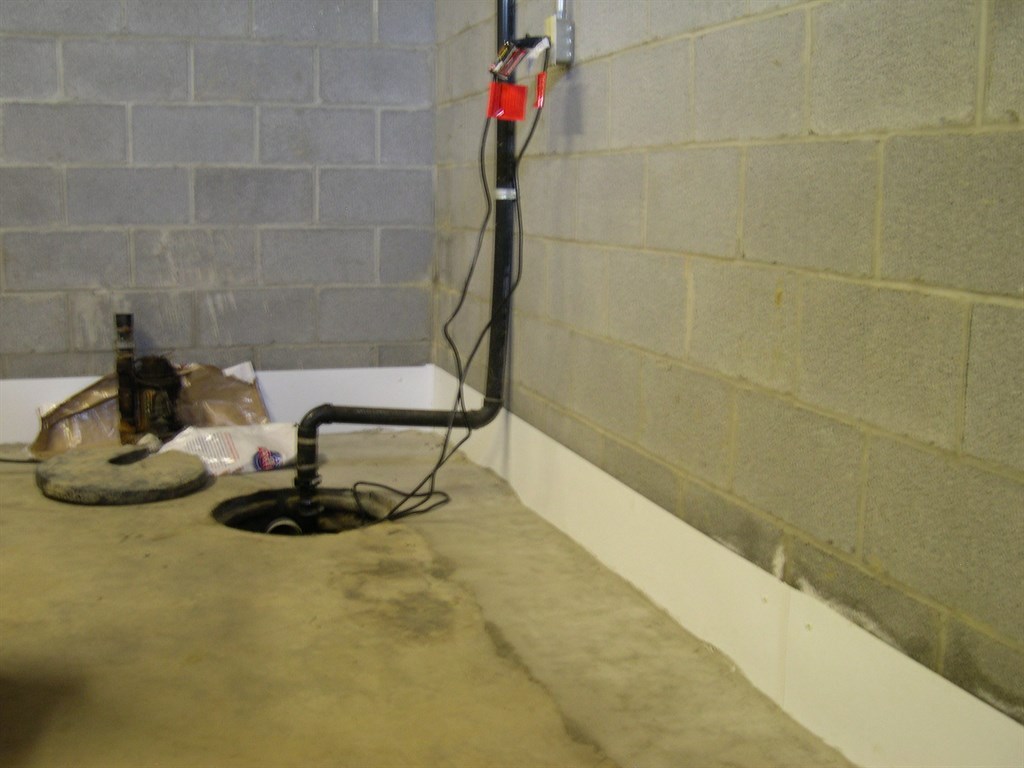 #
Whether your old warhorse just gave up the ghost or your weak sump pump is sitting five feet below basement-filling water, it is never too late to learn how to replace a sump pump without calling in that cost-prohibitive plumber. Now you may well argue that staring down dark basement holes and handling PVC pipes may not be your cup of tea. We agree that this isn't the pleasant of tasks, but with a little patience and some wise decisions prior to beginning the replacement procedure, it can become a short and easy procedure that can be managed with only the basic plastic cutting tools and a few cheap plumbing accessories. Still browsing the Yellow Pages ? Bear with us for a while longer as we guide you through a simple sump pump replacement procedure: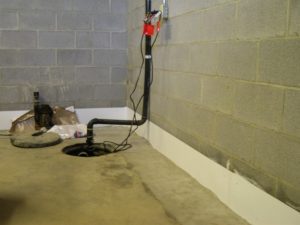 Begin By Choosing a Good Pump and Matching Parts
If your existing pump died out after giving years of excellent service, it is best to go for a product of the same company and probably of the same product range as well. If, on the other hand, your sump pump collapsed because it couldn't handle the water load, you'd have to go in for a beefier unit. While moving from 1/3HP to 1/2HP may be a simple equation, you should also consider:
Will the sump pump bump against the sides of my sump ?
Does it have special discharge requirements that would extensive replacement of PVC pipes/connectors ?
Will the float/impeller interfere with a secondary/primary unit I may have installed in addition to the one I wish to change ?
Once the pump has been chosen, it is time to go in for the parts that you would need. While these tend to vary a little (and you are at liberty to chop and change as you see fit), the basic parts required for a replacement procedure are:
PVC pipe: Most pipes come with thicknesses of "1-1/2"NPT". If the rest of the plumbing can remain work with the new unit, you would probably need no more than 2-3 feet of PVC pipes to replace the parts that have to be disposed along with the old unit.
Check valve: Check valves prevent the backflow of water into the sump once the sump pump stops pumping and the pressure of water in the PVC pipe dies out. You can reuse check valves if you like but if you're replacing an old sump pump it is best to replace the valve as well.
Union Connector: This piece helps connect two pieces of PVC pipe easily and would be attached at the point where the old PVC pipe meets the new 2-3 feet of PVC that we shall use with the new unit.
Screwdrivers, saw and safety equipment such as eye protection and gloves.
PVC priming material and standard white cement.
Removing the Old Sump Pump
To remove your old sump pump:
Remove the sump cover and set it aside. Disconnect all power cords including those of any other sump pumps that may be present in the sump.
Locate an area of the PVC pipe exiting the pump that is convenient for you. This should generally be at a height where other pipes do not hinder manoeuvring of sharp and large tools.
Using a hacksaw, cut away the PVC pipe at the point you'd decided. While learning how to replace a sump pump be ready to get drenched by the residual water in the pipe.
Pull out the old sump pump using the handle of the pump (if one is provided) and set it down on a perfectly level surface.
Use a measuring tool to measure out the length of the PVC pipe.
Preparing and Installing the New Sump Pump
Use the measurements obtained to decide what length of PVC pipe you would need. Cut out the required length of PVC pipe using a hacksaw. It is wise to be liberal while cutting this pipe because cutting can fix overtly long pipes but a short pipe would require all sorts of connectors to operate properly.
Make another cut at a point that is just a little higher than the top of the sump when the pipe is placed vertically alongside the pump. Keep the piece of PVC that has been cut aside for now.
Use a male connector to place the PVC pipe we've just cut into the discharge of the sump pump.
Apply priming material and white cement to ensure that the pipe is firmly stuck. Leave the cement to dry out, preferably in the sun.
When the cement has dried, place the pump in a bucket full of water and connect the power cord. Notice how the water flows out of the small PVC pipe and falls back in a waterfall like movement. If any obstruction is noted there may be obstacles in the PVC pipe diameter and these need to be removed. A long narrow stick can be used for this purpose.
Once you are satisfied with the flow, it is time to take the new pump into the sump. Lower the pump gently into the sump till it is sitting on the most level surface possible. Ideally you should not need to shift any additional pumps that may be present in the sump to achieve this position.
Ensure that the float of the new pump isn't in the way of any companion pump's float or is not otherwise obstructed. Further, the sides of the pump should not be in contact with the wall of the sump.
Attach the valve at the tips of the PVC pipe One of the things you need to know when learning how to replace a sump pump is to keep the arrow indicator of the check valve in the right direction. Otherwise the valve will block the flow of all water and in doing so, would be rapidly destroyed.
Attach the remaining piece of the original PVC piece to the other end of the valve.
Use the union connector to attach the other end of the PVC pipe to the original PVC pipes of the basement.
Run a Quick Test of the Assembly
Pour a 5 gallon bucket of water into the sump. Such a high volume of water would usually flood the sump and cause the pump/s to kick in.
To check this, connect the power supply of the replacement unit and optionally, the other sump pump (if there is one) and turn power on.
Watch as water is lifted and taken out of the home without having to let a plumber into the house.
Replacing a Water-Powered backup sump pump
Battery-run units follow pretty much the same procedure as outlined above. For water-powered ones the procedure is similar but not exactly the same. To replace a water powered unit:
Restrict the water supply of the house or if that is not possible, the section that feeds the basement. This would be the municipal water supply in most areas.
Disconnect the inlet and outlet connectors of the pump and raise it out of the sump. Most units come with connectors that provide excellent interface between the pump and the water supply system. Reuse these if possible. The valves can also be reused.
Lower the pump into the sump such that only the switch mechanism is deep inside the pump. In most designs the remaining parts would be outside the sump.
Connect the inlet and outlet pipes and reconnect the water supply to the basement/house.
Run the 5 gallon bucket test and keep power of all other pumps disconnected. If the unit is still capable of removing water, you can now be sure that you've learned how to replace a sump pump.
Replace the sump cover.
Conclusion
Barring some extremely specialized designs, the above guide to learning how to replace a sump pump should stand good for all major sump pump variants. That said, the actual time required can vary if, for instance, the sump is very deep and it is not possible to make careful observations about the state of the float when looking down from above. In such situations, multiple test runs are required to figure out if anything is not working.
Nevertheless, it is true that knowing how to replace a sump pump is an important skill that can help you tide over many an emergency when even the costliest of plumbers isn't available to help you out. In helping yourself by applying your knowledge to the replacement process, you can not only save some money, but also prevent sudden flooding situations. Hence, while we know that no guide is totally perfect, we do hope the above guide will take you one step closer to maintaining a dry basement all year round.
READ MORE +
#
Notice: Undefined variable: wp_query in /home/sumpccin/public_html/wp-content/themes/rehub/functions.php on line 2036
50
Wayne CDU790 Submersible Sump Pump Review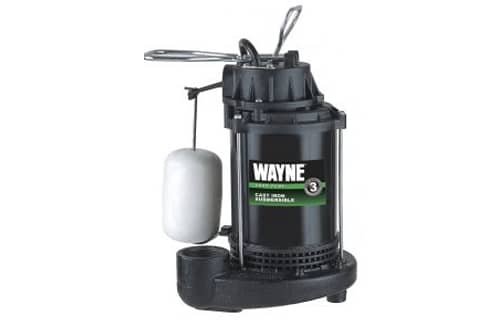 Wayne CDU790
The sub-$150 price bracket is the lowest one as far as sump pumps are concerned, but it is also the one in which demand is growing at the most rapid pace. It is therefore not surprising that so many new companies try to push in their pumps at a price point lower than what well established companies do, and customers who are tricked into purchasing these pumps soon realize the folly of their sub-standard purchase.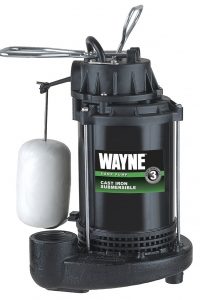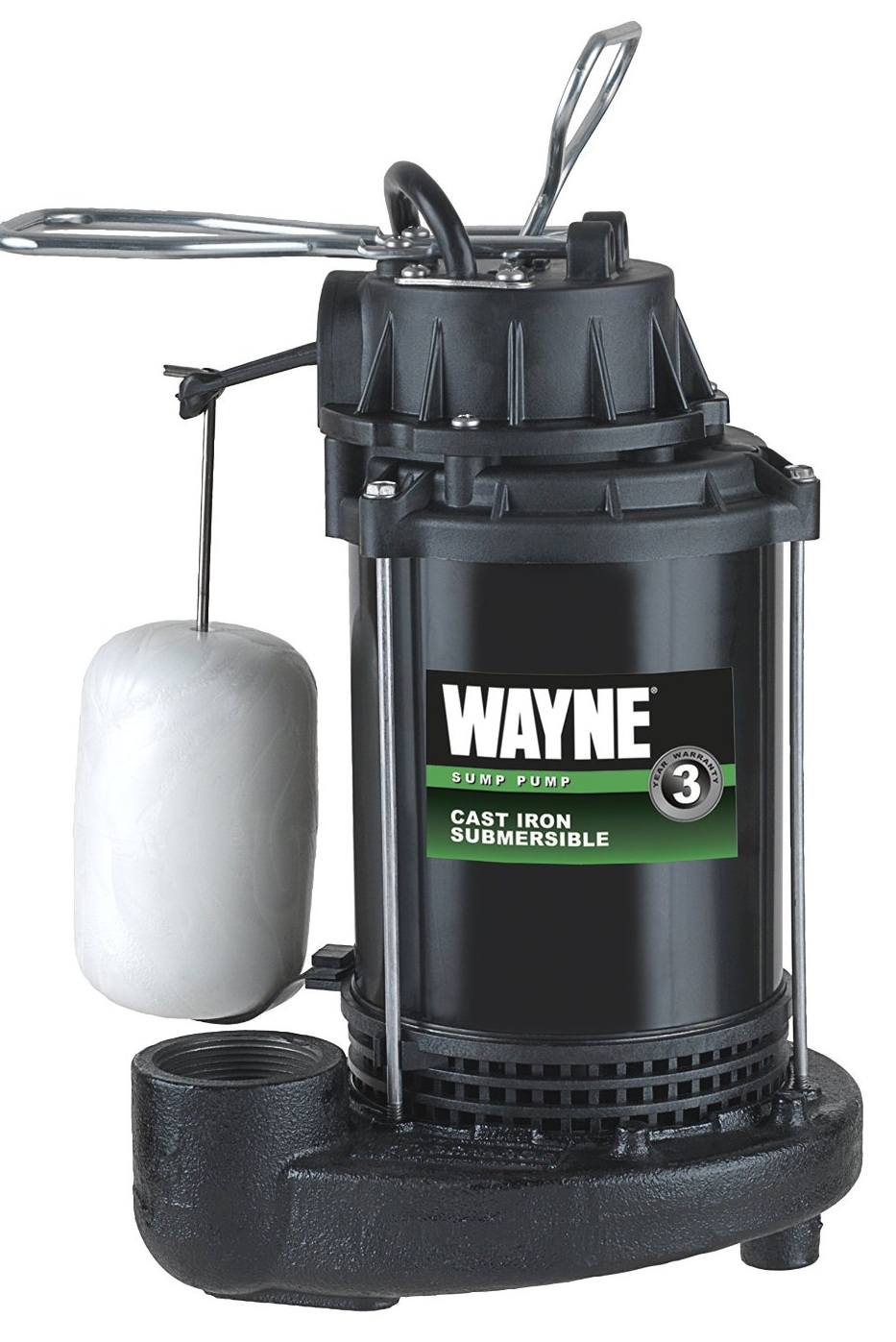 Check Reviews & Price On Amazon
Wayne Pumps, however, has never been known to cut corners – on the contrary, it has produced such awesome sump pumps as the Wayne 58321-WYN3 Submersible Sump Pump. However, this sump pump belongs to a higher price bracket, and given our focus on the lowest price points possible for a quality sump pump, we instead need to see the Wayne CDU790 Submersible Sump Pump.
As with any Wayne product, this sump pump boasts of a range of features and performance metrics that will put higher-priced products to shame. However, to gauge its true value for money potential, we need to analyze all of its features in greater detail.
Specifications
Product Dimensions: 9 x 9 x 12 inches
Product Weight: 16.4 pounds
Type: Submersible Sump Pump
Discharge: 1 ½ inches NPT
Motor: 0.3 HP, 100 volts
Power: 3450 GPH at 5′ head
Warranty: 3- year
Warranty
The Wayne CDU790 Submersible Sump Pump comes with a three year warranty on all parts, which makes it one of the best sump pumps in the price bracket in terms of warranty offered.
PROS:
Compact structure allows the sump pump to fit in sumps with 11" diameter (or more)
Cast iron build for longevity and epoxy coating for protection against corrosion
Top suction strainer mechanism allows for filtering of debris
Powerful 1/3HP motor with excellent pumping output and maximum head
Excellent ceramic sealing for protection of internal components from water
Well designed and highly responsive float-operated switch assembly
Excellent 3 year warranty on all parts
CONS:
Handle could have been bigger
Some users complained of stainless steel parts lacking epoxy coating
Build Quality and Design
Wayne invests a lot in creating well-designed sump pumps, and this is evident in the Wayne CDU790 Submersible Cast Iron and Steel Sump Pump. The product comes with a light and compact design that allows the pump to be used in sumps 11" in diameter. A highly noted point about this design is the proximity of the discharge and the float to the motor casing, without however causing either part to suffer reduced functionality. Furthermore, the structure has a small cast iron base with short legs which ensures stability of the product regardless of the flatness of the sump bottom.
Without premium build quality a good design is meaningless, and so we find Wayne providing high quality cast iron housing for the product so as to insure it against the twin dangers of corrosion and impact of large debris. Corrosion resistant paint has been applied over all external parts so as to provide added defense against corrosion.
The only exception to this are the float (which is not made of metal) and the stainless steel handle and switch guard. Some users argued that this made them more susceptible to corrosion, but long term users countered them, arguing that despite extensive exposure to water, these parts never did show any sings of corrosion.
Major External Parts (Discharge, Power Cable and Handle)
The discharge is a standard 1-1/2" NPT cast iron component which is capable of passing small spherical solid bodies along with the water, thus ensuring that there is no buildup of these small particles at the bottom of the pump. On the other hand, the 1-1/2" NPT size ensures that there is never any incompatibility issue as far as the PVC piping is concerned.
Finally, it is fitted with a top suction strainer which allows the product to filter debris with ease and therefore preclude the possibility of the pump being clogged up due to accumulation of debris.
The power cable on the other hand is of decent length, and when considered along with the fact that it is fully submersible, appears to be one of the better power cables in the industry today. Finally, as we noted above, there is a convenient stainless steel handle at the top of the sump pump, which is shaped in a way that ensures easy compatibility with most hand sizes. However, a few users with very large hands noted that they could not insert all of their fingers into the handle space, and hence had some difficulty in raising and lowering the product.
Motor and Sealing
True to Wayne's reputation for providing powerful and dependable motors, the product comes with a 1/3HP motor, which is the maximum one can expect in this price range. Coming to the equally crucial question of pumping output, we find the product capable of pumping a marvelous 3450 gallons per hour at 5' head.
Further, as our sump pump reviews have shown, a product which achieves a maximum head of 20' on a consistent basis is a great value for money proposition. This Wayne product thankfully reaches this mark and maintains it for successfully for the duration of pumping operations, thereby staking claim to a position in the category of good sump pumps.
Longevity is vital part of the value for money calculation, and motor sealing a vital part of the test of longevity. The Wayne CDU 790 passes this test admirably courtesy of the ceramic seal which separates the motor from the housing, and thereby disallows water from going into the vital internal components and ruining them.
Impeller and Switch
The Wayne CDU790 Sump Pump comes with a standard cast iron impeller, which not only ensures adequate support to the top suction strainer mechanism of the discharge, but also protects itself and the base from damage due to collision of heavy debris with the underside of the pump.
The switch utilizes the well-reputed PVC float system that consists of the large and stable float, the steel suspension rod and the shaft which connects to the switch. As the water level rises, the float is dislocated and pressure is applied on the shaft through the float suspension. This triggers the highly sensitive bipolar switch, causing the motor to start. Though the float is extremely durable, the precise arrangement of the system necessitates additional safeguards, which come in the form a large and hardy stainless steel switch guard.
 Customer Reviews
Customers seeking a great pump in a budget segment noted the ease with which the product could remove even high levels of sump water in little time without suffering any problems. They also praised the small structure, which allowed them to use the pump in conditions where costlier and larger pumps had proved inoperable. Finally, users commended Wayne for providing a 3 year warranty whereas other budget sump pumps barely provided a year of warranty. However, a few users did complain of the handle being small and also of the handle and switch guard not being given special defenses against corrosion.
Conclusion
Unlike low-grade companies that promise a lot but fail to deliver, Wayne promises on paper just what it is able to deliver. In case of the Wayne CDU790 Submersible Sump Pump, this promise amounted to a perfect blend of power, compactness and durability, and our review shows that this is exactly the case in real life as well.
Granted that the product could have had a better handle and some epoxy coating on its steel components, but these minor shortcomings are more than compensated for by the superior motor power, excellent overall build quality and unsurpassable product warranty from the manufacturer. Combined together, these prove that the product is an unbelievable proposition in terms of features offered for the price demanded. Given its compactness and resultant adaptability, this plethora of features makes this sump pump one of the best budget products available in the market today.
Check Reviews & Price On Amazon
Related reviews:
WAYNE CDU980E 58321-WYN3 SUBMERSIBLE SUMP PUMP REVIEW
READ MORE +