Browsing All Posts By
admin
#21
Why Aren't Heat Pumps Effective in Really Cold Weather?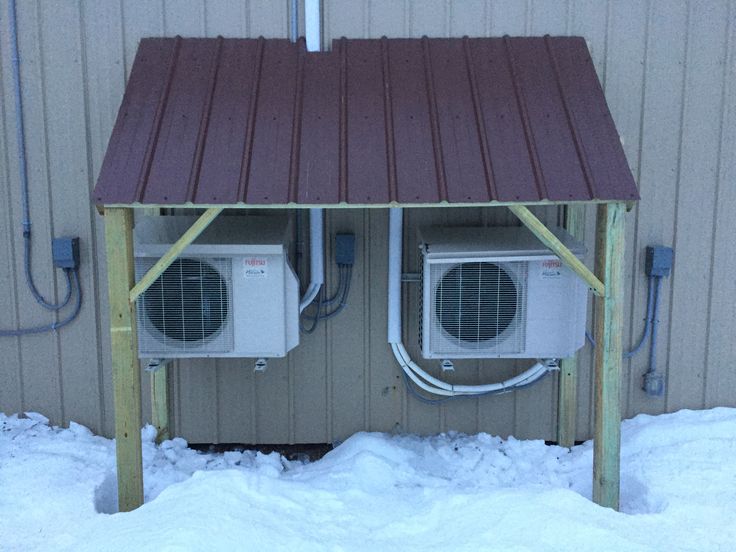 #
Heat pump technology continues to improve, but heat pumps are still not effective when temperatures are below freezing. There is a simple answer to the question, but it is essential to know how heat pumps work first.
How Heat Pumps Work
As the name implies, heat pumps carry or pump heat from one location to another. In the summer, they air condition your home by collecting heat inside and carrying it outside. In winter they heat it by reversing the process.
A heat pump is made up of an outside unit known as the condensing unit. It contains a compressor, an outdoor coil, a fan and supporting parts. Inside your home, in the air handler or gas furnace, is the indoor coil for the heat pump. Two refrigerant lines connect the indoor coil to the condensing unit. They are used to circulate refrigerant.
When heating, refrigerant is pumped into the outdoor coil by the compressor. There, it evaporates into a gas and collects heat in the process. Think of water evaporating off of your skin, carrying heat with it and cooling your skin. The refrigerant evaporates into a gas and gets very hot. It's hard to believe, but there is sufficient heat outside even in winter to collect enough to heat your home, at least when the temperature is not freezing cold.
The hot gas refrigerant is pumped into your home through the first refrigerant line. It enters the indoor coil, passes through a valve and condenses back into a liquid. The heat is forced out of it by this process. The indoor coil gets very hot. The blower fan of the air handler circulates air over the coil to heat it before pushing it into your home via the duct work.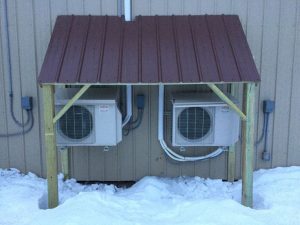 The cooled refrigerant then circulates back outside through the second refrigerant line to collect more heat. This process is continuous until enough heat has been brought inside to raise the temperature to the desired level.
The Problem with Heat Pumps on Very Cold Weather
As the temperature outside drops, the refrigerant is able to capture less and less heat. Once the temperatures fall into the mid-30s to about freezing, today's heat pumps cannot effectively gather enough heat to do the job. When temperatures are very cold, a different heat source must be used. For this reason, heat pumps were not used in cold climates until recently.
Dual Fuel Heat Pumps are the Solution in Cold Climates
Many heat pump brands now make dual fuel heat pumps. They contain a few extra parts that allow them to alternate heat with a gas furnace. The system is set to automatically switch to the gas furnace when the outdoor temperature drops to a programmed number; it switches back to the heat pump when the outdoor temperature rises. The advantage of such a system is two-fold. First, your home is adequately heated. Secondly, the heat pump is used as much as possible. Since heat pumps are much more efficient than even high-efficiency gas furnaces, this gives you the lowest possible heating bills.
If winter temperatures regularly fall into the mid-30s or below where you live, take a few minutes to learn about the advantages of dual fuel heat pumps. You'll find quite a few in our heat pump ratings. You can read more about them in many of the general articles on this site too.
READ MORE +
#22
How Important Is it to Have a Good Installer When Buying a Heat Pump System?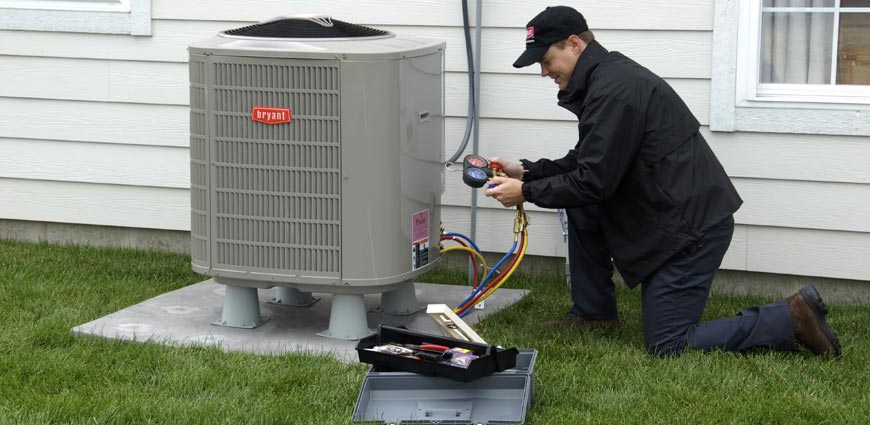 #
Heat pump installation is a very important to the performance and efficiency of a heat pump HVAC system. Only when the heat pump is properly installed will it run at peak efficiency and give you the durability it should. Here is a look at why proper heat pump installation is so important.
Charging a Heat Pump with Refrigerant
A heat pump system relies on having the proper refrigerant charge or level. Handling heat pump refrigerant, known as R-410A, requires a license and certification. So, heat pump installation is not a DIY Home Renovation project for most of us. The right tools and gauges must be used to do the job correctly.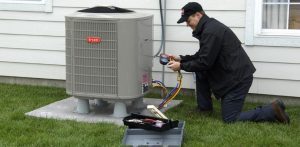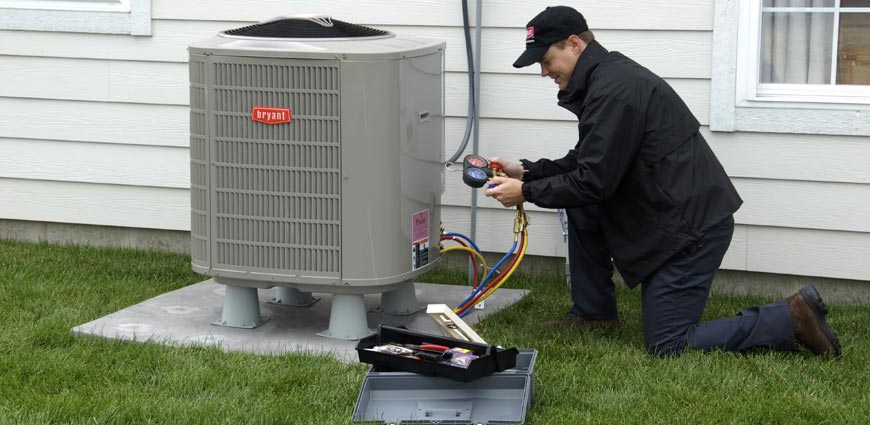 Getting the charge right is essential to the performance of the system. A heat pump that is undercharged will heat and cool inadequately. It won't be able to carry as much heat as it should from one place to another – from inside to outside when cooling and the opposite when heating. Your home will be too hot or too cool, and the heat pump will work overtime to try to catch up. The result, besides an uncomfortable home will be mechanical failure, more repair bills and shorter longevity for the heat pump.
In addition, if the installer does not have expertise, the refrigerant lines might not be attached properly, and that often leads to leaks of refrigerant. When enough refrigerant leaks out, the unit won't heat or cool at all. So, you can see that handling the refrigerant properly is vitally important to your heat pump working right.
Fine Tuning the Heat Pump System
A heat pump works in conjunction with the air handler (or gas furnace in a dual fuel system) to make your home comfortable. The functioning of the heat pump must be coordinated with the blower motor, especially if you choose a 2-stage or modular heat pump and a variable-speed air handler. When the system is properly tuned, it eliminates blasts of untreated air at the beginning of the cycle. It prevents the system from overheating or over-cooling your home, producing temperature swings. Fine tuning a heat pump system takes training, skill and experience.
Don't Forget Heat Pump Installation Safety
When a system isn't wired properly, faulty wiring can be a fire hazard. That is reason enough to hire a qualified contractor with good experience to install your heat pump system!
Finding a Competent Heat Pump Installer
It is important to get multiple written estimates for your new heat pump system. This will allow you to find the lowest prices, but it will also give you a chance to interview contractors and find the one with the best skill and experience. When you choose a proven installer and he does the job correctly, your heat pump will run as efficiently as it should for as long as it should and as safely as it should, making your home as comfortable as it should. That's important!
READ MORE +
Top 7 Best Selling Water Pressure Booster Pump Reviews
Conclusion
Finally, technology brings a smart solution to those delayed water supplies with a water pressure booster pump. With these new-age pumps, washing clothes in machines, filling up a bucket full of water to bath or irrigating a garden will no more be a challenge. In today's busy world, what people look for are time-saving appliances, and a best water pressure booster pump qualifies for it without leaving any question. Just make sure that you are choosing the right pump as per your needs. If possible, take the assistance of a professional for installation or you can also do it on your own. Don't worry about space as these tanks take minimal space to set up and are quite portable as well.
Fetch more water, Save more time!!
READ MORE +
-->
#23
Best Water Pressure Booster Pump Reviews 2018- Top Picks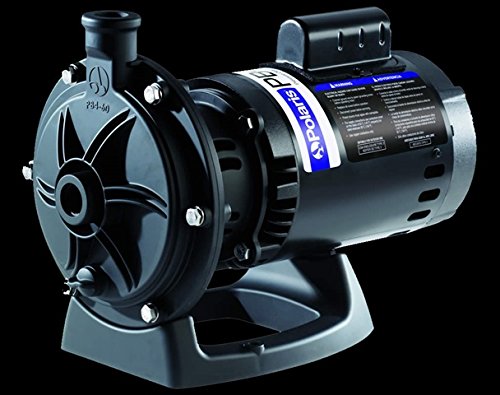 Imagine you are running short of time while the faucet is falling short of its speed in providing you water for bathing. To avoid such unwanted circumstances, best water pressure booster pumps have been introduced. These pumps are designed to speed up the pressure of water coming out of faucets in your washroom. It often happens that there is a poor flow of water and this is due to low water pressure. As a result, it takes a lot of time to fill up your tub.
With a booster pump, however, water is allowed to flow at high speed, which in turn can help you wrap up multiple activities in quick time. A water pressure booster pump can be operated either manually where you need to simply turn on a switch, or through an on-demand system that is automatically activated just when there is a necessity for more water. So, bring home a water pressure booster pump today and save time in getting sufficient water with a wink of an eye.
Best Water Pressure Booster Pumps Comparison Chart
| No. | Image | Name | Type | HP | Voltage | Warranty | Where to buy |
| --- | --- | --- | --- | --- | --- | --- | --- |
| 1 | | Zodiac PB4-60 | Pressure Booster | 3/4 HP | 115 | 1 Years | Check Price |
| 2 | | Simer 3075SS-01 | Pressure Booster | 3/4 HP | 115 | 3 Years | Check Price |
| 3 | | BurCam 506532SS | Pressure Booster | 3/4 HP | 115 | 2 Years | Check Price |
| 4 | | Grundfos MQ3-35 | Pressure Booster | 3/4 HP | 115 | 2 Years | Check Price |
| 5 | | Davey Water Products BT20-30T2 | Pressure Booster | - | 120 | 2 Years | Check Price |
Top 7 Best Selling Water Pressure Booster Pump Reviews
#1
An appliance that holds the ability to perform without glitches and yet saves energy to a good extent is what qualifies as a good investment. The Zodiac PB4-60 is just sensational as it performs incredibly, operates with zero noise and saves a good deal of energy.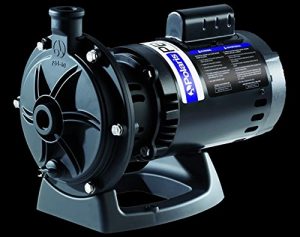 What has left its users impressed is its unmatched efficiency as it is made to run on a ¾ horsepower motor. With a heavy duty single piece base, this powerful water pump comes equipped with ergonomic connectors that make it quite effortless to install. For being compact in size, it barely takes any space and fits in comfortably just anywhere.
What makes Zodiac PB4-60 unique is its speed controlling capacity as it can operate in times of low flow requirements. This is where it does magic in saving a fair percentage of your utility bills. Moreover, it comes with an ergonomic drain plug along with captured back plate nut fasteners. For a better performance, it comes with a wet end fully redesigned. As far as cleaning and maintenance are concerned, Zodiac PB4-60 is hassle-free. So, why not make it a deal with such a brilliant booster pump that can speed up the water pressure and keeps your bills in control simultaneously?
PROS:
Operates with no noise at all
Very easy to install and takes minimal space
Compact in size and quite light in weight that makes it easier to carry
Quite durable and will last long
Extremely versatile and saves energy to a good extent
CONS:
Hose connections are not traditional in design and therefore cause difficulty during initial use
Electric board can cause terminal issues
#2
If low water pressure is what leaves you annoyed every morning, here comes a great solution in the form of Davey Water Pressure Booster Pump. With an impressive pressure boost of 30 PSI at 20 GPM, this hot and happening booster pump will just gear up the supply of water, making it stronger than before yet absolutely even.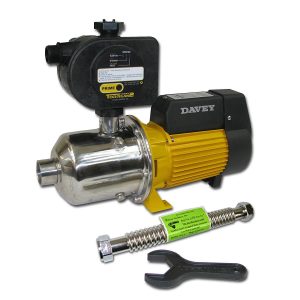 When it comes to meeting diverse household needs where water in high pressure is on demand, this booster pump from Davey will smoothen the pressure, whether it comes from the showers, sprinklers or any other source.
As Davey Home Pressure Booster Pump comes with impellers made of stainless steel and pump casing, it scores high on sturdiness. Furthermore, it comes equipped with a TEFC motor that ensures power surge protection. What assures more safety for homeowners is its dry-run protected feature. With all these, you are no more subject to pressure fluctuations, especially when your pump is turned on or your toilet undergoes a flush.
The good news is there are no flow switch controllers with this whole house water pressure booster pump as it utilizes a Torium-II controller. Certainly, it is value for money and is sure to fulfill your water needs wherever possible.
PROS:
Super-efficient with a pressure boost capacity of 30 PSI at 20 GPM
Keeps the water pressure in control, irrespective of the water source
Comes with impellers made of stainless steel
Operates with Torium-II controller, making the operation stronger
CONS:
Foot valve not provided with the pump that needs to be ordered separately
Overheating issues crop up often during the operation
#3
Now say no to a pressure tank as you can now get rid of it by bringing home the BurCam 506532SS Water Pressure Booster Pump. Compact in size, it can be carried with ease as it is quite portable. What gets it a tick over other domestic water pressure booster pumps is its flexibility to stay strong during the winters and its hassle-free installation.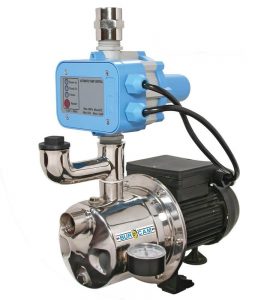 Furthermore, its electronic control makes it more effective and user-friendly. Its ¾ HP Shallow Well is best for use in pumping depths measuring up to 25 inches. What makes it sound-free is its Noryl Impeller and TEFC motor of 115 V, which stays completely enclosed.
What ensures its durability is its stainless steel body that will keep it absolutely free of corrosion and rust. So, this will play a key role in sustaining its operation for years to come. Furthermore, it comes with overload and thermal protection that makes it safer and assures complete security to its user. For not having any pressure switch, it maintains a constant pressure. In a nutshell, this automatic water pressure booster pump from BurCam is just exceptional, and you don't even need to worry about its maintenance as it also enjoys protection against running dry.
PROS:
Operates with no noise owing to its Noryl Impeller
Light in weight and quite portable
Flexible to work in all climatic conditions
Involves a very easy operation process
Plenty of Safety features enabled and does not need any maintenance
CONS:
Not so durable and built is not good
User-instructions provided not clear
A bit pricey in comparison to other pumps
#4
Forget those days when the low water pressure in the faucets kept you waiting for the tub to be filled up. Here is a brilliant solution, named Simer water pressure booster pump that has been designed to provide your faucets that additional pressure to let sufficient water flush out with super speed. Simer 3075SS-01 will do this similar commendable job so as to boost up the incoming pressure at 40 PSI, which will, however, depend on the flow rate.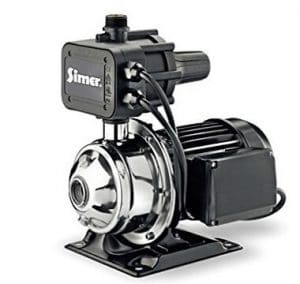 Homeowners have found it quite useful as this booster pump can generate that additional pressure. Some, on the other hand, have also got positive results while working with the sprinklers. With the on-demand operation feature, Simer 3075SS-01 is made to run only when the water flows. Furthermore, there is no question in terms of its durability as it comes in a stainless steel body that makes it completely corrosion-free. What makes it hassle-free for installation is its pre-assembled structure. The power cord is 115 volt that does not consume much electricity. So, what can be more beneficial than this pocket-friendly energy saver that would fetch you water at good speed every morning? Go for it today and you will know why it's a great investment.
PROS:
Exceptional pressure boost capacity of 40 PSI
Made of stainless steel that makes it corrosion-free and rust-free
Operates on the basis of on-demand feature
Comes pre-assembled that makes it easier to install
Requires no maintenance at all and works well with sprinklers
CONS:
Certain pump parts start leaking during operation
Lifelong performance is a big question
Water pressure boosting often fails
#5
Requiring sufficient amount of water for gardening or washing clothes sometimes becomes a challenge, especially when the water flow is minimal. To boost up the pressure of water coming out of the faucet, Grundfos brings a new-age water pressure booster pump. Grundfos MQ3-35 now comes with a plug-and-play pressure boosting system that makes it absolutely effortless to operate.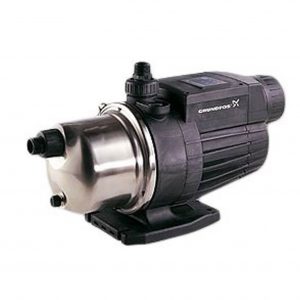 Moreover, its compact size eliminates space, making it easier to install with no effort.
This booster pumps for water pressure is ideal to be set up at farms, cottages, cabins, gardens, and homes, which suggests that all domestic water supply applications can be best handled. In fact, rainwater along with potable water can be pumped up well with the help of Grundfos MQ3-35. What makes it a complete unit is its incorporation of diaphragm tank, motor, controller and check valve, pressure and flow sensor along with the pump. Protection assured is high in case of this new-age booster pump as it promises safety against overload issues, excessive temperature, and dry running. So, where this self-priming pump is so easy to install and operate with positive results, it would be worth every penny.
PROS:
Equipped with a plug and play system that makes it easier to operate
Compact in size that takes little space to set it up
Assured safety against getting overload, dry running, and excessive temperature
Makes no sound at all during operation
CONS:
Lifespan is too short to perform
Pump lacks consistency in its performance
High possibility of leakage in the coming years
#6
Energy efficiency is one of the biggest considerations for today's homeowners who are almost compelled to run multiple appliances simultaneously. But with Pentair LA01N pressure-side booster pump, things are going to be different this time. With an impressive capacity to save energy, this modernized water pump holds the capacity to run at ¾ Horsepower.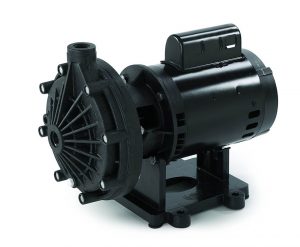 This universal booster pump requires a power consumption of 115/230 volt and made out of corrosion-proof materials that make it more sturdy and durable.
What gives it the power to speed up the incoming pressure is its 50-PSI at 12-GPM capacity. It measures 16×9.2×10 inch as in length, width and height respectively, which shows that it is quite compact in size that makes it easier for installation too. It stands compatible with legend platinum, legend automatic pool cleaners, and legend platinum truck series. So, if you are having an old pump, it's high time that you can think of replacing it with this pressure-side pool cleaner booster pump. Moreover, maintaining it will not be a challenge in the coming days as it will not be subject to rust. Now be ready to make the most worthy investment and enjoy a steady flow of water for all sorts of domestic needs.
PROS:
Very easy to maintain and takes hardly any effort
Quite easy to install and takes no space for the setup
Operates quietly without making any sort of noise
Comes assembled in advance that eases the process of installation
CONS:
Lacks enough weight to sweep adequately
The hose fails to reinforce while connecting to the top section of the unit
The chassis inside the cleaner often breaks
#7
Just imagine an advanced water pump eliminating all possible chances of a flooded basement and that also without drawing much electricity like typical reservoirs. If you are in search of a similar miraculous water pump, bring home Wayne PC4 transfer water pump and start witnessing the difference with others. Made out of high-quality cast iron, this super-efficient water pump has a capacity to augment line pressure by 50 PSI that would easily provide water for gardens, lawns, and car washing.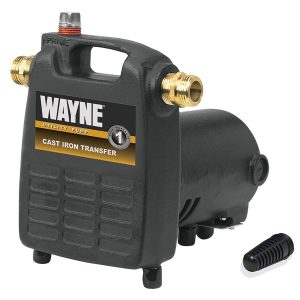 What makes Wayne PC4 worthier is its suction strainer that efficiently filters out all debris while its ¾ inch brass hose connections prevent it from stripping, making it easier to connect to garden hoses. Furthermore, this powerful water pump is made out of cast iron that lends strength and durability to it. Being non-submersible, it has an excellent flow rate of 1450 gallons per hour that assures to provide sufficient water at a time. For being compact in size, it requires minimal space for installation. In fact, a good number of homeowners has been able to install it, taking hardly any effort. Wayne PC4, in other words, is a wise investment.
PROS:
Very sturdy and durable owing to its construction made out of cast iron
The installation process takes no time and effort at all
Removes flood water quite efficiently
Light in weight that makes it easier to carry to different places
CONS:
Often emits noise during operation
A little time is taken in case of priming
Keeps running even when it is empty
#
How to Choose the Best Water Pressure Booster Pump For Home
If it's for the first time that you are heading to choose the top water pressure booster pump, it might seem to be a complex task. However, you can always ease your job by first understanding the functions of a booster pump, explore its types and then proceed to make the selection of the right booster pump. Well, homeowners and all those who are planning to buy these quiet water pressure booster pump must always know that on which model they are actually investing. If this goes wrong, or to be precise, if the pump configurations fail to match up with their requirement, investments will automatically go into vain. You can also install Booster Pump at your own home toilet for this you can visit our website toiletrated for purchasing any toilet pump and its accessories.
So, here are a few points to keep in mind while choosing the ideal water pressure booster pump. Have a look:
If you are concerned regarding the most important aspect prior to choosing a good water pressure booster pump, it's the power source. You just need to check whether you are having a 1000W electric socket that will be sufficient to handle any sort of malfunctioning.
Choose a stainless steel body
Pumps made of stainless steel are anyway durable and can handle any type of weather conditions. Moreover, the body would be completely rust-free that would be a positive sign of staying strong for a lifetime. Cast iron is another good alternative besides stainless steel.
Look for multicellular pumps
While a pump operates, users are required to check whether it is making excessive noise or not. But how to judge it before buying one? Well, just say no to mono-cellular pumps that has a single impeller for creating suction, making much noise while running. Instead, go for a multi-cellular pump that uses more than one impeller, making no noise at all. In fact, these pumps are quite hardy and pocket-friendly as well.
Look for a galvanized tank
A huge advantage of keeping a galvanized tank is that it can store drinking water. This will give you a chance to add a filtration system during the installation process.
Analyze the Discharge capacity
A water pressure booster pump having a high discharge capacity will be able to transfer fluids from the actual source to the discharge outlet in no time. If the discharge capacity is high, the operation will certainly be swifter.
Check the maximum head lift
By maximum head lift, what is meant is nothing but the distance between the outlet and the water source. So, the booster pump you will be choosing must have maximum head lift capacity that will gear up the pump's efficiency in the process.
Check the vertical suction lift
If you have plans to buy a low water pressure booster pump for dams or pools, you must ensure that it is having a high vertical suction lift. This actually refers to the distance for fluids to be moved from its original destination to reach the pump.
So, this is a good checklist for all those who want to get a water pressure booster pump. Keeping these points in mind will surely help you get the best model for your needs.
Conclusion
Finally, technology brings a smart solution to those delayed water supplies with a water pressure booster pump. With these new-age pumps, washing clothes in machines, filling up a bucket full of water to bath or irrigating a garden will no more be a challenge. In today's busy world, what people look for are time-saving appliances, and a best water pressure booster pump qualifies for it without leaving any question. Just make sure that you are choosing the right pump as per your needs. If possible, take the assistance of a professional for installation or you can also do it on your own. Don't worry about space as these tanks take minimal space to set up and are quite portable as well.
Fetch more water, Save more time!!
READ MORE +
#24
Things To Know About Best Air Source Heat Pump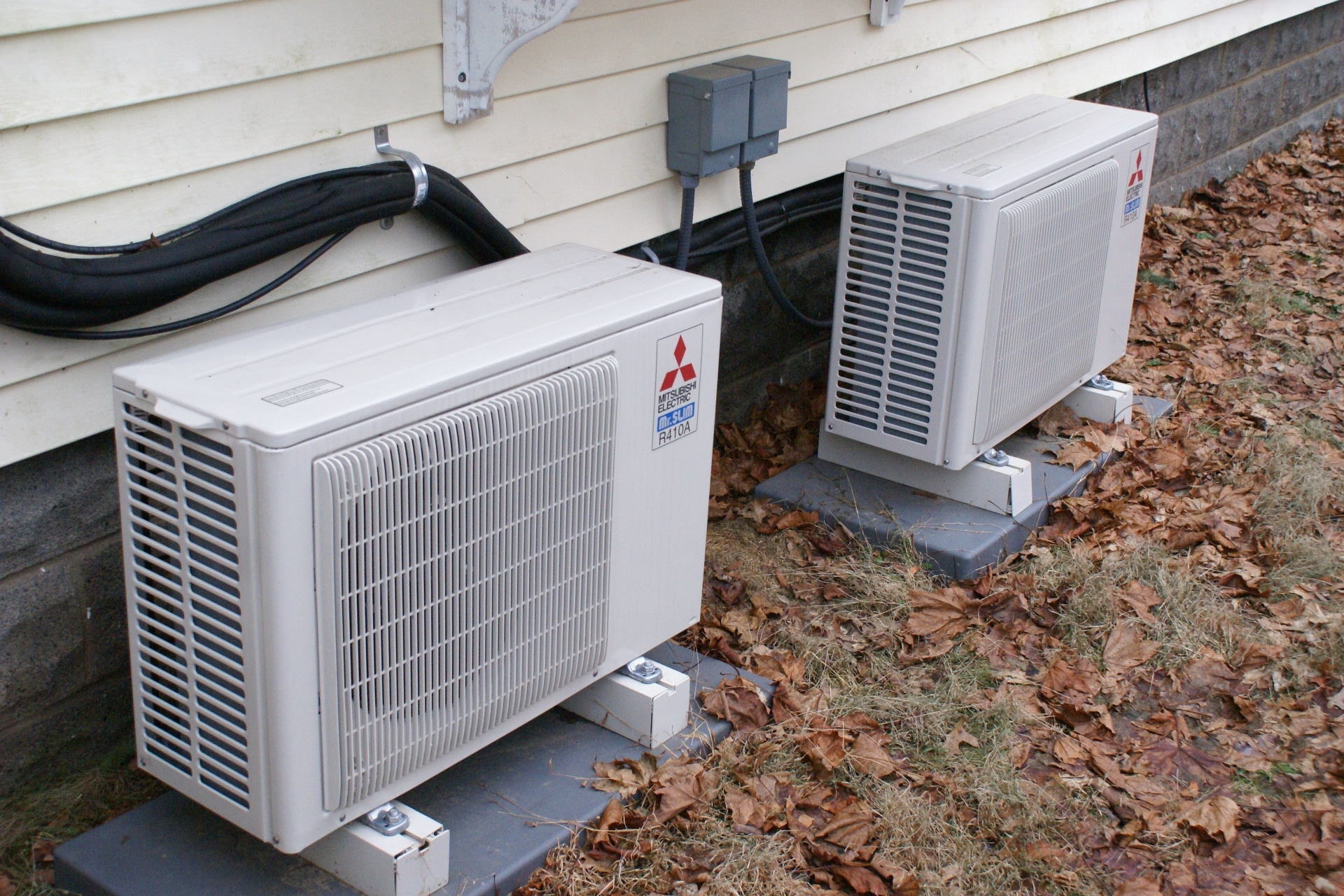 An electrically powered air source heat pump installed in a house enables you to draw in heat from the outside air in order to heat the home's interior. This source of heat can be used for underfloor heating systems, domestic hot water or to warm the water in conventional radiators. An air source heat pump enables you to extract the heat found in the outside air in a similar fashion to the way that a refrigerator extracts the heat from its compartments.
Even if the outside temperature is minus 15° C, an air source heat pump can still extract some heat from that outside air. These best heat pumps are manufactured in two different types: Air-to-air heat systems – these produce warm air which then gets circulated by fans in order to heat your home's interior. Air-to-water heat systems – these systems use the heat extracted from the outside air to heat water. They heat the water to a temperature that is lower than that found in a standard boiler system which makes them much more suitable for an underfloor heating system than a standard radiator system. The amount of heat that these systems produce is compared to the amount of electricity that is required to operate them. This is technically referred to as the CoP, or the Coefficient of Performance, which is the measure of the air source heat pump's efficiency while operating. A CoP of around 2.5 is the normal average with these types of heat pumps.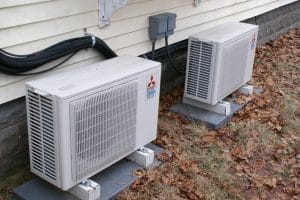 Air source heat pumps benefit the homeowner in several ways:
They reduce the amount of energy that is wasted by a conventional and perhaps inefficient heating system.
Air source heat pump help to reduce the daily running costs of a house because there is no further need to pay for such large quantities of gas, oil, or other fuels in order to heat the home.
No further storage required of messy solid fuels.
Air source heat pump are space savers in that these systems are very compact.
Air source heat pump can provide domestic hot water and space heating.
These units are very reliable and little maintenance is required – unlike conventional boilers.
Here are five key questions to answer if you wish to determine if this type of heating system is going to be suitable for your home:
How well insulated is your existing home? Your home needs to be draught protected and fully insulated to the current recognized standard.
Is there a suitable place to install the heat pump? You are going to need a suitable spot on the exterior of your home to install this system, such as standing on the ground or fitted to a wall.
Is this system going to be installed in a newer housing development? You can reduce your installation costs by combining it with other construction work.
What specific type of heating system do you already have or are thinking of installing? Air source heat pumps are considerably more effective than radiator systems but are best used with underfloor or warm air heating installations.
What type of fuel usage will this system be replacing? If the heating system is replacing a solid fuel heating system, electrical system, gas, or a liquid petroleum gas (LPG) system, it is going to be more efficient and will eventually pay for itself.
If you have additional questions or are considering installing an air source heat pump, feel free to contact us.
READ MORE +
Top 7 Best Hot Water Recirculation Pump Reviews
#1
On waking up one morning, you find that your hot water is ready and you don't have to wait even for a second. Yes, such an assurance has been brought by Watts 500800 premier hot water recirculation pump that will now keep hot water ready all the time whenever required. Equipped with a timer within, you will be provided hot water at every shower or faucet.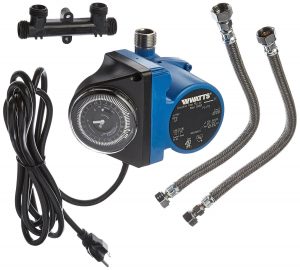 So, there is no chance of water getting wasted unnecessarily. What homeowners are loving about it is its easy installation process where no piping needs to be added and takes not even an hour to get the process done. Also, it can conserve up to 15,000 gallons of water on a yearly basis.
What has made it a showstopper is its unique design that takes almost no space to get installed. Moreover, who doesn't love noiseless pumps at home? In fact, Watts 500800 is a new-age water heating pump that hardly requires any maintenance. Its user-friendliness also makes it stand out as it comes with a 24 x 7, dual setting programmable timer, built within. This activates the pump just when it is required. In terms of saving, this trendy recirculating pump clearly wins as it will let you save around 10% of your water bill.
So, if value for money is what you have been expecting from this recirculating pump, Watts 500800 is all yours.
PROS:
Takes less than an hour to install
Built-in 24-hour dual setting programmable timer
CONS:
Branch line water takes too much time to heat up
Keeping it on for the entire day triggers electricity bills
#2
If you have a typical water heater, there is something far better, more advanced and extremely energy-saving waiting for you. Laing LHB08100092 is an advanced hot water recirculation pump that will now make you say goodbye to those pathetic waits for getting hot water. Equipped with a temperature sensor, this auto circulation pump is switched on automatically just when the temperature of the water cools to 85-degree Fahrenheit.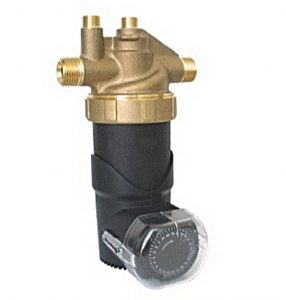 The good news is water will also be available at an instant for multiple faucets in the supply line in between the faucet and the water heater. So, while installing, what homeowners would be relieved to know that they do not require any return line. Moreover, the motor takes a compact spherical design and will, therefore, not take much space to install. In fact, while installing this recirculating pump, you can save up to 17,000 gallons of water. With this, a lot of users have been able to save a lot of energy as well as money simultaneously.
As far as its operation is concerned, it involves no sound and this calls for a perfect reason why it goes best for households. Requiring only 14 watts of power, it even comes equipped with a 24-hour timer that helps in choosing the time of operation. Laing hot water recirculating pump, in other words, is value for money that will certainly be worthy for apartments.
PROS:
Can save up to 17,000 gallons of water
Operates with no noise at all
CONS:
Does not stand compatible with tankless heaters
Timer cause problems
#3
Every homeowner aims to install such appliances that can deliver world-class performance but emit meager electricity. Grundfos 595916 is super energy-efficient, hot water recirculation pump that will now keep both water and electricity in control. Belonging to the Comfort series, it comes with a line cord and a timer as well. Besides, its innovative Comfort Valve and UP15-10SU7/TLC circulator serve as a complete package.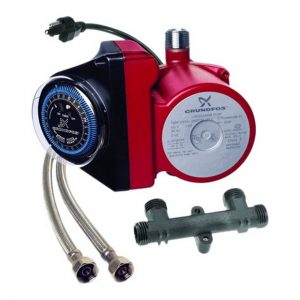 The 10-foot power cord along with the timer and the circulator is directly installed to the hot water discharge on the heater. What's unique is that this recirculating pump has been manufactured with an internal by-pass and one-piece diaphragm. This has been done to lend durability and make it deliver unmatched performance.
No questions can be raised in regard to its flow capacity and low noise as it operates like there is no such device present. In fact, it eliminates the factor of rapid cycling and has, therefore, been called highly reliable by a fair percentage of users, mostly homeowners. With the flow rate of 3 gallons per minute, Grundfos recirculating pump enjoys thermal protection and has the potential to run absolutely dry. Even in case of installation, it is ready to be mounted anywhere and takes no effort or space to be set up. Being counted among the most dependable hot water recirculation pumps, this powerhouse from Grundfos is no doubt a winner.
PROS:
Can save up to 3 gallons of water per minute
Draws a maximum power of 7.5 Ampere
CONS:
Emits sound while running at high speed
#4
If a groundbreaking recirculating hot water pump is what you have been hunting for, nothing can beat the uniqueness of SHURflo 4008 series water pumps. Found mostly with campers, fifth wheelers, motorhomes and travel trailers, these feature-rich pumps come with multi-feature RV flexible by-pass for easy installation. As it comes with three gallons per minute flow rate, it holds the ability to deliver solid steam. In fact, the supply of water is not drained out just as it happens in other water heating pumps.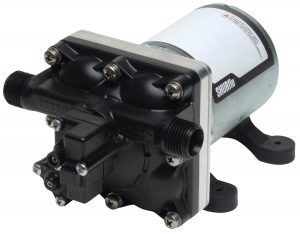 What also leaves homeowners happy is that it takes neither any hassle nor any effort to mount it. Just choose a suitable place, install it properly after checking all those necessary hookups and hoses, mount it well and the job gets done in a few minutes. Although it doesn't bring hoses with it, you can manage well with the provided connectors and a mounting bracket. Well, as mentioned earlier, this mini powerhouse can give up to 3 gallons of water every minute to showers, toilets and even onboard sinks at 55 PSI. Assuring complete thermal protection, it draws a decent power of 7.5 Ampere from a 12 VDC power outlet. What also does a good job is its Flow Reaction Technology that cuts down the vibration, noise and extreme pump cycling.
SHURflo 4008 series water pump is of course under budget and can certainly be a smart deal if you get it for the industrial or domestic purpose.
PROS:
Good flow rate of 3 gallons of water per minute
Has thermal protection and runs completely dry
CONS:
Low on durability
Runs a bit slow in terms of motor speed
#5
High on power and solid like steel, Grundfos hot water recirculation pump has made name and fame in terms of its versatility. What makes it super-efficient is its 3-speed motor, which means it can be operated in three varying speeds – Low, Medium and High. Ideally designed to stand compatible with almost every conventional heating appliance, this recirculating pump comes equipped with a detachable, built-in check valve.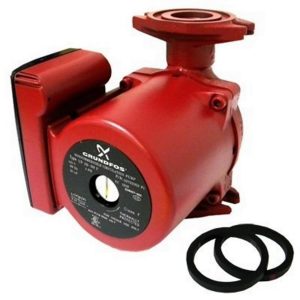 Moreover, when it comes to buying a pump, what one ensures is that it is noise-free, and this model from Grundfos smoothly takes away a point in this respect. What makes it operate with silence is its wet motor design that makes it a worthy water heating solution among its contemporaries. It is one of the best residential hot water recirculation pump which is available in the market at very competitive prices.
As far as its internal protection is concerned, its built-in motor is assured supreme protection that accounts for not only for its durability but also helps it perform with no glitches. Grundfos 59896155 has been designed for multiple applications right from fan coil heating, radiant heating, hydronic heating to solar systems. What makes its body strong and sturdy is its cast iron housing. Moreover, it comes with a flow range of 0 to 15.5 GPM that is quite decent.
So, where a recirculating pump hardly needs any maintenance, consumes low energy and easy to install, don't you think it is worth every penny? Bring one home today to know its real value.
PROS:
Very easy to install and does not take much time
Equipped with 3-speed motor for multi-speed operations
CONS:
Water may be affected due to rust accumulating on the pump
Not good in terms of durability
#6
Needless to say, water is precious and should not be wasted, no matter what water type of heating pump you set up at home. But with Watts 500899, you are surely going to witness more pleasant days in the long-run. Believe it or not, this water pump can help one save up to 15,000 gallons or more on a yearly basis. This means you can make enough savings on your water bill and this is no less good news for all homeowners.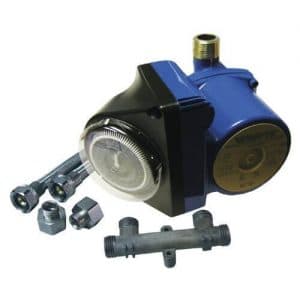 Besides, it has operations that are quite easy to comprehend and therefore, leaves the user in no confusion. Nothing can also match up to its installation procedure as it does not take even an hour. Whether you take help of a professional or do it yourself, it hardly takes any effort to install it.
Watts 500899 is no doubt a cost-effective water pump and comes with a timer as well. So, when you are off to sleep, you just don't need to think whether you can wake up once again to shut it off. Just set the time and simply doze off with pleasure. Well, some DIY homeowners have stated the necessity to make use of male adaptors on the water heater feeds so that installation gets easier.
So, there cannot be any reconsideration while deciding to buy this product. Get it today and feel the difference.
PROS:
Comes with full Thermal protection
Runs on 7.5 Ampere motor that makes it powerful
Very easy to install
CONS:
Not suitable for heavy-duty jobs
Not so long-lasting
#7
Whether you are living in a hilly area or a place where summer rules, the one and only hot water recirculation pump that can be considered is Taco 006. What makes it a high-scoring appliance is its ability to circulate both hot and chilled water in not only open but closed loop applications. Besides, this versatile taco recirculation pump can be used for multiple applications like hydro air heating or cooling, hot water recirculation at apartments, hydronic heating, water source heat pumps, solar systems etc.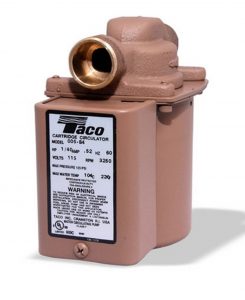 This cartridge is replaceable and comprises all the moving parts that would be required in times of service. Furthermore, it has a compact design that takes very little space to set up.
With a head range measuring 0 to 9 feet, Taco hot water recirculating pump comes with an impressive flow range of 0 to 10 GPM. Where its minimum Fluid Temperature is 40F, its maximum Fluid Temperature can go up to 220F. With a maximum working pressure of 125 PSI, it scores high on efficiency. What also makes it a great pick for homeowners is its ability to operate without any noise. So, no matter at what speed it runs, it will bring no unnecessary noise. Made of premium quality bronze, it weighs 4.5 pounds and has a dimension of 5 x 4 x 7 inches. Requiring only 115 volts, it will not consume much electricity and is, therefore, a great energy saver for all 21st-century apartments.
PROS:
Gives both hot and chilled water
Made of bronze and quite sturdy
CONS:
Water often leaks and spills out of the cartridge
#
How to Choose the Best Hot Water Recirculating Pump
Whenever you proceed to buy something best in the market, chances are that you might either get spoilt for choice or might be left perplexed in identifying the right option. Such might be the case for choosing the Best Recirculating Pump for Hot Water, which is a reason why you need to know the key considerations. A little bit of research, a little bit of knowledge and some comparative reviews will certainly give you an idea of the best product in the market. But before you delve deep into those, here are a few things you must look out into the best rated hot water recirculating pumps. Take a look:
Check the sturdiness of the material –
While choosing the recirculating pump, it is very important to consider how sturdy its material is. This largely depends on the construction as to how it has been made by the manufacturers. For instance, circulators made of bronze and stainless steel are majorly used for recirculation applications in residences. In other words, if the material is lead-free, it will last longer.
Check the connection system –
You must always remember that the residential circulators are usually fixed to supply piping. This is done with the support of flanges having sizes from ¾ to 1-0.5 inch. Also, materials of the flange must match up to those used for the pump. By using threaded connections, circulators can also be connected.
Check the pump size and flow rate
For any hot water recirculation pump, one should calculate its flow rate required to overcome the loss of pressure. Besides, you must check the balancing valves, mixing valves, check valves, heat exchangers and other fittings while measuring the size of a recirculation pump.
It is also quite vital to consider the motor strength of a recirculation pump. This motor strength is the horsepower of a circulator pump that affects not only the flow rate directly but also its head loss performance.
Check Temperature Settings –
Be wise in choosing such a recirculation pump that would let you choose the exact temperature in regard to the hot water coming out. This would keep you assured of the fact that you are getting water as per the temperature you desired.
Check whether it is User-friendly –
No matter how technologically updated is the pump, it must be extremely user-friendly. After knowing all its functions, you must be able to operate it without any hassle. The easier you are able to operate, the more convenient it will be. You must also know when it has gone out of power and when you should switch it off.
There are some inferior hot water recirculation pumps that require a lot of maintenance. In short, if you don't maintain them well, they might not last long. So, you can always talk to some professional and get to know which models require less maintenance but are high on performance.
#
A Step by Step Video on How to Install a Hot Water Recirculating Pump
#
Benefits of Good Quality Hot Water Recirculating Pump
Just imagine how good you feel when you will be provided instant hot water, especially when you need it right at that moment. Well, you too can take this advantage by installing a recirculation pump that frees you from those long delays of getting hot water. Since a hot water recirculation pump does not depend on low water pressure, it takes almost no time to move water to the fixtures from a water heater. In fact, these advanced water heating solutions have been serving top-notch restaurants and hotels for years. Now, plenty of homeowners have started considering its uses and benefits.
If you are new to recirculation pump, you must first know its benefits so that it becomes easier for you decide whether you are ready to install it. So, let's get to know why installing a recirculation pump can be beneficial:
A big advantage of a hot water recirculation pump is that it delivers hot water immediately once the faucet is unlocked. Believe it or not, you won't even waste a minute in getting hot water then and there. As the pump impeller is powered up by the motor, it spins in order to draw hot water into the fixtures and removes cold water out from the heater.
Since hot water is delivered with a wink of an eye, there is hardly any water wasted. Once a recirculation pump is installed, you do not have to depend on the water flow to achieve the desired temperature. Rather, it is super advantageous, especially in areas where there is a shortage of water. So, where a circulation pump saves water to a good extent, it saves a good deal of time and money as well.
Saves Energy to a good extent –
When recirculation systems pump on a continuous basis, they have the potential to use a good deal of energy. Pumps of modest size can range between 400 and 800 Kilowatt Hour per year if the pump is made to run continuously. So, you can stay assured of keeping the electricity bills low every month.
One of the world's easiest jobs is installing a hot water recirculation pump. In fact, you hardly need any space for installation. Moreover, you will already have the required tools with which it will be easier to get the installation done. So, it would not be like those pumps that are designed for ordinary home plumbing systems.
So, you have come across the major benefits to install a hot water recirculating pump that will not only give you hot water at an instant but will let you save a good deal of energy and money. Now get one for your home and enjoy using hot water throughout all seasons.
Conclusion
If you are going with the idea of installing a recirculating pump to ensure that you get hot water all the time, believe it or not, you are doing the right thing. With such a modernized water heating system, you are not only going to have hot water all the time but you can save electricity to a good extent. Just make sure that you are choosing the right hot water recirculating pump with a good flow capacity and Horsepower. Also, ensure that the connection is strong enough to let the pump operate without any complications. Once you have assured these, get the best hot water recirculating pump, install it well and enjoy fetching hot water day and night, whenever you need.
Check Out Our other pump Reviews:-
Top Rated Sump Pumps For Money
READ MORE +
--
#25
Best Hot Water Recirculating Pump Reviews 2018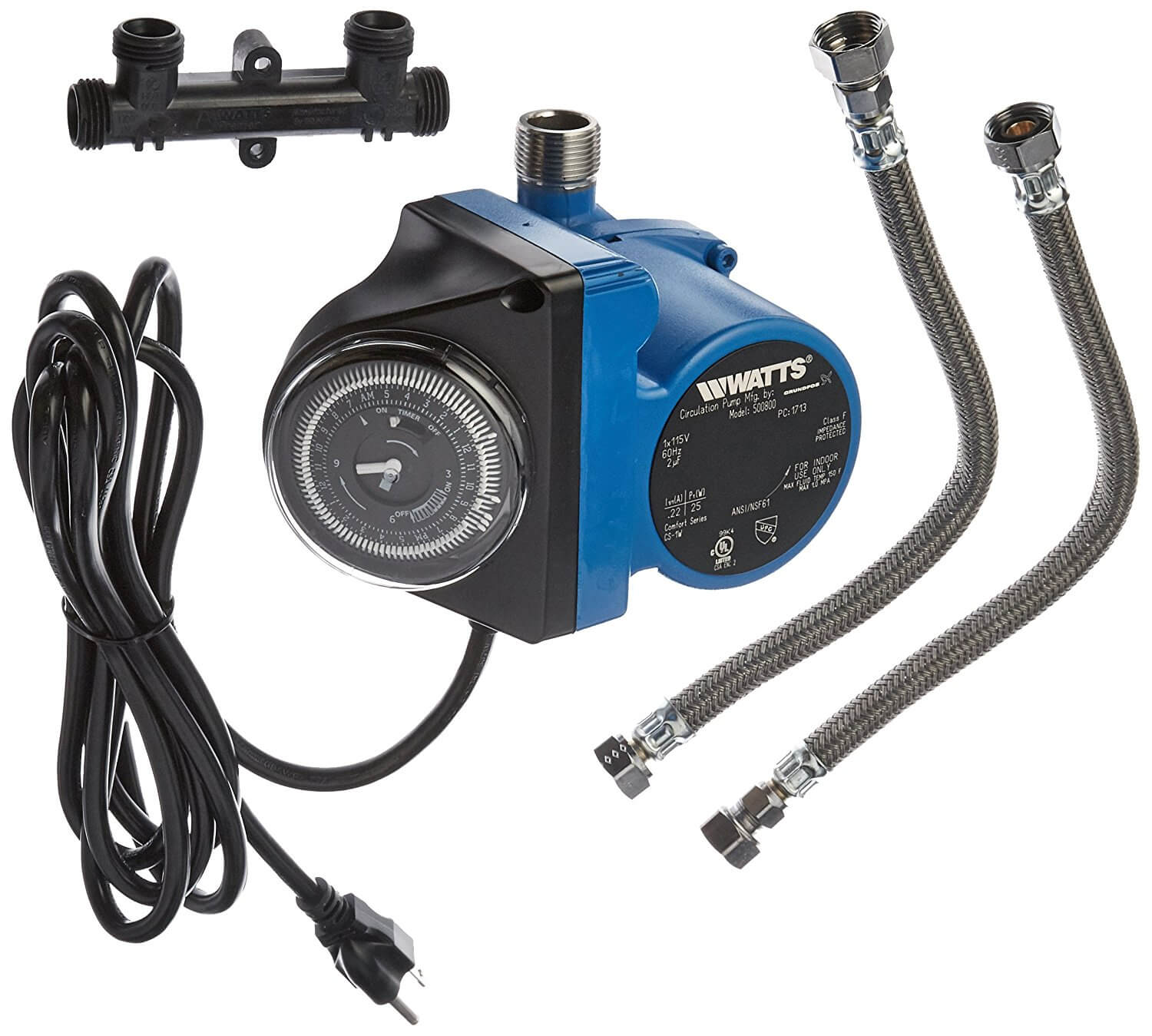 Bring home the most effective and economical alternative to round-the-clock hot water with are circulating pump for instant hot water. It operates by circulating substances like liquids or gases in either a closed or loop circuit. Having used for circulating water in a hydronic cooling or heating system, these best ...

READ MORE +

-->