Guides and reviews for selecting the best equipment for your plumbing needs.
TOP RATED BACKUP SUMP PUMP ON THE MARKET
Top 5 Perfect Batteries for Battery Backup Sump Pump Systems
Batteries considered as an essential element of the sump pump because it allows the device to work even while electricity is not available. No matter, how extreme quality sump pump you have, but if it does not acquire great battery feature, then the sump pump would be completely useless.
Following are some of the best quality batteries that allow the sump pump to keep your basement waterproof every time.
Conclusion
To conclude, a battery backup system should be your secondary line of defense system against extreme weather conditions such as heavy rainfall, power failures and storms. This type of back up system is the ultimate peace of mind for every homeowner. With a battery backup for sump pump a possibility of a flood is no threat at all.
Investing in a battery backup sump pump system will also help you save cost on cleaning and preventing damages from occurring in your property.
READ MORE +
--
#86
Best Battery Backup Sump Pump Reviews
A battery backup sump pump is the best way to supplement your primary pump. If your primary pumps fails with any type of mechanical failure, power outages or just due to excessive use; it's always comforting to know you have a backup in place. A sump pump failure does not have to be the end of the world, especially if ...
READ MORE +
-->
A battery backup sump pump is the best way to supplement your primary pump. If your primary pumps fails with any type of mechanical failure, power outages or just due to excessive ...
READ MORE +
Reviews of Top 5 Sump Pump Alarms On The Market
#1
Generally all the homes are constructed with sump pump system, which is used to bring out rain water from the underground. When you have this system installed in your home, it is important to opt for sump pump alarms which is battery powered and can be mounted anywhere on the wall with the help of specific hardware units.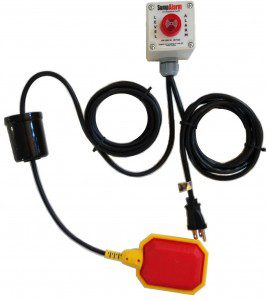 FEATURE & SPECIFICATION:
With this sump pump alarm system, you can easily monitor the water level in septic system, sump pump and even pond right from the comfort of your home.
This alarm indicates the malfunctioning of the pump both audibly and visually.
It monitors the water level and triggers the alarm when the water level exceeds the limit or when the pump fails to function.
The high water alarm for sump pump includes one inch LED indicator lights which are visible even from hundreds of feet away.
The flashing red light gets turned and the alarms produce 90 db of sound when there is a high level of water.
The installation of this sump pump water alarm is simple and you need not have to be the professional in installing it.
All you need is to set the float and mount the head unit.
Once you have plugged in the unit, the installation will be complete.
#2
Glentronics water sensor and alarm system is popularly called as basement watchdog. This basement water alarm plays a vital role in minimizing the risk associated with water damage. This can be installed in sump pits or other areas where water monitoring is required. They are perfect to be installed in washing machines, air conditioners, under sinks or hot tankless water heaters. You can purchase tankless water heater at online stores or read our online reviews at tankless water heater buying guide before making any purchase.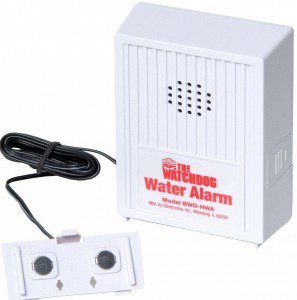 FEATURE & SPECIFICATION:
In order for the functioning of this alarm for sump pump failure, it requires 9 volt battery.
Moreover, it features solid state circuitry that is extremely reliable and sensitive.
The alarm can also detect the 1/32 inch increase in when it is placed on the floor.
The sump pump with alarm includes a sensor which comes with 6 foot wire which lets you to extent it into the sump pit or placed in another location.
The stretchable wire lets you to mount this alarm even on the wall.
Even if you want to extend the distance, you can even add extra wide as per your requirement.
The sump pump failure alarm produces sound around 110 db which can be heard all through the house.
#3
This wifi sump pump alarm comes with 2 floats and if the first float fails to perform its work, the 2nd float will carry out the task effectively. This means that you will enjoy added security to your property by draining out the sump completely. You will find a protective float cage included in this sump pump water level alarm system which helps in keeping away the debris and wires from distracting the float movement.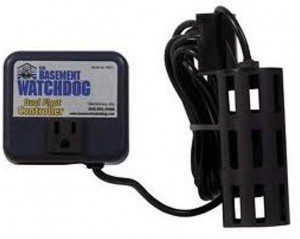 FEATURE & SPECIFICATION:
This wireless sump pump alarm comes with vented curved bottom which reduces the build-up of debris under the float.
This basement watchdog is designed in such a way that it lets the sump to run for 10 seconds additionally in order to pump out the excess water.
So, the perfect water level is maintained in the sump.
This sump alarm notification system gives the liberty of installing floats at any level with the help of hose clamp and controller.
#4
Zoeller A-PAK indoor alarm system is an ideal option for sump pumps. Water damage can become costly, no need to mention the expense and hassle of replacement and repair you could encounter by not being equipped with water alarm systems. This high quality water alarms from Zoeller is fit for use with sump pumps or any other sewage ejectors, however can also be used anywhere a higher water level can lead to concern.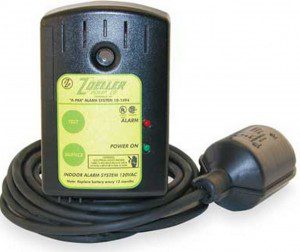 FEATURE & SPECIFICATION:
Being the most preferable among the top rated sump pump alarms, it features a warning light, an alarm test switch, green 'power on' light and a horn silence switch.
It has been recommended by the manufacturer that the alarm system is not plugged to the same circuit as the sump pump.
The alarm must be shut off manually, however it will be automatically reset.
You can make use of this water detection alarm for monitoring the liquid levels in sump pump basins, lift pump chambers, sewage, holding tanks, agricultural and other non-potable application of water.
Some of the features of this A-Pak indoor high water alarm includes auto reset solid state alarm, manual shut off, auxiliary dry contacts, and non-corrosive enclosure for indoor use.
#5
The homesitter alarm is the inexpensive multi-functional home monitoring device available in the market. This water sensors alarm for basements will produce sound as any audible alarm and you can call up to 3 telephone numbers to prevent your home from damage caused due to temperature extremes, power failures or water leaks.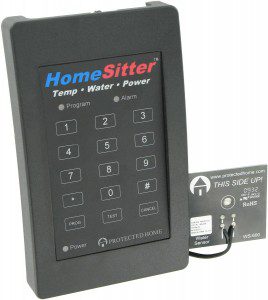 FEATURE & SPECIFICATION:
Alarm set-up just takes few minutes and no installation costs or monitoring fees involves.
All that you want is a phone like and also a power outlet.
This sump pump alarm is suitable for protecting any home area whether it is a rental property, vacation, primary home or multi-unit home that requires protection while you are at work or away.
This wireless high water alarm comes with a water sensor for monitoring leaky pipes, over-flowing sump pumps or burst washing machine hoses.
You will also receive notification during power outage that can affect components ruin freezers worth of food.
This device not just calls you, but also produces audible alarm when you are in home.
#
Conclusion:
Sump pumps are of best use in draining out the excessive water, but it necessitates sometimes your help as well. It is the reason why they come with alarm system. Sump Pump Alarm is a very useful and cost efficient device of any sump pump system. With the alarm system, you can be certain that you are given notice as and when your sump pump fails to work suddenly. A sump pump alarm must be installed soon as you have equipped your sump pump system during stormy nights. Hence, with a best quality sump pump, it is also needed that you find a right quality sump pump with alarm. Hence, from this, you have learned the important aspects of sump pump alarm.
READ MORE +
--
#87
Best Sump Pump Alarm Reviews – Buyers Guide
Are you in search for the best sump pump alarms? Merely installing a sump pump is not enough always when it comes to using it in the basements and any other underground locations. You should install a best alarm system that won't ditch you during the times of urgency. A sump pump alarm works quite simple. It can be ...

READ MORE +

-->