Superior 92330 Sump Pump is categorized as a utility pump that comes with a thermoplastic casing. It is designed for moving water from the pit. It is equipped with an influential motor and is capable of moving up around 2400 gallons of water within a short span of time. It comes with one piece motor with a robust design. This compact sump pump comes with two O-ring seals to prevent water from getting into your house.
The 1-1/4 discharge facility has the ability to get more water pumped out. The tethered float switch sump pump can turn on or off the switch automatically. This is an economical option to keep the residential basement dry during heavy rainfall. The motor comes with an adequate power which is enough to transfer water to the height of 10 foot. Let us see all its features, pros, and cons of this Superior's 92330 sump pump in this article.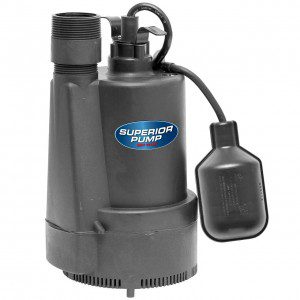 Features of Superior Pump 92330:
Superior 92330 Sump Pump is built in such a way that it lasts longer with its robust design and best quality components.
The one piece thermoplastic housing is waterproof whereas the motor is protected from the ingression of water with the help of dual O- Rings.
With 1/3 HP motor, the sump pump can discharge 2000 GPH of water from 10 feet, which makes this sump pump falls under the high-performance product.
It includes split capacitor motor that uses only 4.1 A of voltage.
The motor of Superior 92330 sump pump uses solid copper windings with a long lasting stainless steel jacket.
You will also find this pump coming with 10-foot power cord.
Water enters through the bottom plate with filter screen to keep bigger debris out whereas the smaller ones that pass through the impeller are discharged without any harm.
If any clog occurs, it can be easily removed by backflow or cleaning the screen.
The 1.25-inch outlet can be replaced with 1.5-inch discharge outlet if necessary.
Tethered float switch controls on-off pump cycling which allows you to set on and off.
You can modify the float range by adjusting float tether's length.
This sump pump is lightweight and can be used as a portable pump.
It can clear water to around 1/8 inch but you should secure the float in On position.
You can get benefitted from its 40 GPM capacity for pumping out in-ground pools without any hassle.
PROS:
The pump housing is made with thermoplastic material which has resistance to corrosion.
The heat is dissipated faster to ensure efficient running of the sump pump for a longer time
The motor is energy efficient and powerful and pumps around 40 gallons of water within a minute.
Split capacity enables the pump to function powerfully without consuming more energy.
The double seals of a motor plate are designed to protect the motor from seeping of water.
Tethered float switch facilitates automatic On and Off and so, the pump does not require any constant supervision.
This sump pump works well even if it is submerged in a crock or pool.
It comes with soundproof enclosure and quite motor which sets a standard within the sump pump industry.
It works despite the presence of chunkier particles and handles clogs perfectly.
Bigger debris and leaves are filtered with a mesh screen and so, clogging is prevented to a great extent.
CONS:
Sometimes, you will find it difficult to get the right fitting for the output of standard hose size.
It does not include any adapter to work with the hose.
A tethered float switch is present at the top of the sump pump and so, it requires to be submerged in a few inches of water to work.
Conclusion:
Superior 92330 sump pump is compact and lightweight with tethered float switch and bottom suction design. It is a reliable product with high performance that exceeds the performance level of the current pump. You will get the right value for your money at a budget friendly price. It is confined for residential use and not suitable for pumping out water from larger basements and heavy flows. With affordable pricing, light weight, tethered float and bottom suction design, this sump pump is one of the great investment for every residence.
Related Products:-
Superior Pump 92341 Sump Pump Review