#
The Superior Pump 92341 /3 HP Cast Iron Sump Pump Side Discharge with Vertical Float Switch has a high efficiency with a low draw. This sump pump has a cast iron construction. The pump is able to pump up to forty five gallons per minute or around 2760 gallons per hour. There is a 1-1/2 FMPPT discharge with this pump. Giving you a ten foot grounded and waterproof cord with the superior sump pump.
As this pump has a cast iron base you will also find that the pump will sit to the bottom of any pit or sump and stay there. The construction of the pump will also have the water being efficiently pumped from your pit down to a very low level as this pump is able to draw the fluids from the bottom as well as the side intake.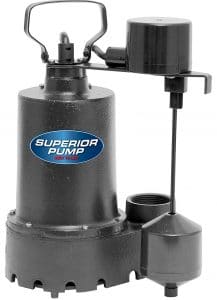 Check Reviews & Price On Amazon
This superior 92341 sump pump is also constructed with side and bottom intakes which will give this pump a clog resistant suction when it is pumping. The automatic vertical float switch will enable the Superior 92341 sump pump to operate within confined sumps. There is also a piggy back plug included for applications where you may need to use this. The Superior 92341 is able to lift the water up to 25ft in vertical height. An energy efficient motor is included with this submersible pump, at 4.1 amps.
Superior Pump 92341 Technical Details
1/3-horsepower
45-gallons per minute
Solid cast iron construction
For use in sump applications
10-foot cord
Superior Pump 92341 Reviews
On average this superior 92341 sump pump reviews are very favourable. We actually did not find any reviews which were negative for this Sump Pump. Many of the reviewers stated that they were very happy with their purchase some even said they wished they had bought this sump pump many years ago, as it would have saved them a lot of headaches.
Peace of mind is what comes through from the reviews. Many of the reviewers said that after they had installed the superior 92341 sump pump they were cautious at first, checking their sump pits often. However every time they had checked up on this pump the sump pits were dry.
The reviewers were also impressed with the vertical float switch in the 92341. Stating that the pump turns itself on and off and Works beautifully, as every time I checked the pit, it was dry. So my superior sump pump is working just fine.
Please also bear in mind, as with all sump pumps you may also need to consider your connecting hose, check valves and fittings. You need to ensure you also have the correct fittings for the pump you buy or even consider them when you are making your purchase to suit the pump you eventually buy. It might be a better idea to purchase both together when you decide on the sump pump which you find is suitable for your needs.
We (as of yet) did not find any truly negative comments for this submersible pump. We at Sump Pump Advisor have no problems in giving the Superior 92341 Sump Pump our thumbs up and are happy to recommend this sump pump.