An electrically powered air source heat pump installed in a house enables you to draw in heat from the outside air in order to heat the home's interior. This source of heat can be used for underfloor heating systems, domestic hot water or to warm the water in conventional radiators. An air source heat pump enables you to extract the heat found in the outside air in a similar fashion to the way that a refrigerator extracts the heat from its compartments.
Even if the outside temperature is minus 15° C, an air source heat pump can still extract some heat from that outside air. These best heat pumps are manufactured in two different types: Air-to-air heat systems – these produce warm air which then gets circulated by fans in order to heat your home's interior. Air-to-water heat systems – these systems use the heat extracted from the outside air to heat water. They heat the water to a temperature that is lower than that found in a standard boiler system which makes them much more suitable for an underfloor heating system than a standard radiator system. The amount of heat that these systems produce is compared to the amount of electricity that is required to operate them. This is technically referred to as the CoP, or the Coefficient of Performance, which is the measure of the air source heat pump's efficiency while operating. A CoP of around 2.5 is the normal average with these types of heat pumps.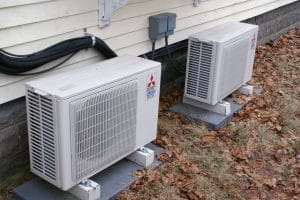 Air source heat pumps benefit the homeowner in several ways:
They reduce the amount of energy that is wasted by a conventional and perhaps inefficient heating system.
Air source heat pump help to reduce the daily running costs of a house because there is no further need to pay for such large quantities of gas, oil, or other fuels in order to heat the home.
No further storage required of messy solid fuels.
Air source heat pump are space savers in that these systems are very compact.
Air source heat pump can provide domestic hot water and space heating.
These units are very reliable and little maintenance is required – unlike conventional boilers.
Here are five key questions to answer if you wish to determine if this type of heating system is going to be suitable for your home:
How well insulated is your existing home? Your home needs to be draught protected and fully insulated to the current recognized standard.
Is there a suitable place to install the heat pump? You are going to need a suitable spot on the exterior of your home to install this system, such as standing on the ground or fitted to a wall.
Is this system going to be installed in a newer housing development? You can reduce your installation costs by combining it with other construction work.
What specific type of heating system do you already have or are thinking of installing? Air source heat pumps are considerably more effective than radiator systems but are best used with underfloor or warm air heating installations.
What type of fuel usage will this system be replacing? If the heating system is replacing a solid fuel heating system, electrical system, gas, or a liquid petroleum gas (LPG) system, it is going to be more efficient and will eventually pay for itself.
If you have additional questions or are considering installing an air source heat pump, feel free to contact us.