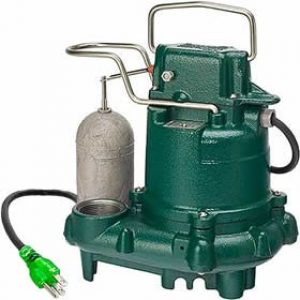 Zoeller is one of the best and most popular brands that offer you highly durable and efficient sump pump. You can always recognize their pumps by the cast iron body painted green. Zoeller sump pumps are well known for their superior features and fantastic warranty. These pumps are highly regarded as the best for your basement and all their parts are made with very durable materials. The performance of this sump pump really is greater than the other products with similar horse power. The replacement parts are accessible including the float switch. There are several other accessories too including basins, check valves and alarms. All their pump housing are made with the cast iron, so it does not overheats and can stand the test of time submerged in your sump pit.
BEST RATED ZOELLER SUMP PUMP COMPARISON CHART
TOP RATED ZOELLER SUMP PUMP REVIEWS
#1
Zoeller M53 Mighty Mate
This is probably the most widely used pumps you can find out there. The size is just perfect for most applications, and these pumps are easy to find parts for and also guides of other people who have installed this in their basement or crawl space. This pump is extremely powerful and durable, and it is extremely easy to install. You definitely can't go wrong by planning to use this pump in your system.
You can read more about our Zoeller M53 Mighty Mate Review here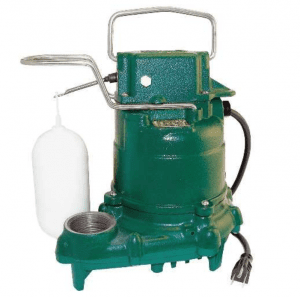 FEATURE & SPECIFICATION:
9 foot power cord
1/3 horsepower pump
Oil filled motor with a thermal overload
45 gallons per minute of flow at 0 feet height
The highest rated Zoeller pump on Amazon
PROS
This pump is the optimal choice for nearly all sump pump systems
It is submersible and is made from cast iron parts that are very resistant to corrosion and wear
This pump will run smoothly and efficiently for a very long time
It is easy to install
CONS
It is so strong the impeller can suck in debris from your pit if it isn't positioned properly
#2
The Zoeller 57-0001 M57 Basement High Capacity Sump Pump is one of the best and efficient sump pump that includes lots of efficient features and excellent components. The Zoeller m57 sump pump is really made with long lasting material so this efficient sump pump comes with 1 years of warranty. For this reason, most of the people want to buy it soon. There are several places available to buy this sump pump, but the best online sites allows you to gain affordable services. In order to gain the benefit, you should visit the best online website. The exclusive platform allows you to know entire details about this pump.
You can read more about the Zoeller 57 sump pump at our review here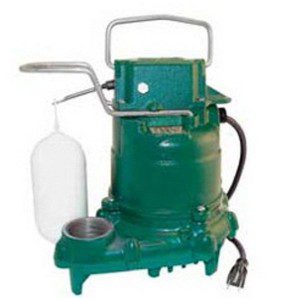 FEATURE & SPECIFICATION:
The high capacity and 3/10 HP sump pump is really ideal for the dewatering septic tank or sump effluent.
The efficient sump pump comes with thermal overload protection and cast iron component.
The stainless steel screws and two pole float operated mechanical switch bring you excellent performance.
The powerful motor of this sump pump is works on 115 volt.
It also has 1-1/2″ NPT discharge, 2040 GPH at 10′, 1140 GPH at 15′ head and 2580 GPH at 5′.
The specially designed and uniquely made sump pump is CSA or UL approved, so you can prefer it without any hesitation.
If you have any commercial or residential wastewater issues, you need not to look for any expensive services.
Instead of this, you simply prefer best Zoeller sump pumps.
These are the effective and superior solutions for your individual requirements.
The outstanding sump pump is really dedicated to bring you fine quality services.
The durable and highly efficient waste water managing system can produce exclusive results.
In order to bring the reliable services, the sump pump comes with efficient features.
The Zoeller submersible sump pump is highly suitable for both the effluent and dewatering process.
With submersible two pole mechanical switch and variable level long cycle as well as float operated, this sump pump offers you better results.
PROS
Easy to use and pump out water from your basement
Contains the basic elements of power, toughness, and dependability
Screenless discharge to pass solids up to ½ in.
Equipped with neoprene square rings between the pump motor and housing
Powder-coated epoxy finish
CONS
The float switch isn't as durable as its other parts
Has a tendency to suck more small debris which can cause clogging
#3
The Zoeller 98-0001 115-Volt 1/2 Horse Power Model M98 is a Flow-Mate Automatic Cast Iron Single Phase Submersible Sump/Effluent Pump which is highly suitable for both dewatering the septic tank effluent or sump process. The Zoeller 1/2 hp sump pump comes with an array of exclusive features in order to produce better results. This sump pump not only includes thermal overload protection, but also allows you to utilize the excellent facilities offered by the cast iron components.
Zoeller 98-0001 M98 Sump Pump is designed for one major purpose which is to drain out sewage tanks and sump pits. This Zoeller sump pump runs with elegance despite its beastly frame which weighs 39 lbs. It is also a high-caliber sump pump with ½ HP.
You can read more about this pump on our Zoeller 98 guide here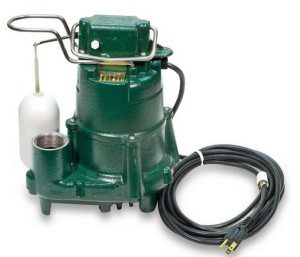 FEATURE & SPECIFICATION:
These kinds of durable and extraordinary components make this sump pump suitable for residential purposes.
These are the striking features that attract several people to prefer this type of sump pump.
Along with this, the exclusive sump pump includes stainless steel screw as well as 2 pole float operated mechanical switch.
While speaking about 1-1/2″, NPT discharge Passes, 1/2″ solids, 115 volt, 3060 GPH at 10, 3420 GPH at 5 and 2580 GPH at 15 head.
These are the brilliant components which make this Zoeller m98 sump pump a suitable choice for the housing purposes.
The special types of sump pump also include 1 year warranty, so you can buy it without any hesitation.
The Flow-Mate Model M98 Cast Iron Submersible Sump Pump of Zoeller really features the pump housing, cast iron motor and cast iron switch case as well as cast iron base.
These kinds of essential castings are the cast iron class 25-30 along with 25000# tensile strength.
In Zoeller sump pump M98 features is an essential engineered and merged plastic vortex impeller.
In addition, the Flow-Mate includes a corrosion resistant powder properly coated epoxy finish.
It does not include any sheet metal components that will corrode or rust.
The stable slip capacitor and powerful motor is hermetically sealed and oil-filled.
This greatly features an automatic reset thermal overload protection.
It also includes the watertight neoprene square ring among the pump housing and motor.
PROS
Its corrosion-resistant housing can last for at least 2 years
It can take up to 4,320 gallons per hour
Known for performing quietly
Can handle suspended solids with its plastic vortex impeller
Hermetically sealed and oil-filled permanent slip capacitor monitor
CONS
This sump pump can be more expensive than its competitors
Contains too massive built for small spaces
Other units have poor thermal management
#4
The Zoeller 105-0001 Laundry Pump is one of the most essential and exclusive sump pump package that includes M53 Sump Pump. The striking package not only comes with some effective components, but also allows you to utilize some additional options. With exclusive features, this branded sump pump package allows you to remove water from the areas or location where the gravity flow is not available. While speaking about its applications, it includes lavatory, wet bar sink, laundry tray pump, air conditioning condensate, dehumidifier water removal and more.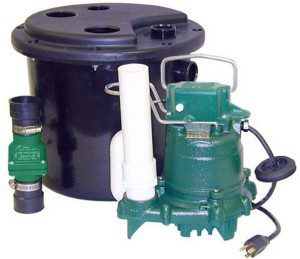 FEATURE & SPECIFICATION:
This type of Zoeller sump pump m53 is also used in the conjunction along with garbage disposal and dishwashers applications.
This sump pump includes polypropylene and glass-filled base with effective built-in strainer on M53.
It also passes the laundry link and 1/2″ spherical solids.
If you wish to know complete product description, you can watch this following guide properly.
The Zoeller M53 Sump Pump includes several components such as a drain pump package.
The p-trap is successfully installed internally for the compact installations.
Along with this, it also permits drainage from location where gravity facility is not available.
You can also use this excellent sump pump of zoeller brand with the laundry trays, garbage disposals and dishwashers.
These are the most essential and brilliant features which help you to complete the task within short time duration.
In order to bring the result, the sump pump comes with extremely powerful and efficient motor.
The zoeller sump pump systems is usually made with fine quality material in order to bring you durable results.
These kinds of valuable feature inspire several individuals to buy the branded and durable sump pump online.
The best and leading online website bring you all essential facts behind this sump pump.
It not only provides you some details, but also allows you to check out its original price.
PROS
The best sump pump against gravity with an attractive aesthetic
Very easy to assemble hardware which includes the lid and a polypropylene basin
It has no screens or inlet filters to clean up
Can be installed effortlessly without digging a sump
CONS
It is not designed to deal with sump pits
The catch basin is a little small
Doesn't come with a backup battery
#5
If you are already tired of stressing yourself over a flooded basement, paying for services just to drain your pool or tank, we can certainly do something to help you. Having a Zoeller sump pump is not only a perfect solution that will take care of your basement but also a handy machine for draining your pool, and tanks. Of course, as one of the most popular Zoeller sump pumps, Zoeller M63 is a product to behold.
This sump pump has been proven and tested to surpass frequent flooding. When it comes to durability and reliability, this product has something to impress customers.
You can read our review on the Zoeller M63 pump here.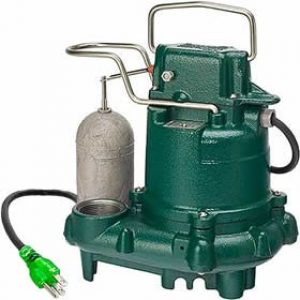 Features and Specifications:
Ideal for light commercial and residential removal of water, sewage, and transfer of groundwater
With guaranteed quality, Zoeller M63 can last from 10 to 16 years in good hands
Very convenient and environmental-friendly since it doesn't produce too much heat
With a 1/3 motor capacity, it can pump out up to 2,580 gallons of water per hour
Energy-efficient motor 115 V and 9.7 Amps
Can be switched ON and OFF automatically with vertical float switch
Maximum pumping height up to 19.25 feet
Fully covered with cast iron up to its impeller
PROS
Longer 5-year limited warranty
Can last up to 2 decades
Listed as one of the best sump pumps in the market
Easy to install even with little plumbing knowledge and experience
Performs more quietly which means it has better-balanced components
CONS
Its large size consumes a lot of spaces
The float switch is likely to become an issue over time
It has no backup battery
Conclusion
Before you purchase any sump pump for your property, be sure that you know how it should operate to know what to expect in a product. Take note that suffering from frequent flooding can weaken the foundation of your house just like other structures caused by wetness. The job of sump pumps is to suck up the water from your property and to push it away from where it won't do any harm to the environment.
Instead of looking for something cheap that will eventually go to waste, look for the brand that values quality. Thus, reading this review will help you know the best Zoeller sump pump according to your needs.