You can use many different pumps to drain a pool, but there can be situations where you will be looking to for a sump pump to drain your pool with ease and in a simple manner. Using a utility or a sump pump to drain your pool is the easiest way to drain nearly all of the water.
Best Pumps For...
If you are looking for a pool cover sump pump I highly advise checking our our guide of the Best Small Utility Pumps. It is best to use a small and lightweight pump for this task so you do not cause any damage to your pool cover, and also because there is generally much less water on top of your pool cover than what you would typically want to drain from your pool.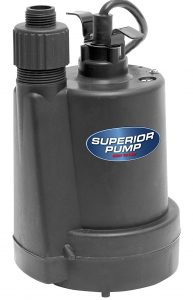 Check Reviews & Price On Amazon
A sump pump can easily help you remove water from a pool by simply pumping it out the discharge end, where you can attach either PVC tubing or even get an attachment to adapt it to a normal garden hose. Some utility pumps will actually come with these types of adapters already in the box so you can just connect your normal household hose to it and pump the water out into your yard. Your local hardware store can also help you to find the parts you might need to adapt from schedule 40 PVC pipe to any other type of hose to adapt your current sump pump to use as a pool drainage device.
If your pool is outside, or even if you are taking the pump with you to someone else pool, then you need a sump pump that is also portable. You will be looking for handles on the pump to assist you with carrying it around. If it is transportable, then you will need to also consider the outer casing of your sump pump. You will be looking for a sturdy casing that can handle everyday use and the knocks that may come with portability.
It may also be ideal to look for a sump pump that is not too heavy so as to make it easier to move around. Just imagine if you had to move it quickly in an emergency, or tell someone else to, how hard would it be for someone to pull a heavy pump out of a deep pool of water?
Best Sump Pumps For a Pool
Comparison Chart
| | | | | |
| --- | --- | --- | --- | --- |
| | | | | |
| Brand | Superior Pump | Wayne | Little Giant | Wayne |
| Part Number | 91250 | 57729-WYNP | LG-MPAU33 | WWB WaterBUG |
| Horsepower | 1/4 HP | 1/4 HP | 1/3 HP | 1/6 HP |
| Gallons Per Hour | 1800 | 3000 | 2000 | 1350 |
| Length of Cord | 10 feet | 25 feet | 10 feet | 20 feet |
| Weight | 7.6 lbs | 10.6 lbs | 8 lbs | 6 lbs |
| Water Lift Height | 25 feet | 15 feet | 20 feet | 20 feet |
| | Check Price | Check Price | Check Price | Check Price |
#1
Superior Pump 91250 1/4 HP Thermoplastic Submersible Utility Pump
If you want a supreme pool sump pump for a pool that can live up to its name, perhaps Superior Pump 91250 with ¼ horsepower is what you are looking for. The Superior Pump 91250 is designed to draw out water from enclosed areas like basements and other spaces like swimming pools. You can even use it to draw water from fields to keep it dry and free from molds or mildew. Once you're done draining your pool, you can easily store it since it's portable and technically small in its thermoplastic frame.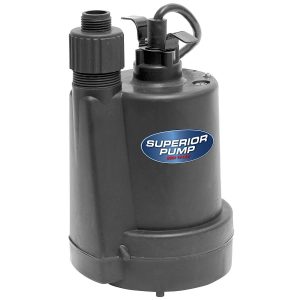 Its thermoplastic frame is non-corrosive so you don't have to worry about its frame breaking easily over time because of rusts. This sump pump has a CSA certification so you don't have to worry about its safety while you get rid of the water in your pool. Avoid stress while using its detachable accessories with ease.
Features and Specification
10 feet power cord
With detachable ¾ garden hose adaptor
Non-corrosive thermoplastic frame
Non-clogging screen
UL listed
Model: 91250
Gallons per minute: 30
Weight: 7.6 lbs.
Dimension: 12 x 7 x 7 in.
Switch Type: Tethered
Color: White
Material: Metal
Voltage: 120 V
HP: ¼
Amps: 3.8
PROS
Top discharge type
1 – ¼ in. discharge size
Includes utility pump, and garden hose adaptor
With 1-year warranty
No batteries required
Noise-free
CONS
No automatic shut-off power switch
Circuit breaker malfunctions
Filter head screw strips easily
Can't be used with an extension cord
#2
WAYNE WAPC250 1/4 HP Automatic ON/OFF Water Removal Pool Cover Pump
There are lots of pumps that you can use to drain the water in your pool. However, you have to take note that not all pumps can be used in the same areas. If you've already had an experience with the Wayne brand before, you might also know about Wayne 57729 – WYNP Automatic ON/OFF Water Removal Pool Cover Pump which is the other term for this model.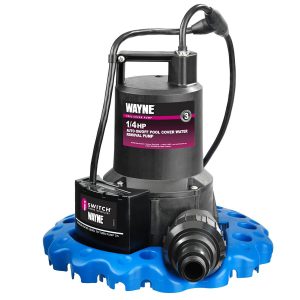 Wayne or Wayne Water System is a part of Scott Fetzer Company located in Ohio since 1914. Therefore, it is easy to say that when it comes to safety and quality, you can count on their products. Also known for the everyday cleaning tool Kirby Vacuums, expect that Wayne WAPC250 is also reliable, durable, and worthy of your hard-earned money. With an automatic On and OFF switch, using this water removal pool cover pump is hassle-free.
Features and Specification
25 feet power cord
25 feet "pull to shore" rope
Energy efficient and high flow motor without oil
Sealed thermoplastic frame
Check Valve Reducer
Built-in debris and ice overload protection
iSwitch Sensing Technology
With 3-year warranty
Model: WAPC250
Gallons per hour: 3,000
Weight: 13 lbs.
Item Dimension: 11.2 x 7.9 x 11.9 in.
Color: Blue
Material: Other
Voltage: 115 V
HP: ¼
Amps: 2.5
PROS
Fully submersible
Includes ¾ garden hose adapter
Minimized clogging with strainer based to filter debris
User-friendly
No required batteries
CONS
Some key pieces are missing when delivered
Wayne can be more expensive
#3
Little Giant LG-MPAU33 1/3 HP Aluminum Utility Pump
Do you want something that will give you a hassle-free job while draining the water from your pool? Then get a pool sump pump that can start and stop automatically like Little Giant's 1/3 HP utility pump. This pump comes with a GHT garden hose output so you only need to connect any standard garden hose to it to begin removing the water from your pool.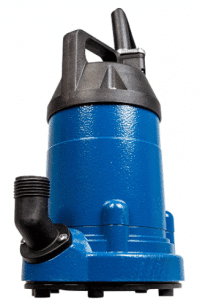 It will also come with a 1-1/4″ FNPT adapter included in case you need to connect to another type of hose and the bottom is screened to protect the impeller from any debris that is floating in your water. Since the intake is on the bottom of the pump this can remove almost all the water from your pool leaving only 1/4″ from the bottom.
Features and Specification
Best for outdoor and indoor use
10 foot power cord with 3 prongs in various sizes
Gallons per hour: 2,000
Maximum lift: 20 feet
Weight: 8 lbs.
Dimension: 7.08 x 7.08 x 8.73 in.
Color: Blue
Material: Metal + Thermoplastic
Voltage: 115 V
HP: 1/3
PROS
Eco-friendly
Easy to plug-in and to operate
The cover can be removed easily for cleaning
Longer power cord
No batteries required
CONS
This pump does not come with a float switch so it will not turn off after all the water is drained, which can cause damage to the pump.
#4
WAYNE WWB WaterBUG 1/6 HP 1350 GPH Submersible Pump
This handy little pump comes with multi-flo technology which means it already has the adapters built in to connect to any type of discharge hose. It is perfect for tight spaces where you need to remove water and will discharge water out the side which can be idea for draining some hard to reach areas. Whether you want to use it in your pool, ponds, or simply in your yard once in a while, this portable sump pump can be really handy for you.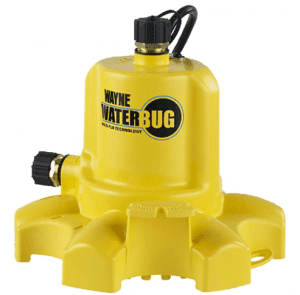 This tiny little pump is super easy to move around and packs a massive amount of power. Despite it's 1/6 HP power rating (the smallest we mention here) it can still push water at 1257 gallons per hour. That means if you have a standard 12 x 24 foot pool that holds about 10,000 gallons of water, it would take under 10 hours to completely drain.
Features and Specification
Rugged metal material
Gallons Per Hour: 1257
Weight: 6 lbs.
Dimension: 11 x 11 x 10 in.
Color: Yellow
Voltage: 115 V
HP: 1/6
PROS
User-friendly
Reliable for many years
Durable and rust-proof
Perfect for indoor and outdoor use
Great for swimming pools, ponds, and flooded areas
CONS
The power cord is a little shorter
The pump is less powerful than others, but this pump is also much more portable
Choosing the Best Pump To Drain a Pool
Pump Flow Rating
Typically you will also want a more powerful sump pump to remove the pool water. A large pool can take quite a bit of time to fully drain down and you will want this to pump down as quickly as possible. The more powerful your pump is, the quicker it will drain the pool.
Pump Head Pressure
You also need to consider how far upwards you are going to need to pump the water out of your pool and to the drainage point. Pumps have a head rating and this means they can pump up to a given value in feet vertically. Also bear in mind that if you increase the vertical head you will have a reduced flow rate.
Bottom Suction
As you submerge the pump you will want it to fully remove the water. What you do not want is for the pump to labor and struggle when there is still six inches of water within the pool. For this reason you will need to look for a sump pump that has a water intake from the bottom and not the side. This will allow the sump pump to keep pumping even down to lower levels.
Frequently Asked Questions
How often should I empty or clean my pool?
Generally, swimming pools should be cleaned and maintained regularly whatever size and shape it has. At least twice a year, your pool should be fully drained to replace its water. This is also the perfect time for you to inspect cracks, stains, broken tiles, and other things that may cause harm or problem in the future. This is where submersible utility pumps or sump pumps come in handy to get the draining job done.
How do I drain a pool using a sump pump?
Simply attach your pump to a hose to transport the water to your drainage zone, put the pump at the bottom of the pool, then plug it in to get it to start pumping. You will want to monitor the pump as it is working to make sure nothing is sucked into the impeller and also when it gets close to the end so you can turn it off after all the water is drained. Any standard sump pump like the Wayne 57729 or utility pump like the Superior 91330 will work for this task.
The Wayne 57729 pump has an automatic on-off switch so you won't have to manually turn it off when it is finished, and can push 3000 gallons of water per hour (or 1850 gal/hour if you are discharging it 10 feet upwards). The Superior 91130 pump is smaller and easier to move around but it is also made of plastic making it more likely to be damaged, and can only pump 2400 gallons per hour.
What if the water is not completely clean?
In a situation like this you will want a pump or swimming pool cleaner that can effectively handle passing of some solids. Some pumps are rated to pass solids, but they can still get clogged up from time to time. You can clear them and put them back to work if rated for passing of solids, you need a pump that handles dirt and debris well.
What about other applications or uses?
You may also have other reasons for using this type of sump pump. You should consider this whenever you are looking to buy your sump pump for pool drainage. You may want to also pump:
Hot Tubs
Pool Covers
Spas
Ponds
Rising water tables
Flash floods
Have you considered emergency situations?
What if there is an emergency? What is your basement is flooded? Well with a portable sump pump that you can quickly and easily attach to a garden hose and have pumping within minutes can be a real life saver.
Best Sump Pump For Pool Drainage
Both of these pumps are great choices for draining a pool and other water removal applications. They are both in Amazon's Top Sellers list and have been reviewed many times with 4+ star ratings on Amazon. We feel that our number one pick is best for both having all of the above points and also having higher ratings by the customers on Amazon. The Superior 91250 pump would also be a great fit for draining a pool, but it does cost a bit more than our economical pick of the 91130.
Check Reviews & Price On Amazon