#
This sump pump can pump up to 2,500 gallons per hour as well as being able to pass solids of up to 1/2 inch thick solids such as leaves, pebbles, and other debris without getting clogged up. As this sump pump is supplied with bottom suction, rather than side entry, It will also pump the water level down to within an eighth of an inch. This means it will pretty much empty a sump, pit or receptacle of nearly all of the water.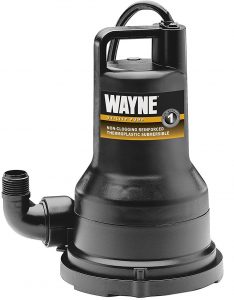 Check Reviews & Price On Amazon
Construction of this sump pump
This sump pump is constructed of a glass reinforced thermoplastic for the housing. It is also fitted with rust resistant impeller. The discharge is 1 1/4, but with the 3/4 inch adapter it can very easily connect to regular garden hoses.
This Wayne water system VIP50 is currently selling on Amazon for just under $80. It is also highly reviewed with an average of 4.0 out of 5 stars and a total of 508+ customer reviews.
More about the VIP50
Should you wish to transport this sump pump, say to fill a pool, then the Wayne VIP 50 is also fitted with a handy easy access handle. This will provide you with complete portability.
The VIP 50 sump pump is also fitted with some internal protection to preserve this pump should something happen to it. The Wayne VIP 50 is fitted with thermal protection. This will cut the sump pump out should the pump overheat by overuse or something else. The pump will need to cool down before it will run again. It is always best to check the pump over for blockages etc, should it overheat.
PROS:
This sump pump has been noted to drain a 20,000 gallon in ground pool it has also been used to drain other customers spas and hot tubs.
This pump is also supplied with a limited one year warranty.
As one customer pointed out their customer service they pointed out I contacted the company and they responded right away, asked a couple of questions, and then immediately shipped out a brand new pump to me. I have not seen this type of customer service in a long time.
The VIP 50 has been noted to being a fantastic life saver in high water situations like flooding. Customers have used this pump to assist and it performed brilliantly for them.
CONS:
This pump is not fitted with a float switch, therefore you can not fit this to control water levels within a sump. If this pump is powered up it will be trying to pump at all times!
8 Foot power chord can be quite short.
Some have noted this if their power outlet is more than 8 foot away from the sump pump installation point.
If you do need to add in an additional extension chord you will need to consider a grounded extender.
Although it is noted that this sump pump is able to pass solids, we would like to mention that it is only for the occasional solid as all pumps can eventually become blocked up.
Its built to prevent leaves and other debris from clogging it, but that still can happen.
Customer Review of Wayne VIP50 Sump Pump
Upon reading the customer comments and opinions as well as our extensive experience with sump pumps we would like to point out that this is actually a very good pump. That is provided you use this with the correct installation suited to this type of sump pump. This pump is not fitted with an automatic float switch and is not ideal in some situations for example: controlling your basement water levels.
The VIP50 is however ideal for draining your pools, spas, hot tubs and many other pumping applications. It will pump well for you, and remove the water quite quickly, provided the given head is not towards its maximum limits. (If you need a larger head, then upgrade to more powerful pump).
The pump is also a fantastic emergency pump to own as if you were hit with flooding or high water levels you can rig this pump up to a garden hose, drop it into the water and switch this on and watch it pump!