A battery backup sump pump is the best way to supplement your primary pump. If your primary pumps fails with any type of mechanical failure, power outages or just due to excessive use; it's always comforting to know you have a backup in place. A sump pump failure does not have to be the end of the world, especially if you can get extended service from a secondary pump running off a battery!
Your sump pump runs when it needs to remove water from your sump pit, and your pit can get filled very quickly with water during storms. For most of us this is not a problem, but if you also happen to be in a location where the storm could affect your electric supply then you might be in a world of trouble. The number 1 most common way people flood their basement is when the power goes out during a storm with heavy downpour; but that doesn't have to be you!
When the power goes out or the motor is overheated, you can easily experience the flooding so the usage of a backup sump pump running off a battery backup will be the best option for controlling or managing the water flow. With the improvement in technology, there are 2 types of battery backup sump pumps are available such as AC/DC and DC.
TOP 5 BACKUP BATTERY SUMP PUMP COMPARISON CHART
| No. | Image | Name | Type | Item Weight | GPH | HP | Warranty | Where to buy |
| --- | --- | --- | --- | --- | --- | --- | --- | --- |
| 1 | | WAYNE ESP25 | Battery Backup | 13.5 pounds | 3300 | 1/3 HP | 2 years | Check Price |
| 2 | | Zoeller 507-0005 | Battery Backup | 13.35 pounds | 900 | 1/3 HP | 1 year | Check Price |
| 3 | | WAYNE WSS30V | Primary and Battery Backup Combination | 24 pounds | 4200 | 1/2 HP | 5 years | Check Price |
| 4 | | Liberty Pumps SJ10 | Water Powered | 5 pounds | 2000 | 1/2 HP | 2 years | Check Price |
| 5 | | Zoeller 507-0008 | Battery Backup | 43 pounds | - | 1/3 HP | 5 years | Check Price |
TOP RATED BACKUP SUMP PUMP ON THE MARKET
#1
WAYNE WSS30V Pre-Assembled Primary and Battery Backup Sump Pump System
Wayne WSS30V is the high-quality pre-assembled pump as well as a backup system used for easy and quick installation process. This system brings more features that includes the durable, top suction, vertical float switch, cast-iron primary pump and much more suitable for enhancing the quality of work. Wayne WSS30V is assembled in the US using both the domestic and foreign parts. They are tested with more than 1 Million Cycles for increasing the performance based on the 12-volt backup pumps.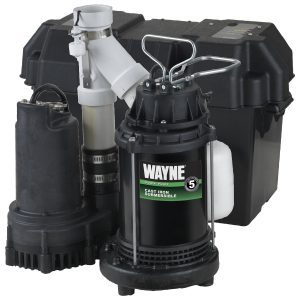 FEATURE & SPECIFICATION:
The maximum power also reaches up to 3300 GPH (Gallons per Hour) and it makes the highest performing DC pumps present in the market.
WAYNE Water System is the world renowned and reliability expert brings you the superior quality pumps exceeding the average life 1 million pumping cycles based on the rapid cycle test conditions.
The top suction design of the primary pump easily filters the debris as well as they easily minimize the clogging.
The system is highly made with the superior quality corrosion resistant, reliable reed float switch, charger, battery box and high-flow battery back-up pump.
Professional grade backup system and Heavy duty check valves require only one 40 Amp Hour or 75 Amp Hour based on the deep cycle battery.
OUR REVIEW
PROS:
Comes pre-assembled that does not make it difficult to install
Each and every part of the pump is rust and corrosion-free
The operation takes place with no noise at all
No chances of backflow during pumping with heavy-duty check valves
CONS:
Back-up battery has not been provided with the pack
The back-up and primary pumps do not have a good lifespan
#2
WAYNE ESP25 12 Volt Battery Back-Up Sump Pump System with Audible Alarm
The WAYNE ESP25 sump pump battery backup system runs with the 12V DC power source with the powerful motor for the water suction. The 1/3-HP sump pump system is equipped with the 12 Volt battery backup, which is convenient for operating even when there is no power to operate. This Pump also have the sturdy polyethylene battery that holds the group of 27 sized sealed lead-acid battery.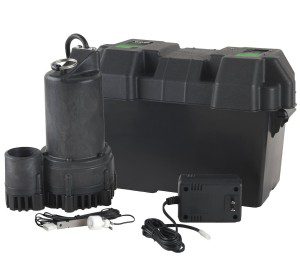 FEATURE & SPECIFICATION:
WAYNE pumps are completely standalone and have the float switch in the best manner for controlling the circuitry in the extensive manner.
This sump pump system with audible alarm is much simple to install alongside with the existing Pump in the Sump so that it would automatically increase the better option of the longer performance of dewatering in the extensive manner.
When the water level is higher for activating the ESP25 Pump then the float switch comes into operational so that it is automatic for operating the Pump without manual help.
It operates when the current pump malfunctions or unable to discharge water in any of the heavy inflow situation.
This is one of the best battery for backup pumps system which offers you the best option for controlling the motor with the extensive type of increasing the power backup for the motor to run.
This pump system acts as the booster for the Pump to assist with the primary Pump so that it could be discharged with the dedicated line or same outlet.
This Pump is also completely waterproof that will give you much protection with the thermoplastic housing.
This Pump discharges the 2,300 Gallon of water per minute at the 10 foot head and it also have the 1.5 inch discharge outlet.
75Ah battery deep cycle battery gives the better option for the ESP25 model.
OUR REVIEW
PROS:
High on performance with 12-volt battery
Comes equipped with an alarm which is quite audible
Undergoes a noiseless operation
Comes with a top suction design for filtering debris and minimizing clogging
The process of installation is very easy and effortless
CONS:
The battery charger cord and battery cable are both too short
Additional sump width is extremely necessary
No backup battery is included in the pack
#3
Zoeller 507-0008 Pre-assembled Sump Pump with Battery Backup and M53 Pump
Zoeller 507-0008 Pre-assembled Pump is designed as the battery backup option for the primary sump Pump. When the primary pump failure or unexpected power outages happens then this Pump acts as the best option for increasing the performance in the extensive operation of dewatering the sump. This pump have the easier installation with the DC pump, advance electronic controls, battery and many other parts are required.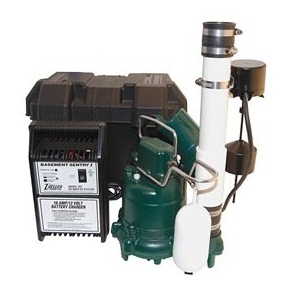 FEATURE & SPECIFICATION:
This Sump model is designed with the installation of the sumps to the minimum diameter of 18″ and 24″ deep.
This Pump comes fully assembled with the ready for installation for clearing the eater from the Sump.
M53 Pump is the primary Pump that operates at the 115V AC and has the basement sentry with the model 507 that has 12 Volt DC backup systems.
The Pump has the float switch and piping fitted for the faster way of increasing the water flow in the extensive manner.
When the pump is continuously fully charged then it will provide the backup of 5 1/2 to 7 1/2 hours.
M53 Pump system is the automatic sump pump that passes the 1/2″ spherical solids and the motor also have the modern engineered glass filled thermoplastic vortex impeller for the faster performance in the extensive manner.
Zoeller 507-0008 have the lockable type of battery box so that it is completely protected for the higher safety.
Factory assembled Zoeller 507-0008 models have the higher efficiency in the excellent way and there are extra protection provided for the Pump in case of primary AC pump system fails with power outages.
Battery burn out or overcharge protection adds more advantage for the Pump system.
Zoeller Pump models are used for residential locations, Commercial locations, Basement storage facilities, Communication vaults as well as Computer vaults.
OUR REVIEW
PROS:
The system comprises all such parts to ensure that there is no flood caused in the basement
Made from a very hardy material that ensures its durability
Comes with a battery back-up that helps in case the primary pump fails
CONS:
The set-up is only possible on pits having diameters stating from 11 to 24 inches
Battery back-up needs to be stronger with a marine battery
#4
Zoeller 507-0005 Basement Sentry Battery Backup Pump
Zoeller is the top trusted brand by many number of customers as the products have higher quality with best performance. This is one of the best sump pump with good battery backup that moves the water of 15 Gallons per Minute at the 10 foot lift and 23 Gallons per minute at the 5 foot lift. This Zoeller pump systems have the adjustable type of vertical float so that it has the automatic switch for the better operation in the extensive manner.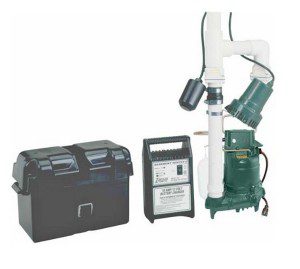 FEATURE & SPECIFICATION:
Zoeller 507-0005 Basement Pump have the 1/3 HP primary Sump so that it will be easier for the housing to move water from sump faster.
This has the strong thermoplastic so that it is the corrosive resistance in the extensive manner.
This is one of the best backup systems which weighs around 13 pounds so that it is easier for installing this Pump anywhere in the side directly with the main discharge pipe.
Therefore it will be easier for operating this pump alongside with the primary Pump for the faster performance of moving water.
Automatic float system is attached in the main discharge pipe so that it is completely reliable for the higher possibility of turning the switch ON or OFF.
This pump offers the higher protection when the power outings in case of the primary Pump failure and it is operated at the voltage of 12V.
The Pump has many advantage of emergency backup usage of this Pump system when the primary Pump fails the process.
Alarm notification systems are also installed in the Control Box for monitoring the battery and prevent the burnout.
This pump also have the LCD displays voltage monitoring and LED light indication denoting the AC power out or battery is fully charged.
Alarm in the control box will sound when battery is operating.
OUR REVIEW
PROS:
Comes with a check valve
Very easy to install that can be done to any current sump pump
Comes with a backup pump as well as a float switch
A control box includes an alarm pack
CONS:
Poor power outage that sometimes affects its operation
Water starts getting gushing out of the bottom
A very poor mechanical switch
#5
Wayne WSM3300 Sump Minder Advanced Notification BackUp Pump
Sump Minder is the most traditional backup sump system available on the market. Sump Minder come with unique capabilities, it will monitors as well as self-tests both backup and primary sump pumps. Even, it will call you in advance when it finds any problem. This advanced system sends a voice alert to any phone with this you will take action become flooding occurs. Microprocessor controller frequently monitors and checks battery status and ac power. In addition to this, it will run a full self-tests every fourteen days.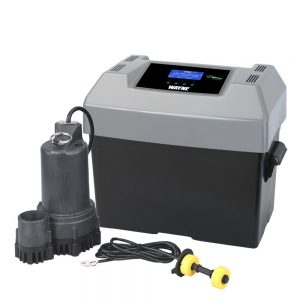 FEATURE & SPECIFICATION:
This advanced Sump Minder helps you a lot; you can easily program in up to three telephone numbers.
The smart charging technology also breaks the surface charge as well as it also brings the battery back to optimal levels.
It is the widely used and most conventional water pump.
Typically, it can be used to remove ground water from sump pits at the same time it will transfer basement drainage to prevent flooding.
Sump Minder is really beneficial and completes your sump pump system; moreover, it provides additional protection by removing ground water during heavy rain, power outage, or any primary pump failure.
It is a perfect option for your sump pump system.
OUR REVIEW
PROS:
The main top suction is made of cast iron that makes it sturdy and durable
Comes pre-assembled that makes it quite easier to install
The pump creates no noise at all during operation
Power consumed is less in comparison to other pumps
CONS:
Not suitable to be used in pits with diameter less than 15 inches
Price is a little bit higher in comparison to other models
#6
Liberty Pumps SJ10 Discharge Sump and Jet Water Powered Back-Up Pump
Liberty Pumps SJ10 is the most powerful water-powered backup pump to protect your basement in case of any kind of power shortage. Liberty Pumps SJ10 Pump system features the highly compact efficiency design that has the ability to remove 2 Gallons of sump water per 1 Gallon. With the use of compactable Protect basement case would be much suitable for the power outage. Liberty Pumps SJ10 is 1-1/2-Inch Discharge Sump Pump system along with the extensive Jet Water Powered Back-Up Pump.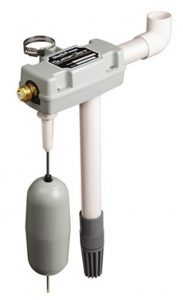 FEATURE & SPECIFICATION:
Since the unit is powered by the municipal water supply, there is no need for the electricity to operate.
Liberty Pumps SJ10 is completely automatic and it arrives with a completely assembled backed pump.
Pumping performance of the machine varies based on the pumping head as well as inlet water source pressure.
Liberty Pumps SJ10 accepts 20 PSI to 100 PSI inlet supply pressure so that it is quite convenient for enhancing the quality of the system.
The Adjustable stainless hose clamp is set to deliver the easy mounting and extensive output flow rates and UPC approved.
The built-in removable foot valve is also included for water inlet with the extensive backflow protection.
1-1/2 Inch Discharge Water brings you the convenient options for increasing the priority and enhancing the ability to the maximum.
OUR REVIEW
PROS:
Quite light in weight and compact in size
Made of high-quality PVC that makes it durable
Equipped with an efficient motor that can move out 19.8 gallons per minute
Both inlet and outlet support various types of pipes
Operates with no noise
CONS:
Set-up takes a bit of extra money
The suction shaft valve or what is known as the foot valve often fails to function
Top 5 Perfect Batteries for Battery Backup Sump Pump Systems
Batteries considered as an essential element of the sump pump because it allows the device to work even while electricity is not available. No matter, how extreme quality sump pump you have, but if it does not acquire great battery feature, then the sump pump would be completely useless.
Following are some of the best quality batteries that allow the sump pump to keep your basement waterproof every time.
#1
Wayne WSB1275 75Ah AGM Sealed Lead Acid Battery
Wayne batteries do not require an introduction in the world of sump pump batteries because its quality and trustworthy batteries compliment the sump pump devices. It is the first choice of every sump pump owner because it offers extreme durability and quality that no other brand can beat.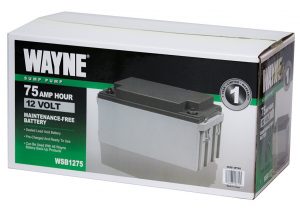 Product Features and Specifications:
It comes along with the 12 volt battery that delivers long lasting battery backup outcome
Offers 75amp per hour output
Comes with the sealed design
You will get pre-charged battery that offers a ready to use service
This battery is completely compatible with the entire type of sump pump models
It includes handles as well that offers a convenient mobility
The dimension of Wayne battery is 11 x 9 x 8 contains with robust technology and safety features
Also it is very easy and safe to use battery
Designed with quality material
PROS:
Easy and safe to use
Holds no handling acid
Durable and long lasting battery backup
Affordable cost
Trouble-free installation
Less maintenance required
Compatible with all sump pump
CONS:
One year warranty
Not included terminal ends
#2
WindyNation 12V 100 Amp-Hour Deep Cycle VRLA Battery
Battery considered as the heart of the all the sump pump devices so if its battery does not work well, then sump pump will never be able to deliver your desired results, even it will never work for more than few hours. Hence, it is important to have a superb battery for any type of the submersible pumps. In this situation, WindyNation 12Volt 100 AMP battery can help sump pump to exceed its life span. Want to know why? Then check out its features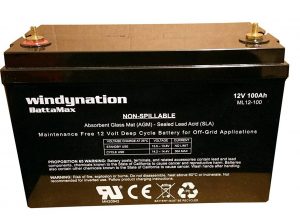 Product Features and Specifications:
It is a superlative battery for off-grid power, RV, solar and other offshore marine power and tools.
This float battery offers 100AMP (240 minutes) reserve capacity
Consist AGM lead acid battery (sealed)
Designed with the 99.995% pure leads for lower discharge rate
One-year warranty and 10-12 years long service experience
PROS:
Extended battery life
Inexpensive
Allow the sump pump to run without electricity
CONS:
One year warranty
Not includes handles
Conclusion:
It is also one of the best options for you to extend the life of your sump pump. It can be used for several purposes including power equipment for healthcare, shopping centers, commercial buildings and so on. If you want to a buy a trustworthy brand for your home, then go with this battery that will worth your all requirements.
#3
Vmaxtanks MR137 AGM Battery Deep Cycle
If you want to buy the best battery for your sump pump, then this Vmaxtanks MR 137 battery is an ultimate option for you. It is another model of the battery provided by the Vmaxtanks that made with superior quality material for an exceptional experience. This battery constructed by using the floating service that can deliver 8 to 10 years lifespan.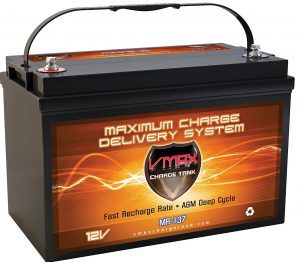 Product Features and Specifications:
Designed with the unique physical and chemical structure
Offers extreme strength and powerful performance
It also not includes contaminates and silica gas that produce dangerous fumes
Robust and easy to carry handles
VMAX heavy duty leads provides extraordinary performance
15AMP 7 stage smart charger
No need of maintenance
Constructed with the AGM (absorbed glass matt) that is highly efficient to absorb electrolyte
It never include complicating installations process and also safe to utilize
This pre-charged battery is ready to use with your sump pump
PROS:
Maintenance free
Safe to use
Conclusion
Now you don't need to go through other sites for sump pump batteries because this Vmaxtanks MR 137 sump pump battery is available to meet all your desires. So, buy now!
#4
Vmaxtanks VMAX SLR155 AGM 12v Deep Cycle SLA Battery
Another the most sophisticated battery for sump pump is Vmaxtanks VMAX SLR 155 AGM 12 Volt battery that offers huge compatibility to any submersible. The most amazing thing about this battery is its 10-12 years of life span that no other brand can provide.  Following are the brief specification and features of this brand.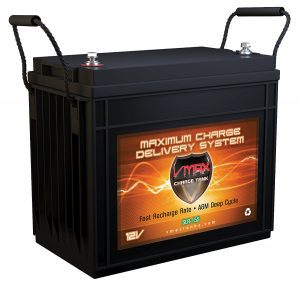 Product Features and Specifications:
Engineered with the 12 volts 155 AH deep cycle solar battery for tremendous compatibility
Also made with the military grade custom made plates that used to deliver stability
It also does not contain harmful fumes and gasses so you can easily utilize it without having any hassle.
It is safe to use indoor as well.
Comes along with the battery calculator the capacity of batteries needed for the AC or DC power needs
This rechargeable battery consist VMAX labels and hot stamp and as well as microprocessor controlled charger
PROS:
Require less maintenance
Long life span
CONS:
One-year warranty
Cumbersome and slow to charge
Conclusion
This high-quality battery has an ability to meet all the expectation of the sump pump owner. Even I can assure you that you will be never disappointed with your decision of buying this brand of the sump pump battery.
#5
VMAX MR127 12 Volt 100Ah AGM Deep Cycle Maintenance Free Battery
Sump pump requires such type of battery that enhances its capability to work last long, and VMAX 127 battery is designed to meet all the requirements of the sump pump models. Also, it designed with the unique technique to deliver extreme reliability, durability and high performance to exceed its requirements. Even there are not even single people who experience an issue with this brand. Let's check out its specifications: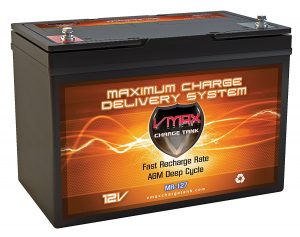 Product Features and Specifications:
This 12V 100 AH battery made with the 27 deep cycles heavy duty construction
Comes with the carrying handles
It never include any kind of contaminants including silsica gels
It comes with the electrolyte suspension systems VMAX tanks exploit AGM electrolyte suspension system that uses to absorb electrolyte
It holds an ability to fit any the battery box including MinnKota trolling motor power as well.
This battery constructed with the tough or heavy duty grids
Furthermore, this VMAX lead-tin alloys offers tremendous service experience including cycle or float application
PROS:
Less maintenance
Long durability
Made with the robust material
Reasonable priced
Conclusion
It is the most suitable battery for your sump pump to keep your house waterproof and healthy. If you want reliability and durability in your sump pump, then you should go to this battery.
#
How to Prevent Flooding During Power Outages
Are you one of those people who can't help but fret about leaving your home especially in the middle of winter when basement flooding could become a pressing problem? You are not alone. Thousands of people have experienced going home to a flooded house after spending the holidays elsewhere. Sure, you might have a sump pump system installed but what happens when there are power outages?
Enter the best quality battery backup sump pumps. Don't be one of those people who do not think about plan B. Having a peace of mind and knowing that there's a pump that will work in case the power goes out has no equal. I bet you don't fancy going home to a house with all your precious belongings such as your lovely carpet or your new flat screen television soaked in flood.
Before anything else, let's find out first the different types of backup pumps and what they can offer you:
Battery Powered Sump Pump – Reliable Backup System
Advantages of using:
It runs on battery so it immediately switches to that power source when there's no electricity.
That means no excess water to pump out existing water is needed.
Compared to water-powered alternatives, this performs better in terms of water flow.
Disadvantages of using:
You need a submersible pump to go with it and it should come with a float switch
It might not be as reliable during lengthy power outages
Water Powered Sump Pump – Works All The Time!
Advantages of using:
It uses water to run so it doesn't die.
This is great for extended power interruption problems.
It is purportedly durable and less prone to breakages and damages.
It comes with a float switch that is used to activate the machine.
Disadvantages of using:
Because it runs on water, it tends to add more water to the existing sump pit.
A typical water-powered pump adds 1 gallon for every 2 gallons of water it dispels so it might take a longer time to completely get rid of the water.
You will end up with a hefty water bill.
#
Battery Backup for Sump Pump
Imagine waking up one morning to find that your entire basement is flooded? All your time and effort to create this comfy living space is now under water, and everything valuable is damaged. This is not a good scenario to wake up to. Water damage especially in a basement is a very distressful situation because you have to deal with the mess, the clean up and the insurance company to recoup your losses.  This can be very frustrating. No one wants a flood in their property but it can happen anytime, and whenever it does, it is a nightmare to deal with. The good news however, it can be prevented.
Why do I need a sump pump?
A sump pump is actually important for homeowners and establishments as it protects them from flooding. When you have problems with water that penetrates through your walls and flooring in the basement, the best solution to solve your problems is to install a sump pump. A sump pump in your basement will get rid of the water in your property by pumping it out. This handy device is commonly used and installed in the lowest point in the house or building like a sump pit.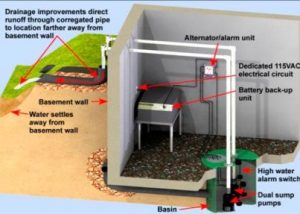 Once the water starts to fill up around the pump pit, the sump pump will automatically start working to remove the water and send it through a pipe out. The slope that is usually built around the house or building helps the pump to send the water away from your property. At the same time, the check valve that is found between the pipe and pump keeps the water from flowing back into your house. Thus, it really is important to have a sump pump even if you don't actually live in a flood-prone area.
But what are you going to do if your sump pump doesn't have a backup battery? What if the power goes out and your sump pump will not be able to function unless you have a generator? Read on to know why a battery backup is important and why you need it.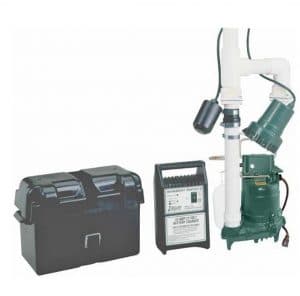 Who needs a Sump Pump Battery Backup?
If you have only a primary pump installed, it is best to consider buying a battery pump. It might cost a hundred dollars or more but every penny is well worth it, especially if the primary pump runs on AC power only. Remember mechanical failures (like a float switch failure which is very common) or power outages comes without any warning and if you are away from home on a vacation, at work or sleeping, it is good to know that you have a secondary sump pump system in place to backup your primary pump if it fails. Another good alternative to the backup pump is the water powered sump pump which does not use any electric or battery power to function. You can easily prevent a big mess in your home with a battery backed sump pump.
Without a reliable backup system, your sump pump can be pretty useless so don't wait for the flood to come and cause a mess. Get a battery backup sump pump system and feel more relaxed no matter how hard it rains and you are slumbering or out on vacation. A battery backup sump pump system works as a second pump that is installed in your primary pump. Just like other battery-powered devices, the battery provides a second source of power to help your pump operate when the power goes out.
In addition, a battery backup sump pump system comes with a separate power switch so it automatically switches the pump ON to start working. This comes in really handy especially if your primary pump's switch suddenly fails to work. But aside from working as a secondary switch and power source, this system really works as an all in one backup when the rain is too hard and your primary sump pump can no longer take the water.
Benefits of a Good Battery Backup Sump Pumps
The true benefit of a secondary sump pump is that it operates solely on battery power. There is no AC connection required and it is guaranteed to activate if the primary pump fails. This battery protection is good for your property and can save a lot of money from water damages. It is the peace of mind that every homeowner owner wants, and this type of pump system is considered to be a fail safe in the event of power outages, or during a heavy rain storm. Besides, the configurations and programming of these pumps are designed to automatically turn on when the primary pump fails and to expel water from the basement quickly.
They say that two heads are better than one, so as in sump pumps. With an additional battery backup, you can easily tell when the water outside gets too much and you need an extra support to pump it all out. This works well too in times of danger so you better monitor the battery status from time to time. No matter how handy this system is, it won't be able to do much help if it runs out of power. Make sure that the battery charges properly as well.
Some battery backup sump pump systems have a special feature that can alert you whenever there is a loose connection or corrosion in its terminals. It will also let you know when it is time to be replaced.
One of the best things about having a battery backup sump pump system is that it is easy to maintain. Unlike other devices, a battery backup sump pump system is easier to install on primary sump pumps. Just be sure that you check the terminals and battery water levels regularly to make sure that it works fine at the right time. In case the power goes out, be sure that you monitor the battery status and prepare a replacement just in case the power doesn't come back before the battery runs out.
Which Type Suit your Needs?
To determine the type suitable for each home depends on a lot of factors such as; basement size, price, geographic location, installation cost etc. The internet is saturated with information on makes and models for you to research and make a choice. You can always seek professional help on online or in store if you are not sure which pump is a good backup system for your basement. As a rule of thumb the specification for any pump should follow the guidelines below.
A pump that can expel 10,000 -12,000 gallons of water on a single charge.
A pump that can be integrated into an alarm system and transmit warnings in the event of a failure.
A pump equipped with an additional battery which can provide the system with double power to expel more than 10,000 gallons of water.
The Importance of an Alarm on the Pump
It usually comes with an alarm feature that can be activated to sound an alarm in the house, if there is pump failure. A  failure can be a blown fuse, low battery or a power outage. In addition, the pump alarm can be easily integrated into the home security system which can send signal to a monitoring station if any part, or component of the pumps fails. The monitoring station agent will then contact you on a mobile phone or any forwarding phone provided to them. An alarm on your sump pump is a good benefit because you will be notified every time there is failure whether you are home or not.
How Long will this System Run on Battery?
Trick question but this factor should be seriously considered when buying a backup sump pump systems for basements. It is strongly advisable to gather as much details on the battery specifications when talking to a sales representative at the store or a certified plumber. A sump can use all of its energy in a single day or a week depending on the volume of water present. A good rating would be a pump that can expel 10,000 to 12,000 gallons of water on a single charge. This is a lot of water.
Conclusion
To conclude, a battery backup system should be your secondary line of defense system against extreme weather conditions such as heavy rainfall, power failures and storms. This type of back up system is the ultimate peace of mind for every homeowner. With a battery backup for sump pump a possibility of a flood is no threat at all.
Investing in a battery backup sump pump system will also help you save cost on cleaning and preventing damages from occurring in your property.