Batteries considered as an essential element of the sump pump because it allows the device to work even while electricity is not available. No matter, how extreme quality sump pump you have, but if it does not acquire great battery feature, then the sump pump would be completely useless.
Following are some of the best quality batteries that allow the sump pump to keep your basement waterproof every time.
#1
Wayne WSB1275 75Ah AGM Sealed Lead Acid Battery
Wayne batteries do not require an introduction in the world of sump pump batteries because its quality and trustworthy batteries compliment the sump pump devices. It is the first choice of every sump pump owner because it offers extreme durability and quality that no other brand can beat.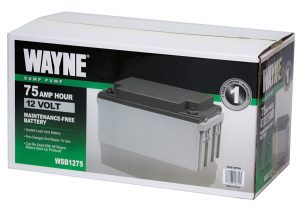 Product Features and Specifications:
It comes along with the 12 volt battery that delivers long lasting battery backup outcome
Offers 75amp per hour output
Comes with the sealed design
You will get pre-charged battery that offers a ready to use service
This battery is completely compatible with the entire type of sump pump models
It includes handles as well that offers a convenient mobility
The dimension of Wayne battery is 11 x 9 x 8 contains with robust technology and safety features
Also it is very easy and safe to use battery
Designed with quality material
PROS:
Easy and safe to use
Holds no handling acid
Durable and long lasting battery backup
Affordable cost
Trouble-free installation
Less maintenance required
Compatible with all sump pump
CONS:
One year warranty
Not included terminal ends
#2
WindyNation 12V 100 Amp-Hour Deep Cycle VRLA Battery
Battery considered as the heart of the all the sump pump devices so if its battery does not work well, then sump pump will never be able to deliver your desired results, even it will never work for more than few hours. Hence, it is important to have a superb battery for any type of the submersible pumps. In this situation, WindyNation 12Volt 100 AMP battery can help sump pump to exceed its life span. Want to know why? Then check out its features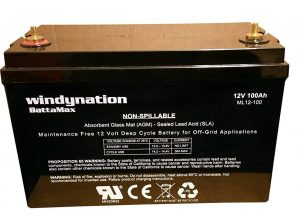 Product Features and Specifications:
It is a superlative battery for off-grid power, RV, solar and other offshore marine power and tools.
This float battery offers 100AMP (240 minutes) reserve capacity
Consist AGM lead acid battery (sealed)
Designed with the 99.995% pure leads for lower discharge rate
One-year warranty and 10-12 years long service experience
PROS:
Extended battery life
Inexpensive
Allow the sump pump to run without electricity
CONS:
One year warranty
Not includes handles
Conclusion:
It is also one of the best options for you to extend the life of your sump pump. It can be used for several purposes including power equipment for healthcare, shopping centers, commercial buildings and so on. If you want to a buy a trustworthy brand for your home, then go with this battery that will worth your all requirements.
#3
Vmaxtanks MR137 AGM Battery Deep Cycle
If you want to buy the best battery for your sump pump, then this Vmaxtanks MR 137 battery is an ultimate option for you. It is another model of the battery provided by the Vmaxtanks that made with superior quality material for an exceptional experience. This battery constructed by using the floating service that can deliver 8 to 10 years lifespan.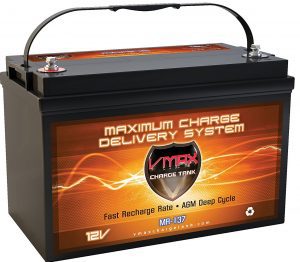 Product Features and Specifications:
Designed with the unique physical and chemical structure
Offers extreme strength and powerful performance
It also not includes contaminates and silica gas that produce dangerous fumes
Robust and easy to carry handles
VMAX heavy duty leads provides extraordinary performance
15AMP 7 stage smart charger
No need of maintenance
Constructed with the AGM (absorbed glass matt) that is highly efficient to absorb electrolyte
It never include complicating installations process and also safe to utilize
This pre-charged battery is ready to use with your sump pump
PROS:
Maintenance free
Safe to use
Conclusion
Now you don't need to go through other sites for sump pump batteries because this Vmaxtanks MR 137 sump pump battery is available to meet all your desires. So, buy now!
#4
Vmaxtanks VMAX SLR155 AGM 12v Deep Cycle SLA Battery
Another the most sophisticated battery for sump pump is Vmaxtanks VMAX SLR 155 AGM 12 Volt battery that offers huge compatibility to any submersible. The most amazing thing about this battery is its 10-12 years of life span that no other brand can provide. Following are the brief specification and features of this brand.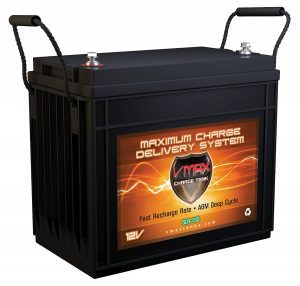 Product Features and Specifications:
Engineered with the 12 volts 155 AH deep cycle solar battery for tremendous compatibility
Also made with the military grade custom made plates that used to deliver stability
It also does not contain harmful fumes and gasses so you can easily utilize it without having any hassle.
It is safe to use indoor as well.
Comes along with the battery calculator the capacity of batteries needed for the AC or DC power needs
This rechargeable battery consist VMAX labels and hot stamp and as well as microprocessor controlled charger
PROS:
Require less maintenance
Long life span
CONS:
One-year warranty
Cumbersome and slow to charge
Conclusion
This high-quality battery has an ability to meet all the expectation of the sump pump owner. Even I can assure you that you will be never disappointed with your decision of buying this brand of the sump pump battery.
#5
VMAX MR127 12 Volt 100Ah AGM Deep Cycle Maintenance Free Battery
Sump pump requires such type of battery that enhances its capability to work last long, and VMAX 127 battery is designed to meet all the requirements of the sump pump models. Also, it designed with the unique technique to deliver extreme reliability, durability and high performance to exceed its requirements. Even there are not even single people who experience an issue with this brand. Let's check out its specifications: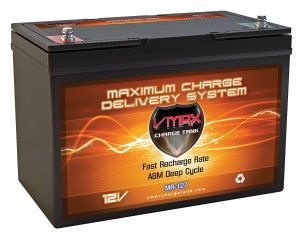 Product Features and Specifications:
This 12V 100 AH battery made with the 27 deep cycles heavy duty construction
Comes with the carrying handles
It never include any kind of contaminants including silsica gels
It comes with the electrolyte suspension systems VMAX tanks exploit AGM electrolyte suspension system that uses to absorb electrolyte
It holds an ability to fit any the battery box including MinnKota trolling motor power as well.
This battery constructed with the tough or heavy duty grids
Furthermore, this VMAX lead-tin alloys offers tremendous service experience including cycle or float application
PROS:
Less maintenance
Long durability
Made with the robust material
Reasonable priced
Conclusion
It is the most suitable battery for your sump pump to keep your house waterproof and healthy. If you want reliability and durability in your sump pump, then you should go to this battery.
#
How to Prevent Flooding During Power Outages
Are you one of those people who can't help but fret about leaving your home especially in the middle of winter when basement flooding could become a pressing problem? You are not alone. Thousands of people have experienced going home to a flooded house after spending the holidays elsewhere. Sure, you might have a sump pump system installed but what happens when there are power outages?
Enter the best quality battery backup sump pumps. Don't be one of those people who do not think about plan B. Having a peace of mind and knowing that there's a pump that will work in case the power goes out has no equal. I bet you don't fancy going home to a house with all your precious belongings such as your lovely carpet or your new flat screen television soaked in flood.
Before anything else, let's find out first the different types of backup pumps and what they can offer you:
Battery Powered Sump Pump – Reliable Backup System
Advantages of using:
It runs on battery so it immediately switches to that power source when there's no electricity.
That means no excess water to pump out existing water is needed.
Compared to water-powered alternatives, this performs better in terms of water flow.
Disadvantages of using:
You need a submersible pump to go with it and it should come with a float switch
It might not be as reliable during lengthy power outages
Water Powered Sump Pump – Works All The Time!
Advantages of using:
It uses water to run so it doesn't die.
This is great for extended power interruption problems.
It is purportedly durable and less prone to breakages and damages.
It comes with a float switch that is used to activate the machine.
Disadvantages of using:
Because it runs on water, it tends to add more water to the existing sump pit.
A typical water-powered pump adds 1 gallon for every 2 gallons of water it dispels so it might take a longer time to completely get rid of the water.
You will end up with a hefty water bill.