Little Giant 5.5
The Little Giant Sump Pump is well known to homeowners who have a basement that is prone to flooding. There are many who have been searching for a high quality sump pump to install in their basement so that it may be protected against any kind of water related problems. The problem is that finding a good sump pump can be quite difficult these days, as there are many products available on the market that fail to deliver the desired results.
After trying it out, many consider that the Little Giant Sump Pump has proven to be just what they were looking for. Sturdy and reliable, this little sump pump is also exceptionally quiet, which is a great advantage over similar products. Furthermore, it is also very easy to install and use, so many consider it to be one of the most practical pumps that can be found these days.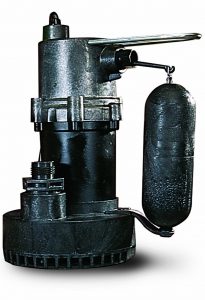 Check Reviews & Price On Amazon
A Short Description of the Little Giant 5.5-ASP Submersible Sump Pump
The dimensions of the Little Giant Sump Pump are 6 x 8.88 x 10.75 inches. Also, the product weighs less than 10 pounds. These numbers effectively make it one of the most lightweight and compact pumps of all. This is a great advantage, especially if you need to fit it in smaller places as having enough space in your basement can be quite important. Moreover, the pump comes with a 10 feet power cord that allows you to easily install it practically anywhere you want, without any power related issues.
The 1/4 HP motor that powers the Little Giant 5.5-ASP is not only reliable and efficient, able to pump water very easily, but it also has a quality that represents a great advantage when it comes to any sump pumps: it is silent. Since the pump is also automatic, you will rarely have to check up on it or worry that it might make too much noise. Compared to many other similar pumps, the Little Giant Sump Pump has reached quite a notable performance from this point of view.
With its high head pressure level, the Little Giant can easily pump water up to about 25 feet at over 40 GPM. This allows for maximum efficiency a higher head pressure than this is rarely required. Also, the efficient way that this exceptional sump pump handles up to 3/8'' of solids is quite remarkable. Therefore, it not only avoids clogging, but also protects the entire system from any unwanted problems caused by the excessive presence of solids.
Last but not least, an important aspect that makes a pump efficient is the depth at which it can operate. The Little Giant Sump Pump can easily work at around 7'' to 10'' of water depth and shuts down at 2'' to 5''. This makes it perfect for use not only in basement sumps but various other wastewater removal systems as well.
Pros and Cons of the Little Giant 5.5 Sump Pump
Most products rarely live up to the expectations of users and to the qualities marketed by the manufacturers. There are countless sump pumps that are sold at a much higher price than the Little Giant and fail to provide even half the advantages that are shown by this excellent pump. You will easily notice that in the case of the Little Giant Sump Pump, overall, its many qualities far exceed those of other similar pumps and the countless positive reviews provided by satisfied customers fully confirm this fact.
Advantages:
Perhaps one of the most important aspects about the pump is that it is very reliable. Many satisfied customers claim that they had bought Little Giant products before and that they had lasted for even more than 10 years before they had to buy a new one. This fact effectively proves that, despite the low price of only around $100 the manufacturers have spared no expense in making this sump pump one of the best choices available on the market.
The Little Giant Sump Pump is UL (Underwriters Laboratories) certified which basically means that it has passed quite a few important safety tests. Safety is crucial when it comes to sump pumps, because most of them are electrical, so there can be many potential dangers related to the interaction between water and electricity.
Low power consumption is also extremely important to consider when you buy a new sump pump. At only around 600 watts, the Little Giant is quite economic when compared to other products that can easily reach numbers of over 1000 watts.
Disadvantage:
Perhaps the only actual issue that you can experience when using the Little Giant Sump Pump is the fact that the unit can sometimes tip over if it is not secured properly. This could potentially create some problems, so it is very important that you make sure the pump is firmly secured in place before turning it on.
Customer Reviews of the Little Giant 5.5 Submersible Sump Pump
Reviews show that customers are extremely pleased with this reliable little sump pump. There are very few who claim to have had any kind of problem with it, and the general opinion is that the Little Giant is durable, well put together and extremely efficient.
There is also a high level of trust connected to Little Giant units, as homeowners have used them for years and many of them regard this line of products as flawless. Many of them also see the Little Giant Sump Pump as a great bargain, since the price is more than manageable and it is definitely not easy to find an inexpensive product that can last as long as this one.
Opinion of the Little Giant 5.5 Pump
Generally, the Little Giant is seen as a trusted product. Despite its size, it is a worthy competitor against even the larger, more expensive pumps, since they are rarely able to reach the level of durability that this one can provide. Those who are practical-minded realize that size is not always important, especially in the case of a smaller basement.
The most important factor that determines the value of any product is its capability of getting the job done efficiently, and the Little Giant Sump Pump can most definitely achieve that in the best of ways.
Related Posts:-
Little Giant 6 -CIA 1/3 HP Submersible Sump Pump
Little Giant VS-P2800 1/3 Horsepower Pedestal Sump Pump