A recurrent flooding is one of the major problems faced by a huge number of homeowners across the world. Flooding may reduce the value of your home by causing a series of damages to your home's foundation, plumbing system, electrical systems, etc. Constant exposure to water results in cracked floors cracked walls, dry and rotted wall. However, you have one ultimate solution for all these problems and is nothing by Zoeller 98-0001 submersible sump pump.
It is a multi-purpose, heavy duty sump pump that can be deployed for residential and commercial purposes. They are built strongly and sturdily and so, you can be sure of their longevity. It can be used as a tool to get rid of water from basements, patio, and driveways. These Zoeller Pumps are extremely reliable and excellent in terms of discharge size and volume capacity. This 1/2 horsepower cast iron submersible pump is widely regarded as one of the most powerful pumps for all applications.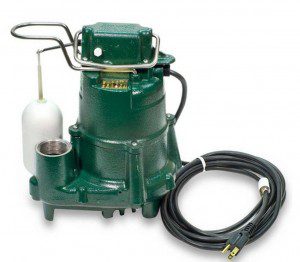 Features Of the Zoeller M98 Sump Pump
This sump pump is a single phase submersible pump which functions five times faster than its counterparts. It is packed with excellent specifications that make this pump an incredible choice for everyone. Let us see them one by one:
With ½ HP motor, it is more powerful when compared to many another pump with ¼ motor or lowers instead.
This effluent pump is heavy duty in its performance and robust in its construction. This zoller sump pumps could weight around 40 pounds and is constructed to last for several years.
Zoeller 98-0001 can be used to remove water either from the basement or to dewater the septic tanks. It is versatile enough to be used for various purposes.
This pump is thermal overload protected and comes with cast iron stainless steel screws that can hold it together.
The mechanic switch of this sump pump is two poles operated and can pass 1/2 inch solid from the basement or tank to the hose and then out of your building.
At 115 Volt, this Zoeller submersible sump pump can drain out 3420 gallons of water per hour at five feet. Of course, its pumping level varies with the height of water level.
The base and the switch case of Zoeller 98-0001 is made with cast iron. It comes with powder coated epoxy finish to ensure that the device remains resistant to corrosion even if it is in contact with water, corroding materials, and septic tank waste throughout the year.
The cord of this sump pump comes with three wire, which is 15 feet long. This cord is made out of high-quality neoprene.
You will find this unit featuring plastic vortex impeller to ensure proper handling of hanging solids.
Pros and Cons
PROS
One of the major benefits of this Zoeller m98 sump pump is that it comes with 18 months warranty, which means that the unit can be replaced if you are not satisfied with your purchase. However, the robust construction makes this unit last for extended period of time.
This Zoeller water pump is designed to operate quieter and empty the sump pit within a few seconds. So, you need not worry about prolonged stagnant of water in your basement.
Even if you use this device for more than 5 years, you will not experience any impacts on this system. It can empty the pit even if it becomes old. You will definitely love its performance in draining out water in times of emergency.
With the powder coated epoxy paint and cast iron body, you can expect this device to withstand all kinds of corrosions. It can come for long years, which is really worth your money.
CONS
It should have a dedicated circuit to manage a high startup current
Impeller could suffer damage from anything that gets stuck inside
The discharge outlet gets clogged in rare cases
Description
Construction
Both pump and motor are wrapped in heavy duty; oil filled iron projection which protects it from damage for many years and ensures its safety. It also enhances the longevity of the pump altogether, and your sump pump will run continuously for all seasons such as winter, monsoon, summer, and autumn.
Not only the internal parts are being kept safe, but even the safety of external parts are also very much ensured. To secure the external components from any damage, its all parts including hands, arm, guard, and fastener are composed of corrosion-proof stainless steel.
Besides protecting internal and outer parts like this, all other integral parts of Zoeller M98 is guarded by thick powder coated epoxy finish with a bright outlook.
Everything on the outside is made of either stainless steel or altogether covered with a hard epoxy paint. The pump runs unobtrusively for its size and attaches effortlessly to standard 1.5-inch release plumbing. It altogether goes down by a meaty 3-year guarantee.
Electronics
At a 10-foot release tallness, the M98 puts out 3,660 GPH and 2,700 GPH at 15 feet. It is without channel yet leaves behind to ½-inch round solids effectively. The release outlet is a 1.5-inch female NPT fitting. A rough, exceptionally adaptable, 15-foot neoprene control line is pre-introduced with a 120VAC 3-prong plug. The engine draws 9.4A running and 29.2A quickly at startup.
Float Switch
A vital element of the M98 contrasted with other sump pumps is the strong polypropylene vertical buoy switch, which gives a liberal 6-inch skim range. That implies more water gets pumped per cycle, which is essential for littler sumps and prompts to longer engine life.
Origin
The powerful Zoeller M98 sump pump is being made in the USA. It relieves you in an utmost critical situation such as massive storm or rainfall about the flooded basement. Zoeller makes an excellent pump which easily supersedes normal submersible pump with its sheer capability to release massive water logjam from the basement. You can be carefree about the quality of the sump pump, however, if you have any doubt then we can bet that after bringing it out of the box; it will surely bring a pleasant smile on your face.
Problems
In spite of the 6-inch coast travel that is processing plant set, you will keep running over a Zoeller 98-0001 survey once in a while that grumbles of "short-cycling." What is going on in this circumstance is that the GPH of this pump is a confuse to the sump measure. Along these lines, even with six creeps of go, there is most likely a gallon or less of water encompassing the pump, which it releases in seconds, not minutes. To stay away from this, the sump ought to be augmented.
Another issue with this imposing pump is the high beginning current. Albeit most purchasers run it off a constant 15A 115VAC circuit, that is best for a 9.4A running size circuit is not code for the 29.2A beginning current. To be protected and maintain a strategic distance from occasional breaker trips, a devoted 10AWG/30A circuit ought to be provided with a 30A-style outlet. The exact opposite thing you need is a stumbled breaker on a dim, wet night when you are far from home.
Conclusion
This not only a decent sump pump, it is an extraordinary one. For overwhelming obligation pumping or giving more headroom to your water pumping limit, the Zoeller 98-001 is an efficient, dependable speculation for your storm cellar. Connect it to and overlook it notwithstanding amid the most requesting water streams.
Don't take the cons of this product into account as the pros overweight the negative aspects of this product. It is enough just to go through the pros of this product to make the decision of investing in this unit. Zoeller 98-0001 is economical, durable, sturdy, long lasting investment for basement or crawlspace. You may hear some humming with heavy duty pumping but it can be negotiated. All these facts make this sump pump a must have a unit in every commercial and household unit. So, get ready to purchase this affordable, reliable and durable sump pump.
Check Reviews & Price