If you are in need of some efficient equipment to prevent water damage to your house, even if there is a power cut, then you must consider the Wayne ESP25 battery backup pump system. As the name suggests, this pump system is operates on battery power, which gives you the flexibility of using it even if there is a power outage. When you look at the amount of water that can be removed by this efficient sump pump system within a considerable time, you will understand that it is more capable than other models available in the market today.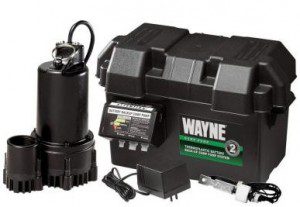 You need not have to worry about its price as it is lower than any other sump pump in the market. All these aspects have contributed in declaring Wayne ESP25 as one of the best sump pumps available for households. Within a short span of its launch, this product has gained immense reputation in the market. Let us see what made this 12-volt battery backup sump pump an optimal choice.
Specifications
Product Dimensions: 7.2 x 5 x 10 inches
Product Weight: 13 pounds
Type: Battery Back Up sump pump
Power: 1 HP
Discharge: 1 ½ ''NPT
Motor: 3300 gallons per hour at 0 feet head and 2300 gallons per hour at 10- feet head
Battery: 75Ah deep cycle battery
Warranty: 1 year
Features
Wayne ESP25 sump pump with 1/3 HP motor can be operated with 12V DC power source. This product comes with a strong, durable Polyethylene battery case which can accommodate Group 27 Size lead acid battery.
This sump pump can be used in combination with Wayne's CDU800 AC-powered sump pump. It can also be deployed as a backup for the sump pumps of any size and any manufacturer. This is designed to be entirely standalone.
It is operated by the individual float switch and so, you need not have to worry about control circuitry between the ESP25 and your current pump. You can even install this pump along with your existing pump inside the sump.
Once the water level is at the required height to activate ESP25, the motor gets on through float switch.
If your current sump pump malfunctions or is not able to discharge adequate water during a specific heavy flow situation, this ESP25 will be of great benefit.
Wayne ESP25 serves to be the booster pump for assisting your current pump and discharging through the same dedicated line.
Wayne ESP25 comes with pumping specifications to any 1/3-HP AC sump pump. It dwells inside the durable and waterproof thermoplastic housing. It can also discharge around 2300 Gallons of water per hour at the height of 10 foot. It comes with the discharge outlet of 1.5 inch, which is enough to drain out the water.
You can power Wayne battery backup sump pump with 40 Ah and 75 Ah battery. The battery of this capacity is more than enough to dry out the basement within a short span of time.
You will hear the alarm ringing up when the pump starts to operate. This means that your primary sump pump has stopped working.
Advantages Of Wayne ESP25
One of the most advantageous factors of Wayne portable pump is that it is more efficient when compared to the sump pumps of similar models.
Just with the consumption of 10 Amp of power, this sump pump can complete the task four times much faster than other models. So, you can prevent your house subjected to water damages for the prolonged time.
This Wayne sump pump battery backup system should be kept battery filled all times and so, it should be plugged into the DC power source continuously. The interesting fact is that it does not withdraw current consistently but only single pulse for every ten seconds. This power efficiency makes this sump pump standalone from its counterparts.
This sump pump backup power is capable of doing the job much quicker and thereby reducing the amount of time that your basement is prone to water.
Though the lifespan of any sump pump is not guaranteed, Wayne ESP25 is still far superior to its counterparts.
Design and Build Quality
In keeping with Wayne's reputation for building compact and solid sump pumps, the Wayne ESP25 Battery Back Up Sump Pump is shaped like a standard sump pump, though it is somewhat narrower than some mainstream sump pumps. Still, the shape does mean that the product would require as much space as a primary sump pump (and hence a larger sump circumference) but the compactness is conducive to the overall efficiency of the backup pump, and ensures that there are minimal protrusions that can suffer damage through impact against the sides of the sump or against the primary pump itself.
Again, the structural similarity with primary sump pumps means that the product has to be corrosion and water pressure resistant. Wayne's solution to these questions is reinforced thermoplastic, which is capable of resisting corrosion as well as any cast iron product. An additional benefit of such a construction is that while cast iron housings depend on epoxy or similar paint for corrosion resistance, the product does not require any specific coating and hence leaves you free from the worries of periodic painting/coating.
External Parts (handle and discharge)
Maintaining the compact design, the Wayne ESP25 Battery Back Up Sump Pump replaces the standard bulky handle with a ring that is sufficient to lift the pump and place it in the desired sump. Further, it is made of stainless steel that does not break or corrode easily.
The discharge is a 1-1/2" NPT one that is slightly elongated in shape. This helps it maintain the optimal distance between the top tip of the discharge and the top of the backup pump, and therefore prevents the development of an air cushion between them. As expected, it is compatible with most mainstream 1-1/2" PVC pipe designs, and through it, the discharge can be connected to the main pump's discharge pipe through a Y or T connector.
Motor and Sealing
The company has provided the Wayne ESP25 Battery Back Up Sump Pump with a motor that is capable of draining 3300 gallons per hour at 0 feet head (i.e. at same level as pump) and 2300 gallons per hour at 10 – feet head. It has a maximum head of 20 feet, which should be sufficient for any sump, regardless of its structure. Indeed, this combination of efficiency and height is very rare among back-up sump pumps, and more than justifies the similarity in size and shape with primary sump pumps.
As expected of a reputed brand, the motor has been carefully sealed from both the exterior and various parts of the pump that may allow water through (the discharge for instance). This makes sure that the most vital of the sump pump's circuitry is saved from coming into contact with water.
Switch, Battery and Charging Case
The Wayne ESP25 Battery Back Up Sump Pump has a reed-type switch which is attached to a small movable float. The benefit of this type of float derives primarily from the fact that it can be raised or lowered without modifying the height of the sump pump. Whatever the height at which the float is set, whenever water moves up to it, a movable section within the float clicks and this is transmitted to the switch, which then sets the pump in motion. This happens automatically depending on the water level, so that there is no need for monitoring the backup sump pump.
The Wayne ESP25 Battery Back Up Sump Pump uses a 75Ah deep cycle battery that is to be placed in the tough thermoplastic case that comes with the product. The case acts as a charger as well, and once the pump is properly installed, the charger cum battery should be placed at a safe distance from the sump, preferably at a place where there is little chance of water seeping into it. Once placed properly and connected, an LED light at the side of the charging case will display one of the three colors – green, yellow or red – based on the amount of charge available.
An interesting facet of this charging case is that when the pump starts running, it emits a high pitched sound, so you can be made aware of the automatic on/off cycles should you want to know. However, the sound is not loud enough to be heard across the home or commercial establishment, and this often leads customers to install amplifiers or similar instruments near the sump. Lastly, the battery is never included with the Wayne ESP25 Battery Back Up Sump Pump, though it can be purchased in the market for an affordable price.
Warranty
The Wayne ESP25 Battery Back Up Sump Pump has a 1 year warranty that includes all parts of the product. It can be availed by bringing the backup sump pump to the nearest authorized service center.
Conclusion

From what we have seen in our sump pump reviews so far, 3200 gallons an hour is an excellent amount for a primary sump pump, let alone a backup sump pump. However, this is actually a blessing because often the poorer primary sump pumps collapse under excessive water pressure, and then the backup sump pump has to handle a load greater than the primary sump pump. To some extent this is expected because unlike a lighter water-powered sump pump, the battery backed backup sump pump requires power to run, and this power should provide dividends in the form of better performance.

That said, the Wayne ESP25 Battery Back Up Sump Pump has too high a pumping efficiency to be considered just satisfactory – it is outstanding. When considered along with the good construction, easy to see indicator systems and decent pricing, the product appears to be a winner on many counts. Indeed, when all its features are taken together, it becomes clear that if you need a really powerful backup sump pump and are ready to use a battery to obtain that power, the Wayne ESP25 Battery Back Up Sump Pump is perhaps the best product you will be able to get your hands on without paying a massive amount of money.

Check Reviews & Price




Check out our review of the Wayne WSS30V, a very similar backup pump.