Without a doubt, everyone wants to live peacefully and comfortably in a home. To ensure this, one should have a home with all essential amenities and facilities incorporated into them. There are numerous aspects which make a home the best place to lead a comfortable life. Sump Pump is one such thing which is important in every home with a basement located in the damp area.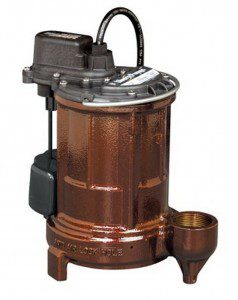 The reason is that the chances are higher for your basement to collect water within a short span of time. If you don't want to get trapped in this situation and deal with the basement accumulated with water, then you should invest in a high-quality sump pump such as Liberty Pumps 257 1/3-Horse Power 1-1/2-Inch Discharge 250-Series. Getting exposed to water damages will have a great impact on the health conditions of your beloveds in your house. In addition, other valuable goods in your house also get damaged over the time. But, Liberty Pumps 257 would be an optimal solution for all these problems.
Specifications
Product Dimensions: 9.6 x 9.6 x 10.5 inches
Product Weight: 21 pounds
Type: Submersible Sump Pump
Discharge: 1 ¼ '' NPT
Motor: 1/3 HP, 50 GPM at 1 foot head and 10 GPM at 40 foot head
Warranty: 3 years
PROS
One-piece build of quality cast iron housing for durability
Epoxy paint finish for corrosion protection
Discharge capable of removing small solids
Quick-disconnect of power cable for simple removal and installation
Powerful motor with good gallon per minute and maximum head range
Motor hermetically sealed and always lubricated
Vertical Magnetic Float makes the product work in more narrow and smaller sumps
Engineered polymer impeller for efficient service
CONS
Heavy and comes without handle
Default power cable is short
Features Of Liberty Pumps 257
This sump pump is considered to be the pocket-friendly pump that anyone can invest on.
It is designed to meet the exact needs and requirements of the consumers and so, it would be the most desirable product in every household.
The amazing features make this product worth your money.
This pump is accoutered with solid, single piece housing made with cast iron and thick epoxy coating on the exterior layers.
This means that the outer layers will not corrode away even if it is exposed continuously to water.
The 1/3 HP motor is protected by a hermetic seal that helps in running the motor at the lower temperature.
The motor of Liberty Sump Pump is backed up with durable, lubricated upper and lower ball bearings.
As it is thermally secured, you can expect it to provide consistent service even there is the heavy downpour and torrential.
Another interesting feature about this Liberty Sump Pump 257 is that it is much quieter and very effective when compared to the competitors' products.
They are also highly durable and so, you need not have to replace them frequently.
They are very strong and durable, which are the most popular reasons for the customers to prefer sump pump of this brand over others.
The outer fasteners are made of high-quality stainless steel as that of the rotor shaft.
Another added the beneficial feature about this product is that it is lightweight and weigh only 21lbs making it an optimal choice for a lot of people who don't want to deal with bulky items.
Advantages Of Liberty Sump Pump 257
We have discussed a lot of the important features of Liberty Sump Pump 257. Now, it is the time to discuss the advantages of investing in this item.
First and foremost benefit is that it is very affordable and can be installed easily.
It does not require too much of effort to ensure its maintenance, which is another advantage for the users.
This model sump pump is constructed with tough, hard materials which make this pump last for longer time.
Affordable price and longevity of this product give a great value for your money.
Even if you are not tech savvy, you can use this sump pump easily.
It includes a power cord of ten-foot length.
All you need is to plug it into the electric socket. Now, this equipment is ready to use.
You don't have to be an expert to use this item. So, it is ensured that Liberty Sump Pump 257 is not only customer friendly in terms of price but also in terms of usability.
It comes with generous 3-year warranty and so, you can purchase this product with confidence.
If the manufacturer is confident about his product to give out warranty, then it will certainly be a very good product.
Liberty Pumps enjoys one of the best all-round reputations in the sump pump industry today, and we have seen how the Liberty Pumps SJ10 Battery-Powered Pump lives up to the company's reputation. However, in the sump pump category one has to factor in the fierce competition from Zoeller, and therefore, it is important that any Liberty Pumps sump pump that wishes to defeat the competition, be able to meet the most stringent criteria.
The Liberty Pumps 257 Cast Iron Automatic Submersible Sump/Effluent Pump appears to have all that is needed to top the charts as far as quality and performance is concerned, but is the combination of features and dependability good enough to make it a worthy contender for your sump? Our detailed review below will try to answer some vital questions which may make your choice easier.
Design and Build Quality
Liberty's pumps are known for their excellent construction, and the Liberty Pumps 257 Cast Iron Automatic Submersible Sump/Effluent Pump does not disappoint. Possessing a single-body housing that ensures that there are no links and wedges through which water can possibly make its way into the interior of the pump, the product boasts of high quality cast iron construction that is destined to survive unscathed even under heavy water pressure.
Taken together, these also allow the product to work flawlessly without the need for regular change of weakened joints and sealings. However, the product is slightly heavy and lacks a handle, which makes it a bit harder to carry around. This should not be an issue because the sump pump is generally meant to be placed in one sump for years.
To guard against the other danger – corrosion – the company has baked the cast iron housing in epoxy coating that prevents corrosion taking place over time. This is especially important given the fact that sump pumps have to spend a considerable amount of time submerged under water, and if attacked by corrosion, can suffer malfunctions and leakages that become a health hazard over time.
Major external parts (discharge and power cord)
The Liberty Pumps 257 Cast Iron Automatic Submersible Sump/Effluent Pump has a standard 1-1/4" NPT that can support any major PVC pipe of the appropriate diameter, thus saving you from the hassle of resizing the PVC pipe to make it compatible with the pump. Further, the discharge is capable of handling solids of up to ½" diameter, which ensures that small pebbles and debris is efficiently removed.
Further, the product has a 10" power cord that can be extended up to 25" with a replacement cord for those who prefer not to change their home/commercial establishment's wiring to support the sump pump. Interestingly, the power cord features the Quick-Disconnect feature, which allows one to plug out the power cord at a moment's notice without fearing for the sealing that attaches the power cord to the motor.
This is a great innovation considering that the sump pump is placed in a delicate installation, and quick removal and replacement of power cables is therefore not feasible. On the other hand, however, it would have been great if the company had provided the 25"cable by default instead of offering a 10" default cable, since our sump pump reviews have shown that the former is closer to what the competition is offering.
Motor and Sealing
Given the reputation Liberty Pumps has for good motors, it is no surprise that the Liberty Pumps 257 Cast Iron Automatic Submersible Sump/Effluent Pump comes with a 1/3HP hip motor that can pump 50 gallons per minute at 1' head, and this changes to 10 gallons per minute at 40'. Since it is extremely unlikely that the sump pump would require to pump water to levels higher than 40', it can be said that the sump pump, if carefully and properly installed, is capable of handling heavy water pressure regardless of the topography involved in taking the water out into the disposal drain.
Furthermore, the motor is permanently oiled, which ensures that there is never an issue of poor lubrication when it comes to Liberty Pumps 257 Cast Iron Automatic Submersible Sump/Effluent Pump. The motor is, as one would expect of a top of the range sump pump, hermetically sealed and it is highly unlikely that the sump pump will ever malfunction on account of water seepage into the motor, or oil leak out of the product.
Finally, the bearings of the product are also hermetically sealed and lubricated for posterity, so they will continue to work efficiently over lengthy periods of time and will never come into contact with water and/or debris that might damage or dislocate them.
Impeller and Switch Assembly
The Liberty Pumps 257 Cast Iron Automatic Submersible Sump/Effluent Pump has a vortex impeller made of engineered polymer which allows the water to move without getting enmeshed in debris. Indeed, it also helps the product handle water pressure better. The switch assembly on the other hand is handled with a specific mechanism called the Vertical Magnetic Float (VMF).
As the name would suggest, it is a vertical float connected to the switch by means of a magnetic assembly. When water rises, the float activates the magnetic assembly, and this interacts with the switch to cause the product to begin pumping water out. An additional benefit of the VMF is that it needs just 10" sump diameter, which allows it to work in even the narrowest sump possible.
Warranty
Though the excellent construction does not make a warranty a top-most concern, it is still heartening to know that the company has enough confidence in the product to offer the Liberty Pumps 257 Cast Iron Automatic Submersible Sump/Effluent Pump a 3 year standard warranty, which easily outdoes the majority of warranty offers of the competition.
Customer Reviews
A survey of customer opinions and reviews suggests that the Liberty Pumps 257 Cast Iron Automatic Submersible Sump/Effluent Pump is greatly appreciated for being simple to use, capable of working in narrow sumps and not requiring periodic oiling and cleaning. A miniscule minority complained of having to obtain the longer 25" power cable, while a section was displeased over the weight of the product and lack of a handle for easy movement of the product.
Price
Though the Liberty Pumps 257 Cast Iron Automatic Submersible Sump/Effluent Pump is normally retailed for a decent price that is just a little above $200, Amazon is giving a time limited discount of 25% that pulls the price tag down to a figure a little over $150. If free shipping is kept in mind, one realizes that Amazon is giving out a rare bargain for the product.
Conclusion
One expects high quality from Liberty Pumps, and one needs even better quality to reach our list of the best sump pumps available today. Liberty Pumps 257 Cast Iron Automatic Submersible Sump/Effluent Pump does both without difficulty by virtue of being well designed, built to last, provided with excellent features and aided by unmatched warranty.
The features alone – stunning motor performance, Vertical Magnetic Float, hermetic sealing of the internal components (motor and bearings) and quick disconnection feature of the power cord, etc. – stand out as admirable feats of design. All considered, therefore, the product definitely comes across as a sump pump that will provide excellent quality for years, and is therefore recommended for anyone who wants to enjoy long term peace of mind after installing a sump pump.
So, it is appropriate to say that the liberty pumps are certainly the boon for customers who want to enjoy the high level of security from the basement water damages. Besides fairly priced, these sump pumps are made with very high quality. If you are serious about making your life more comfortable, then this is the perfect time to invest in it. Explore the market to find the best deal on this product. If you have any old sump pump, replace it as soon as possible before the arrival of the rainy season.
Check Reviews & Price
Related Posts
Liberty Pumps SJ10 Water Powered Back-Up Pump Reviews