#
There are plenty of things to keep in mind when looking for a sump pump to deal with all your domestic water pumping needs. You can find various types in the market, and choosing the right one might become a little bit more difficult with all the varying types of products, features and prices out there. The best approach to find the right sump pump is to read through various reviews of several sump pumps in the internet. In this case, we are going to talk about the Gould Pumps LSP0311AT submersible pump which is manufactured by the Gould Pumps company. When it comes to domestic use, this product is without a doubt made of high quality and can last for longer periods of time compared with other sump pumps in the market. Even though it has a limited system, the manufacturer has made sure to give special consideration to its quality and some other finer details.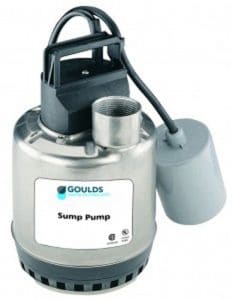 Check Reviews & Price On Amazon
Feature of the LSP0311AT Submersible Pump by Gould Pumps
The Gould Pumps submersible pump has a lot of features to amaze you. It has a system which is made of stainless steel material. Also, its interior construction contains components which are made out of plastic and rubber other than just stainless steel. It is ran by a 0.33 Horsepower motor with an outlet which has a connection size of 1.25 inches and an outlet connection type which uses NPRT thread with a NPT connector. The pump measures 12 inches tall and 7 inches wide, making it a compact system which can crank out enough power to cater for your domestic water pumping needs. Its electrical motor uses 115 volts of energy and can operate up to a temperature of 104 Degree Fahrenheit. Lastly, it has a maximum of 21 head feet and can pump up to 36 gallons of water in a minute.
Some pros that the Gould Pumps submersible pump has to offer include the following:
PROS:
Its 0.33 Horsepower motor is reliable enough to operate for a long period of time.
This allows it to pump out as much as 36 gallons of water per minute.
Easy installation, lightweight, portable and is easily serviceable.
In short, there is no need to worry at all when using it.
In fact, you can even perform some DIY troubleshooting and repairs.
It is resistant to rust or corrosion, all thanks to its stainless steel system.
It allows you to place the pump in places which is often accumulated by water and is often used in a constant basis.
This makes it a completely resistant and highly durable pumping system for domestic use which you can expect to last through the years.
It has a ball bearing construction in the lower and upper parts which is made out of heavy duty material for a more reliable and durable sump pump.
It also has a glass filled thermoplastic casing and impeller which additively contributes to the pump's excellent performance.
Before you even think about investing on this product, you might want to know some of its cons first. Actually, there are just 2 minor drawbacks that come with this product:
CONS:
First, its 1/3 Horsepower motor is not ideal for use in areas which is often hit by extremely heavy rains
Second, there are some reported issues with the clogging of its limited size hose.
All in all, the Gould Pumps submersible pump is a good choice for a limited range of needs. With its stainless steel system, you can rely on it to operate for a long time without having to worry about rust or corrosion issues. This makes the product an ideal option for your water pumping needs especially when you want to pump out huge volumes of extra water on a constant basis. Basically, this sump pump is a reliable product which is not only easy to install and operate, but is very comfortable as well.