#
Sump pumps come in various types, but when it comes to limited domestic use, pedestal sump pumps have proven themselves to be the best. The Little Giant VS-P2800 is one good example containing all of the top features you might be looking for in a high quality domestic sump pump. It's definitely a good investment for your money considering that it has both quality and affordability combined into one. Moreover, the Little Giant sump pump can also be used for moderate commercial purposes.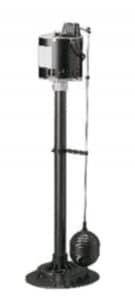 Check Reviews & Price On Amazon
You can count on the Little Giant sump pump to give you what you need without causing any troubles at all. So if you're looking for a hassle-free and seamless operation, then you might as well grab yours now. But before all that, let us first take a look at some of the amazing features that this pedestal sump pump has to offer.
Features of the Little Giant VS-P2800
The Little Giant contains all of the needed features you can find in a pedestal sump pump – value, affordability, advantage, ease of use and a whole lot more. It is operated by a 1/3 Horsepower motor which could effortlessly pitch up to 47 gallons of water in just a minute at a depth of 3 feet. Not to mention, it runs on a 115 volt system under a frequency of 60Hz.
This pedestal sump pump has been manufactured with top design and performance in mind. Hence, you can expect a smooth and continuous performance without any issues of discontinuation or any other concerns whatsoever. It even has an ABS plastic volute to make sure that it is well-protected from rust and corrosion. Lastly, operating the Little Giant sump pump is a relative ease, and it's all thanks to its adjustable and highly productive snap action float switch which allows for more comfort and convenience during use. All in all, the above mentioned features definitely make this pedestal sump pump a great investment for those who want to pump out huge volumes of water in a short period of time.
Most people tend to look for a sump pump which can give them what they need in a very affordable price, and the Little Giant never fails to impress. Some of its pros include the following:
PROS:
It features a 1/3 Horsepower motor which is powerful enough for domestic use and even for moderate commercial purposes
It works continuously so you don't have to deal with any discontinuity issues
Easy installation and troubleshooting makes this pump a good choice. With its flexible snap action float switch, operating will be a breeze.
It has a pumping rate of 47 GPM which is fast enough for a sump pump of its price
It is corrosion-resistant – something which should be considered after deciding on what position the pump should be placed in your basement
The Little Giant sump pump has a bit of flaws to boot, and these include the following:
CONS:
The motor doesn't seem to last for longer periods of time, hence if you are looking for a reliable sump pump which could last for ages, then you might as well go for another option.
Due to its unreliable system, it might suffer from some issues especially when you are away from home to maintain it.
Also, there could be a possibility of an electric failure. And since you might not rely on this sump pump if you're out of your home on a regular basis, then it could possibly lead to a failed investment.
In a nutshell, the Little Giant VS-P2800 pedestal sump pump has an excellent water pumping feature with some other features as well. It is very easy to install, convenient and comfortable. Moreover, you can also do some DIY troubleshooting just in case some issues arise.