#
A sump pump helps protect your basement from flood and moisture. You can find several types of sump pumps in the market with each of them offering different benefits to the homeowner. One good example is a submersible type sump pump which is preferred by a lot of individuals due to its applicability and adaptability in various instances. The submersible type sump pump is a good choice which will handle your water pumping needs for a good number of years.
The submersible type sump pump has a lot of special properties which make it a preferred choice for most buyers who want a water pumping system which could suit their needs well. However, before you decide to invest on this type, you should find out if it would suit your needs or not.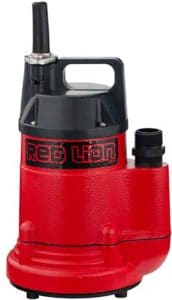 Check Reviews & Price On Amazon
Features of the Red Lion RL-250U 1500
The Red Lion RL-250U 1500 sump pump is an excellent product with a lot of good features to offer. Firstly, it is very light in weight thus allowing for easy transport and use. It is efficient in pumping water, with a rate of 1500 gallons of water in an hour. It features a 1/4 Horsepower motor which runs on 115 volts. The system is made out of aluminum which provides enhanced durability. Other than that, the built also makes it resistant to rust or corrosion.
For easy maintenance purposes, you can simply remove the filter screen which comes along with the unit. And since it has an oil-free motor design, you can expect a super easy maintenance and troubleshooting task.
Some of the advantages that come along with the Red Lion RL-250U 1500 submersible type sump pump are the following:
PROS:
It is very light in weight thus making it portable and convenient for the homeowners
It has an aluminum construction which makes it durable, long lasting and corrosion-resistant
Easy maintenance feature which is brought by its oil free motor design
Comes with a removable filter screen which adds up to its overall quality and usability
It also features a 3 year warranty thus allowing you to have peace of mind just in case some parts of it fail to function properly.
You can easily get in touch with the support team in order to ask for help.
Their 3 year warranty will cover almost any issues which are not brought on by accidents or improper handling.
Some cons of the product include the following:
CONS:
Its 1/4 Horsepower motor is not powerful enough for high scale water pumping tasks
Unlike any other sump pumps, the Red Lion RL-250U 1500 submersible type sump pump is not that easy to install.
You can even come across some issues when troubleshooting the product
Conclusion
The Red Lion RL-250U 1500 submersible type sump pump is a useful system for limited domestic needs. Its light weight design and aluminum construction makes it ideal for home use. However, it is not that easy to install and maintenance might be a little bit harder compared to most sump pumps in the market. You might find it useful enough to cater to your water pumping needs and can even serve you for a long period of time without any issues as long as it is regularly maintained. But then again, you will have to familiarize yourself with the system especially its technical aspects to make sure that it will run properly and smooth and prevent any issues for a longer lasting and better performance.