If you are away from your home and the flood is threatening your home, a Wayne backup sump pump ensures crucial safety to your home by pumping out a considerable amount of water at a faster rate. Wayne WSS30V sump pump is designed exclusively with effective features to keep your home safe and dry.  It is a combination sump pump system which combines a strong, top suction cast iron primary sump pump and a plumb float with high flow, corrosion resistant, programmed action battery backup sump pump.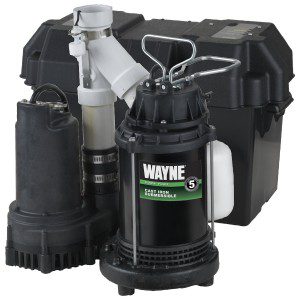 Wayne WSS30V is designed to use it frequently, but it functions based on the electric current supplied to it. It serves as the main pump whereas the battery backup sump pump serves as the secondary one. The manufacturer has integrated numerous features into it and they are as follows:
Features Of Wayne WSS30V
Wayne WSS30V sump pump system is fitted with state of the art Switch Genius switch which is managed by a microprocessor to detect water level and operate the pump.
It is integrated with automatic alarm system and indicator LED light that lets you know that the backup system is in function and active.
To ensure effective operation, the Wayne sump pump system must be operated at 120 volts whereas the backup pump at 12 volts.
The primary pump system can drain out 4200 gallons of water per hour, which is something higher when compared to other sump pump system.
This sump pump is automatic and is designed to prevent basement flooding by removing water from the sump pits.
As back up sump pump is also integrated along with the main pump.
It helps in relieving load from the primary pump, especially when the water level increases a lot.
Benefits Of Wayne WSS30V
It is already preassembled and so, it can be installed even if you don't have knowledge on technology.
The automatic operation is facilitated by the vertical float switch.
The pump is made of durable, high quality cast iron and the unit is corrosion resistant even in the case of high flow capacity.
The top suction design of this model reduces the clogging and obstructions of any drainage pipe, which makes this pump a unique item in the entire market.
It comes with an alarm system to inform that the backup system becomes active.
It can also be taken as a warning for the increase in water level.
Wayne Wss30V can be subjected even to continuous operation.
You will not experience any reduction in the performance of this unit.
You can even use this system for heavy duty water removal task.
This system is built to last for longer time, withstand corrosion and backup to ensure that the water is removed completely from the basement in no time.
Pros and Cons
Pros
This unit is tested more than 1 million times to prove its efficiency and performance level.
The primary top suction is durable and is made with cast iron that does not corrode easily
Pre-assembled that helps in a quick installation without getting assistance from the professionals.
Less power consumption, which means that the primary pump requires 120 V and secondary pump requires 12 V to drain out 4200 gallons and 3300 gallons of water per hour respectively.
It has 2 heavy duty check valves.
It comes with LED indicator and alarm system to inform about the active state of the sump pump system.
It is durable, reliable, long lasting and corrosion resistant, giving you a higher value for your money.
The sump pump operates quieter when compared to pumps of other brands.
It comes with manufacturer warranty for 5 years, which proves the value and effectiveness of this sump pump system.
CONS
It is a little bit more expensive.
It can be used only for sump pit which is more than 15 inches in diameter.
It cannot be used in pits which are less than 15 inches in diameter.
Description
Both sump pumps work adequately when they are joined. The CDU800 enlists a cast iron housing and base, pertinently ball bearings and is entirely waterproof.
The impeller is produced using high-affect polycarbonate material. It interfaces with power through a pre-introduced eight-foot AC rope to any close-by outlet. Exchanging is refined with a parallel, double shaft switch, so if one post glitches, the other one keeps current streaming. The CDU800 utilizes a top suction plan with channel screen to avoid stopping up.
The ESP25 battery-reinforcement pump is worked as intense as whatever other Wayne sump pump. All alone, it releases 2,300 GPH of water through the conventional 1.5-inch release pipe. Both pumps are reverse ensured by appropriate check valves, which are incorporated into the bundle. Likewise included are a tough battery box with LED charge level markers, a discernable alert demonstrating when the DC pump is working and a robust divider charger. A lead-corrosive, deep cycle battery is excluded. You can utilize either a 40Ah or 75Ah battery. The last gives up to 3-days of pumping given ostensible process durations.
The whole joint is balanced and tried before leaving the factory, so you should simply drop it in place. It requires a sump no less than 15 crawls in breadth and 22 inches profound to work legitimately. When you have this combo pump introduced, you can expect peaceful, tried and true operation and not any more restless evenings notwithstanding when you are far from home.
Besides, a deep battery case, you must adopt a deep battery cycle separately.  ESP25 Wayne sump pump, a 75Ah  or  40Ah battery is specified. Since there is little value distinction between those sizes, get the greater one. The WSS30V will cost you about $400 more than the CDU800 alone. Whether you get just the CDU800 or the WSS30V, whenever you are away, and it is raining hard at home that additional cost will appear a deal.
Almost every Wayne WSS30V survey sings the gestures of recognition of this AC/DC framework and comments about the expanded certainty they feel knowing their storm cellar is dry and will remain as such. They additionally adore how simple the unit is to introduce, and that it accompanies check valves included.
Take note of that every pump has its own buoy switch. The main way the battery pump knows the AC pump has fizzled is if its buoy switch flips on. It is conceivable that the ESP25 switches on if the CDU800 can't stay aware of an exceptionally high inflow. All things considered, both pumps evacuate water all the while. Wayne says the standard 1.5-inch release pipe can deal with that additional stream, however introducing a different 1.5-inch line for the battery pump will doubly guarantee that.
Conclusion
Wayne WSS30V is known to have a sleek design and strong construction. It is extremely impressive, especially with its quiet performance. If you are looking for a basic level pump along with a backup system, then this combo will be the right choice for you. It can be installed easily without any need for hiring the experts. If you use this system as per the instructions, it can last for prolonged years. You could also get the best value for your money.
Check Reviews & Price On Amazon
[/wpsm_titlebox]