Zoeller M53 Mighty-Mate Submersible Sump Pump is one of the most reliable and widely used sump pumps available in the market today. It has been the prominent choice for a huge number of homeowners across the world due to its affordability and unique features. Even plumbers and contractors recommend the installation of this Zoeller sump pump. It has gained a good reputation for its performance and speed.
This Zoeller sump pump M53 helps you to get rid of stagnated water in the basement areas. Besides being affordable, it is also energy efficient, which makes this product more adorable by almost everyone. It is designed with advanced technology to drain out water in the specific area within minutes.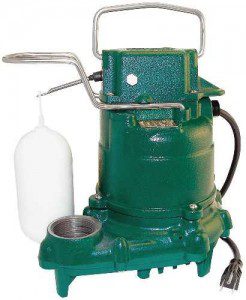 Check Reviews and Price On Amazon
As far as submersible sump pumps go, Zoeller brings over 70 years of experience to the table, and it is therefore hard to argue against a top-line Zoeller product such as the Zoeller M53 Mighty-Mate Submersible Sump Pump.
However, we know paper specs may be deceptive, and hence it is necessary to study the product carefully, since submersible sump pumps are difficult to remove and replace once they have been installed, and the assembly has to be taken apart entirely to make space for a new sump pump. This is especially important to consider since the product in question is rather economical compared to others, and possesses an assembly that is less complex than some of its competition.
Specifications
Product Dimensions: 7.8 x 10.5 x 10.5 inches
Product Weight: 21 pounds
Type: Submersible Sump Pump
Discharge: 1 ½ inches NPT
Motor: 1/3 HP
Maximum Speed: 1550 RPM
Power Cord: 9 ft
Warranty: 1 year
Features Of The Zoeller M53 Mighty-Mate 1/3 HP Submersible Sump Pump
One of the interesting features about this Zoeller submersible sump pump is its power packed performance. It can drain out around 34 gallons of water within a minute from 10 m deep basement and 43 gallons of water per minute from 5 m deep basement.
Each and every part of this unit is corrosion free as the outer covering is coated with corrosion resistant powder.
It comes with built-in waterproof floating switch and polypropylene float. It has various options to ensure longer life cycle.
The rotating material is strong enough and is made with glass filled plastic and so, it can work for prolonged hours without any damage and interruption.
The pump shaft of this sump pump is covered with ceramic and carbon to ensure its longevity and to ensure no leakage.
This high quality sump pump is available at reasonable price and it will not make a big hole in your pocket. It is also versatile enough to be used to remove water from any area in your home.
Benefits of Zoeller M53
The outer covering of this system is made of cast iron which is coated and dried with epoxy. This prevents the covering from getting corroded due to prolonged exposure to water.
The length of this power cord is 3 meter or 9 feet in length, which is appropriate for taking advantage of this unit completely.
Zoeller M53 Pump is lightweight and so, it can be easily carried to any place you desire. In order to further enrich the comfortable level, a stainless steel handle is attached to it.
You have the choice of choosing between the plastic impeller and cast iron impeller. The grooves of the impeller are designed to enhance the capacity of the motor to withdraw water efficiently.
It comes with 3 years warranty from the manufacturer which makes this unit an optimal choice for everyone.
Pros and Cons
PROS
This unit is energy efficient. Zoeller M53 includes numerous advanced features, which make them energy efficient.
This factor made this submersible sump pump an optimal choice for most people.
It comes with cast iron impeller which is designed to grind large sand particles or gravel into small pieces or powder.
You will definitely not see this feature available in any other submersible sump pump.
This unique feature makes this sump pump different from its counterparts.
This submersible sump pump is easy and convenient to use.
This sump pump can run smoothly and efficiently.
It is stable, flexible, reliable and even good enough to protect your basement from flooded water.
You will definitely get impressed with the operational speed of this sump pump system. The water can be removed from the specific area within a short span of time.
CONS
As the impeller is responsible for sucking out the unwanted debris.
It should be checked out and cleared so that there will not be any clogging in the sump pump system.
The follow holes of this system also suck sometimes.
It has two assembly points-one from the impeller and another one from the exit pipe.
This gets clogged at some times, resulting in the airlock.
Of course, these holes can be cleaned using nails.
Description
Design and build quality
Sump pumps need to operate in extremely damp conditions, and hence, it is vitally important that they have an exterior that is capable of withstanding the constant water flow, which can at times exert considerable pressure on the fragile interior parts. In case of the Zoeller M53 Mighty-Mate Submersible Sump Pump, this issue is taken care of by a cast iron housing which covers the entire body of the motor. In addition to ensuring the safety of interior components, the cast iron housing also allows heat to be dissipated quickly and efficiently into the surrounding water.
Equally important is fact that the cast iron is baked in epoxy coating, which prevents corrosion of the housing when exposed to water for long periods of time. Thirdly, the product has a small hole near the base, which allows small amounts of water to pass through it without entering the body of the sump pump. This prevents an air pocket from developing between the discharge and the switch guard level directly above it.
Major External Parts (handle, power cord and discharge)
The product comes with a convenient stainless steel handle which allows the product to be carried around without difficulty. The 9 foot power cord is sufficiently long, secure and hardy, and meets stringent submersion specifications, thus ensuring that the product is never capable of producing unintended electric hazards in the basement.
Keeping in mind the necessity of fitting a standard PVC or similar pipe into the discharge, the manufacturers have offered a 1-1/2" NPT discharge that accepts most standard pipes. At the same time, the diameter is vital to ensuring that the pipe is capable of carrying off small spherical solids of up to ½" that may otherwise impede the running of the sump pump.
Internal Motor and Sealing
The Zoeller M53 Mighty-Mate Submersible Sump Pump comes with a 4-pole motor that is capable of providing 1/3HP of power at a maximum speed of 1550RPM. As plumbing experts will tell you, this is the among the best power ratings available in the sump pump market, and coupled with the overheating switch, ensure that the product can work efficiently for long hours at a stretch without suffering from damage due to excess heat. If these weren't enough to make this product one of the best sump pumps in the market, consider that the pump is hermetically sealed at all times.
In case you are wondering, this hermetic sealing is achieved with a shaft seal made of carbon and ceramic, which allows neither oil to seep out of the motor nor gives passage to water or any other debris that may be floating around.
Impeller, Switch Assembly and Switch Protection
Zoeller offers you a choice of either a plastic impeller (filled with glass and having a metal insert) or a cast-iron impeller. Both of them perform equally well when it comes to the essential function – suction without clogging. Indeed, the grooves in the impeller are specially engineered to ensure that the motor is capable of efficiently drawing the water without suffering from blockages due to solid particles and/or excess water pressure.
The Zoeller M53 Mighty-Mate Submersible Sump Pump comes with a switch assembly which allows for automatic switching on and off of the product. The 2-pole switch is a vertical extrusion on the side of the product, which connects to a float. As water rises, the float rises and switches on the motor. The float is made of durable polypropylene, thereby ensuring smooth functioning in a range of circumstances. However, some users complain that the thin shaft joining the float to the switch is susceptible to dislocation if struck by some object or pressed against the sides of the enclosure.
Furthermore, to ensure that the switch is capable of working unhindered regardless of the problems created by the nature of the enclosure, a switch guard has been provided. Protruding out like a horizontal handle, it ensures free operation of the switch guard. In spite of the switch guard feature, the switch guard has a relatively shorter life span of 3-6 years, and needs to be changed thereafter. Changing of the switch, however, is not a difficult task and can be carried out with day to day handyman tools.
Customer Reviews
A survey of customer opinions suggests that most are highly satisfied with the product quality, especially the speed and capability of the motor to remove water. The excellent build quality was also a major talking point amongst satisfied buyers. Some noted that the switch tended to become unresponsive or weak following a few years' usage, but they suggested that it can be replaced without difficulty using a screwdriver.
Price
The Zoeller M53 Mighty-Mate Submersible Sump Pump is one of the most feature packed sump pumps in the sub-$200 price bracket, as will be evinced by a careful study of reviews of various sump pumps. It is made even more affordable by an unprecedented 32% discount that Amazon is currently offering on the product which puts the sump pump in the sub-$130 price bracket. If that wasn't enough, Amazon is also offering free shipping for this product.
Warranty
With the Zoeller M53 Mighty-Mate Submersible Sump Pump, you get a 1 year factory warranty, which can be availed by taking the malfunctioning machine to the nearest factory outlet.
Conclusion
The Zoeller M53 Mighty-Mate Submersible Sump Pump provides the perfect blend of good price, excellent motor and sufficiently hardy exterior that every sump pump owner hopes for. With automatic functioning, overheating switch and a good discharge size, the product is capable of working for long periods of time without being stopped by either heating or excess water (or debris in the pit). If all points are considered, therefore, we can safely say that the Zoeller M53 is a superior product which strengthens the reputation that Zoeller has already achieved for offering excellent products with decent price tags.
By now, you probably understand that the Zoeller M53 Might Mate submersible sump pump is more reliable than other most other pumps available in the market today. It is designed to carry out the intended work in the best possible manner and to remain efficient for many years without the need to get compromised with its features and operational speed. If you still aren't sure if the M53 is the right pump for you, be sure to check our reviews of the best Zoeller pumps.
All the features of this sump pump are factory tested and so, you will not get disappointed with this item. Whether you are looking for a sump pump for a newly constructed home or to replace the old one, you can consider investing in this Zoeller M53 Mighty-Mate Submersible Sump Pump.
Check Reviews and Price On Amazon