Superior Pump 91250 is one of the fully submersible thermoplastic pumps available today. This pump plays a vital role in protecting your home from water damages, especially when your basement is filled with water due to heavy flood and thunderstorm. This pump is designed in such a way that it can remove any stagnant water from your basement or be surrounding your home.
This is not only ideal for using it in the rainy season, but also to remove diverse puddles of water from and around the yard. This is a reliable, maintenance free submersible pump available for the household. It consumes less power and is also very affordable when compared to another household pump. The manufacturer has designed this pump to be easy to install and operate. You can operate this pump even in the low level of water. This pump is CSA certified and so, you can definitely get the right value for your money.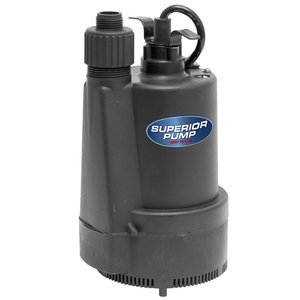 #
Specifications Of Superior Pump 91250
Superior Pump 91250 is a power packed sump pump available at competitive prices. They are known to give more value for your money. This pump is rated as 115VAC/3.8A.
Being light weight, this pump just weighs around 8lbs and is very compact in size.
Its dimensions are 9.3″ x 5.4″ x 5.9″.
It features top 1-1/4″ MPT outlet and bottom suction.
This product also comes with the garden hose connection of ¾ inches.
The pump is designed in such a way that it can lift water at the 25-foot head.
This superior pump is designed for 1/8 inches solid handling.
Another interesting aspect of this pump is that it comes with thermal overload protection.
There is also a thermoplastic jacket for enhanced look and easy handling.
You can take advantage of ¼ HP capacity, an influential split capacity that can deliver around 30 gallons of water per minute.
You will find this product coming in an elegant silver and black finish with the latest design.
It is made out of highly robust and reinforced thermoplastic material that could protect the motor from very high temperatures.
Bottom suction is designed to filter out debris and remove water from any surface.
The metal hardware is made of stainless steel with corrosion resistance power.
High-end split capacitor motor is used in this Superior pump 91250 and so, it can function continuously even in harsh weather condition.
It has the cord of 10-foot length making it an optimal choice for areas where there are no outlets with close proximity.
You can push water to around 300 inches vertically.
Advantages Of This Pump
Superior Pump of 91250 model is ideal to drain outstanding water from fountains, swimming pools, flooded basements, etc.
It can drain out around 30 gallons per minute, suctioning water to around 1/8 inches from the ground.
This pump is fully submersible and features waterproof, replaceable power cord of 10-foot length.
It can lift water to around 25 feet high.
It is equipped with a huge iron pipe that can discharge thread for pumping.
Simply by adding an optional floating switch, you can use this superior pump as a sump pump.
Superior Pump 91250 can be operated continuously as it has split capacitor motor that ensures maximum performance.
It is thermally protected and comes with 3.8 amp, ¼ HP delivering the power required for any daunting task.
This pump is well known for its durable thermoplastic construction ensuring that this pump can be deployed again and again without experiencing any corrosion.
It comes with a compact, sleek design and fits inside any opening in six inches.
The water suction on the bottom and side of the pump lets continuous pumping without any clog resistant.
This pump is certified by CSA and is UL and CUL listed. It is well known for its dependability and safety.
It comes with one year limited warranty directly from the manufacturer.
Any product that comes with a warranty is really worth to purchase.
Conclusion
Superior Pump 91250 is really an important addition to every household not just for removing water from your basements but also from pools. You can even make nominal modifications to ensure its excellent performance. It is also appropriate to remove stagnating water from your backyard and to handle emergencies.
The low power consumption and compact design make this pump more optimal for anyone who need a pump with the user-friendly design. It comes with one year limited warranty, which further enriches the value of your investment. It is portable and can be carried anywhere as per your choice.
Check Reviews & Price
Related Articles to Read
Superior Pump 92341 Sump Pump Review