If you decide to fix a new sump pump for keeping the basement of your home from flooding problems, you will need to select between the pedestal and submersible sump pump. The most efficient sump pump for your system will need to have sufficient power to force water that gathers in your sump to a spot above ground located away from home. This means it needs to be powerful enough to push the water up one level usually, and also horizontally; but you don't want a pump that is too large or else you'll be wasting electricity every time it runs and your plumbing parts will wear down quicker being exposed to additional pressure.
Both kinds of sump pumps provide some disadvantages and advantages to the user. It is important to understand the key differences so that you can make the best choice for your home.
Pedestal Sump Pumps
The pedestal pumps vary from a submersible sump pump in that a unit divided into two portions. It is vital to know that these pedestal pumps use the standalone motor fixed to the basement floor as well as a house which is completely fed below into a reservoir of the pump.

Advantages
The pedestal sump pump is not only more affordable than submersible type, but they are also extremely durable and suffer from less wear and tear. Because of the sump pump motor is not sunk to the bottom of the sump basin submerged in water, this kind pump can last a lot longer in it's useful life. In reality, the pedestal pumps are well-known for its sustainable features due to the nature of this "dry environment" the pump runs in.
Apart from that, they can last 2 or 3 times higher than the submersible pump types. Besides, whether the pedestal pump is affected, the component can be repaired affordably than the submersible pumps. It is because the sump pump motor is accessed easily and never need any tearing up of your basement floor.
Disadvantages
Even though these pedestal pumps are cost-efficient than submersible type, they frequently need to be sized larger to be able to get the pumping force required to pump out lots of water during a powerful storm. Hence, if the rain storm leaves a large quantity of water in your region, and if the pedestal pump does not pump out entire basin quick enough you could end up with water on your floor as the pump cannot keep up with the amount of incoming water.
Because the motor is outside of the water in the basin the motor sound can be louder than their submersible counterparts.
Summary
PROS
In terms of cost, it is a pocket-friendly option with affordable price and installation cost.
It runs on lesser energy again saving the bill
Pedestal pumps have a longer life and are easy to repair in comparison to repair or maintain
As they stay out of water or sump, there are fewer chances of them to sustaining any damage during the process.
CONS
Despite all these features, pedestal sump pumps aren't efficient like their submersible counterparts.
They take time to empty the sump increasing the chances of damage.
In case of heavy flooding in the basement, you cannot rely on pedestal sump pump to help you out.
Submersible Sump Pumps
The submersible sump pumps are integrated design which places the pump and motor inside its enclosed container and at the bottom of your sump pit completely submerged in water.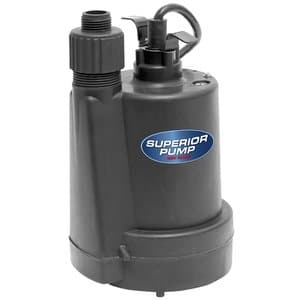 Advantages
Because the entire submersible pump is fixed in the sump basin under the basement flooring, it will not in the way of any storage and takes up a lot less space in your basement. However because of the location of the pump inside your basin it means that it can sometimes create some additional noise inside your home.
Usually you can get away with getting a smaller pump and they can be easier to install in your pit, this means you don't have to spend as much money to get the new pump or to get it installed. It also means that if you choose to get a bigger submersible pump, then you can remove water quicker than the pedestal type sump pumps. Either type of pump is acceptable for discharging water from your sump pit.
Disadvantages
Even though most of the submersible pumps are more powerful and efficient than the pedestal type, these kinds of sump pumps are usually more expensive. Furthermore, because the submersible sump pumps fixed in your sump reservoir, little damage or small cracks which may be created by tank solids can damage the submersible pump.
Summary
PROS
Because it can be installed by sitting at the bottom of your sump pit you do have more room above the pit for plumbing and for storage.
Can be installed indoors or outdoors in case you need to evacuate water from an exterior space
It is an efficient pump that can empty a flooded basement quickly.
The pump is extremely silent, you can just barely hear it while it is pumping the water out because it is sitting underneath a bath of water
The motor has higher horsepower which enables the pump to empty heavy load easily.
CONS
Because the motor is always underwater the life could be shorter than a pedestal pump, even if the case is meant for the pump to be submerged.
They can be harder to access later in case you have any problems because it will be under your floor and also underwater.
Conclusion
In almost all cases getting a submersible style pump is preferred to the pedestal type. Not only are they easier to install and maintain, but they also are less costly to keep running over the long time. The compact size of the submersible pump means it is easier to ship as well, meaning you don't have to worry about added shipping costs when you are purchasing it online. There are many well known brands that make submersible pumps and usually they all have a good warranty in case you do have any problems down the line.
Popular Sump Pump Brands
Zoeller Sump Pump Buying Guides