If you are in need of an efficient equipment to prevent the water damages to your house, even if there is a power cut, then you must opt for Wayne ESP25 battery backup pump system. As the name suggests, this pump system is operated on the batteries, which gives you the flexibility of using it even if there is the short circuit. When you look at the amount of water that can be removed by this efficient sump pump system within a considerable time, you will understand that it is more capable than other models available in the market today.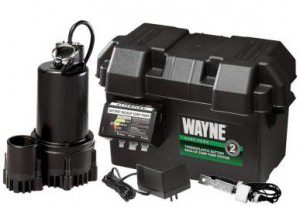 Check Reviews & Price On Amazon
You need not have to worry about its price as it is lower than any other sump pump in the market. All these aspects have contributed in declaring Wayne ESP25 as one of the best sump pumps available for households. Within a short span of its launch, this product has gained immense reputation in the market. Let us see what made this 12-volt battery backup sump pump an optimal choice.
Amazing Features Of Wayne ESP25 Sump Pump:
Wayne ESP25 sump pump with 1/3 HP motor can be operated with 12V DC power source. This product comes with a strong, durable Polyethylene battery case which can accommodate Group 27 Size lead acid battery.
This sump pump can be used in combination with Wayne's CDU800 AC-powered sump pump. It can also be deployed as a backup for the sump pumps of any size and any manufacturer. This is designed to be entirely standalone.
It is operated by the individual float switch and so, you need not have to worry about control circuitry between the ESP25 and your current pump. You can even install this pump along with your existing pump inside the sump.
Once the water level is at the required height to activate ESP25, the motor gets on through float switch.
If your current sump pump malfunctions or is not able to discharge adequate water during a specific heavy flow situation, this ESP25 will be of great benefit.
Wayne ESP25 serves to be the booster pump for assisting your current pump and discharging through the same dedicated line.
Wayne ESP25 comes with pumping specifications to any 1/3-HP AC sump pump. It dwells inside the durable and waterproof thermoplastic housing. It can also discharge around 2300 Gallons of water per hour at the height of 10 foot. It comes with the discharge outlet of 1.5 inch, which is enough to drain out the water.
You can power Wayne battery backup sump pump with 40 Ah and 75 Ah battery. The battery of this capacity is more than enough to dry out the basement within a short span of time.
You will hear the alarm ringing up when the pump starts to operate. This means that your primary sump pump has stopped working.
Advantages Of Wayne ESP25:
One of the most advantageous factors of Wayne portable pump is that it is more efficient when compared to the sump pumps of similar models.
Just with the consumption of 10 Amp of power, this sump pump can complete the task four times much faster than other models. So, you can prevent your house subjected to water damages for the prolonged time.
This Wayne sump pump battery backup system should be kept battery filled all times and so, it should be plugged into the DC power source continuously. The interesting fact is that it does not withdraw current consistently but only single pulse for every ten seconds. This power efficiency makes this sump pump standalone from its counterparts.
This sump pump backup power is capable of doing the job much quicker and thereby reducing the amount of time that your basement is prone to water.
Though the lifespan of any sump pump is not guaranteed, Wayne ESP25 is still far superior to its counterparts.
Conclusion:
After going through the features and advantages of Wayne ESP25 battery backup system, you might have understood that there is no other sump pump available in the market more effective. With battery backup, you can rely on this sump pump system completely to ensure utmost protection to your home. Whether you want to clean up the basement filled with water or want peace of mind ensuring that your sump pump is working fine during adverse climatic condition, then you must make an investment on this unique backup sump pump. It builds your confidence and brings peace of mind, especially during the power outage in case of the unusual thunderstorm.
Check Reviews & Price On Amazon